Games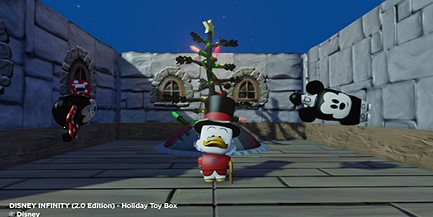 Published on December 23rd, 2014 | by admin
Celebrate the Season with Disney Infinity 2.0 Christmas Holiday Toy Boxes – Now Available to Download (FREE!
Let the fun, family and festivities begin with Disney Infinity's new holiday-themed Toy Boxes, created by Disney Infinity's Toy Box Level Designers. The new levels will help even the Scrooge of gamers get into the holiday spirit with carolling and cool challenges. These Toy Boxes are available for free for all Disney Infinity 2.0 players and include:
Mickey's Christmas Carol – The Toy Box Community Team forgot to send you a Christmas card, so they decided to build you a Toy Box instead! Enjoy this Toy Box, and take on the beloved Disney classic, Mickey's Christmas Carol.
Snow Park Challenge – Hop on the snowmobile and race to find all the pastry collectibles as fast as you can!
To download these Toy Boxes, follow the instructions below. From the main menu:
Go to Community Content and select Disney Toy Boxes.
Pick the "Developer Picks" category.
From here, you can choose to Play Level or Download.