Comics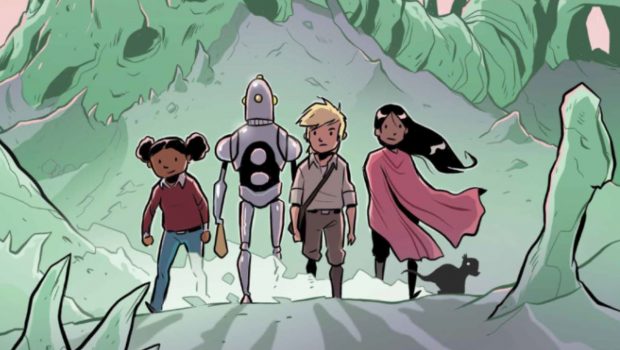 Published on October 1st, 2019 | by Andrew Bistak
Celebrate International Dinosaur Month with ALIEN BONES,
This October, paleontologists and dinosaur fans everywhere will celebrate International Dinosaur Month. Timed to this month-long prehistoric celebration, Emmy nominated writer Chris "Doc" Wyatt (Marvel's Rocket and Groot), Eisner nominated artist Chris Grine (Time Shifters) and 1First Comics will publish ALIEN BONES, an all-new, all-ages graphic novel about a boy who searches the galaxy for the fossils of extinct alien dinosaurs.
Here on Earth, more than a thousand species of dinosaurs have been named and identified. But what about— alien dinosaurs? ALIEN BONES is the story of Liam Mycroft, a ten-year old and his paleontologist father who search for dinosaur bones. When his father goes missing, Liam and his intrepid rag-tag team—his best friend Dianna, his robot Standard-5, his tiny pet dino, plus an unwelcome holographic companion—must travel the universe to find him. In the process, they battle space pirates, escape from the clutches of terrible beasts, and stumble across a massive secret that could impact the entire human race.
"When I was a kid, the idea that there might be other planets out in deep space, beyond our solar system, was widely accepted, but wasn't yet proven," said Chris "Doc" Wyatt, the acclaimed television writer and film producer ("Napoleon Dynamite"). "Now I'm a dad and there are literally thousands of exoplanets that've been pinpointed. I was inspired to tell the story of ALIEN BONES because I wanted to thrill my son with an adventure that brought together one of his passions—dinosaurs—with a story that inspires wonder and curiosity about the cosmos."
"Whether you're a young kid going through a dinosaur stage or a scientist who loves comic book adventure, ALIEN BONES has something for everyone who's ever dreamt about digging for fossils," said ALIEN BONES co-creator and artist Chris Grine.
"What's more awesome than dinosaur fossils?" asked Wyatt. "Alien dinosaurs!"
Advance praise for ALIEN BONES:
"Written by the Emmy-nominated Hollywood producer Chris "Doc" Wyatt (Marvel's Rocket and Groot, Napoleon Dynamite) and paired with whimsical artwork by Eisner-nominated artist Chris Grine (Time Shifters), this amusing offering suggests that Earth might not be the only dot in the universe where dinosaurs have roamed and multiplied. With more than one thousand species of ancient creatures identified by scientists, there's bound to be a few existing on some remote alien worlds, right?"
—SYFY WIRE
"Alien Bones is a fantastic, futuristic romp through the cosmos led by an intrepid ten-year-old boy and his diverse cast of friends (human, robot, and holograph alike). It's also a surprisingly sweet look at what exactly "humanity" looks like, both within and outside our own species. Chockfull of blustering space pirates, interdimensional battles, and interspecies alliances, Alien Bones is sure to delight and enthrall readers who love science, adventure, and the big questions that keep humanity searching space for answers."
—IMPULSE GAMER
"The ultimate Sci-Fi school trip." —COMICON.COM
ALIEN BONES is on sale from 1First Comics in bookstores on October 1 and in comic shops on October 2, 2019.