Collectibles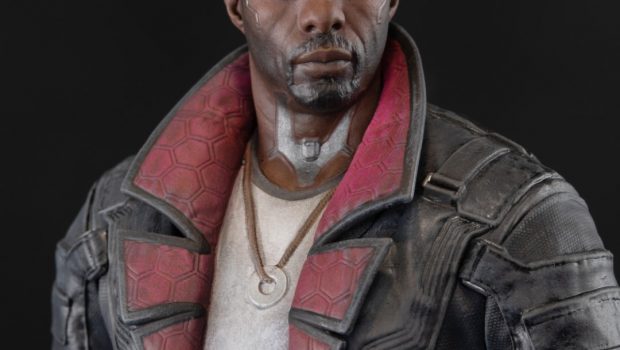 Published on June 24th, 2023 | by Admin
CELEBRATE 10 YEARS OF "THE LAST OF US" WITH A NEW CLICKER STATUE FROM DARK HORSE DIRECT
Dark Horse and CD PROJEKT RED partner for the latest additions to their hit figure line from the award-winning game of Cyberpunk 2077 and its highly anticipated expansion, Cyberpunk 2077: Phantom Liberty. In a game that features an expansive roster of intriguing characters, these newest figures are proven fan-favorites. Following production changes caused by the global pandemic, Dark Horse is now able to re-offer the Judy Alvarez, Panam Palmer and Adam Smasher figures with updated details — and now present a brand-new Phantom Liberty character figure: Solomon Reed.
Solomon Reed Figure
An FIA agent of the highest caliber, tackling countless covert intelligent missions, and staying loyal to his duties through it all — this is Solomon Reed. He has infiltrated complex webs of netrunners and successfully broken into the most secure locations, time and time again proving his skills.
Judy Alvarez Figure
As Night City's premier braindance technician, Judy could have lived the life of luxury working for any corpo she wanted. Instead, valuing her independence too much to sell out, she instead set up shop in Lizzie's Bar and became a member of the Mox Gang. Her anarchist spirit drew her to Mox in the hope that they could improve the lives of people in Night City.
Panam Palmer Figure
If you think Night City is dangerous, just wait 'til you get to the Badlands. No one knows this more than ex-nomad of the Aldecaldo family, Panam Palmer. Locked in a bitter feud with the current tribe leader, she left to try her luck as a merc in Night City. Panam has her hands full as she fights for a better future for herself and those she cares about.
Adam Smasher Figure
Smasher is a towering cyborg, with little empathy or humanity left to be seen. After being blasted by an RPG, the Arasaka Corporation retrieved what was left of him and replaced what was missing with machinery. Now working as their muscle, he lives to repay them by killing any and all enemies of the corporation.
These new Cyberpunk 2077 Figures are all made of polyvinyl material and each includes their own base. Judy and Panam both stand at 9" tall with base, while Solomon stands at 9.25" with base. This impressive and imposing figure of Adam Smasher, who is featured not only in Cyberpunk 2077, but also the hit Netflix anime Cyberpunk: Edgerunners, stands above the rest at approximately 12" tall including his larger base to incorporate his massive size. Judy, Panam and Solomon will be available October 25, 2023 at your favorite local comic shop, hobby, pop culture, or similar shop and select online locations, and will each retail for $59.99. Adam Smasher will be available January 24, 2024 and will retail for $129.99.