Comics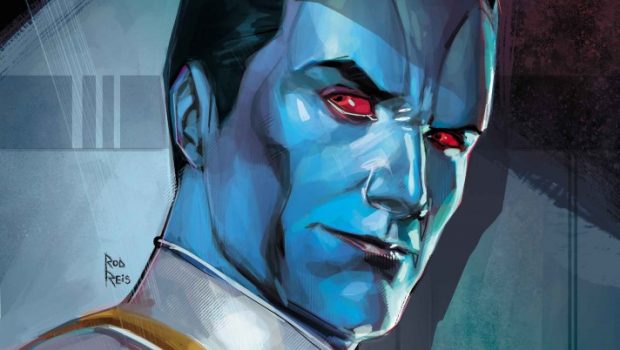 Published on October 21st, 2023 | by Adrian Gunning
CATCH UP ON ALL OF MARVEL'S STAR WARS NEWS FROM NEW YORK COMIC CON
Next year, Marvel Comics embarks on a host of new adventures in the galaxy far, far away! Last weekend at the Lucasfilm Publishing panel at New York Comic Con, an all-star lineup of Star Wars talent joined Lucasfilm Publishing creative director Michael Siglain to give fans a first look at what next year holds for Marvel Comics' line of Star Wars comic books. The new announcements included an all-new limited series starring Mace Windu hitting stands just in time for the 25th anniversary celebration of Star Wars: The Phantom Menace, a comic adaptation of Timothy Zahn's New York Times #1 best-selling Thrawn: Alliances novel, and more!
Launching in January, STAR WARS: THRAWN – ALLIANCES will see Zahn team up with writer Jody Houser and artists Andrea Di Vito and Pat Olliffe to bring his groundbreaking chapter of Thrawn's saga to Marvel Comics! Witness the tactical prowess of the galaxy's most dangerous mind in action as Thrawn begins his legendary rise to power and forges a lasting and deadly partnership with Darth Vader.
In February, one the greatest Jedi must stop an incendiary secret from falling into the wrong hands in STAR WARS: MACE WINDU, a new limited series written by Marc Bernardin and drawn by Georges Jeanty. Even in the years before the Clone Wars, Mace Windu was known for his discipline, determination and combat skills. When a scientist's discovery threatens the balance of the galaxy, Mace is led down a treacherous path of mystery and action. The series will also introduce Azita Cruuz, a pirate with a deadly secret, who the Hutts and the Republic will stop at nothing to control!
January also marks the explosive conclusion of Ethan Sacks' STAR WARS: BOUNTY HUNTERS with issue 42. Valance the bounty hunter has one final mission to complete…and it may indeed be his LAST! Can he and the crew fight their way past Boba Fett…and Jabba's secret weapon? Find out in this grand finale that's four years in the making!
Come March, Ethan Sacks will continue to deliver action-packed storytelling set in Star Wars' criminal underworld in STAR WARS: JANGO FETT. Alongside Star Wars veteran artist Luke Ross, Sacks continues the legacy of one of the greatest bounty hunters: JANGO FETT! A bounty to find! A mystery to solve! A treaty at risk! All this plus Aurra Sing in the mix! Be there for Jango Fett's brand-new mission!
"I'm very proud of Marvel's Star Wars lineup in 2024 and grateful for the positive reaction the announcements got at the con," Senior Editor Mark Paniccia said. "This isn't the half of it though. I really wish I could tease more of what's coming but Vader would have my throat!"
Check out all the covers now and dive into these thrilling new sagas next year. For a special sneak peek at these series and more, pick up STAR WARS: REVELATIONS [2023] #1 in December! For more information, visit Marvel.com.