Events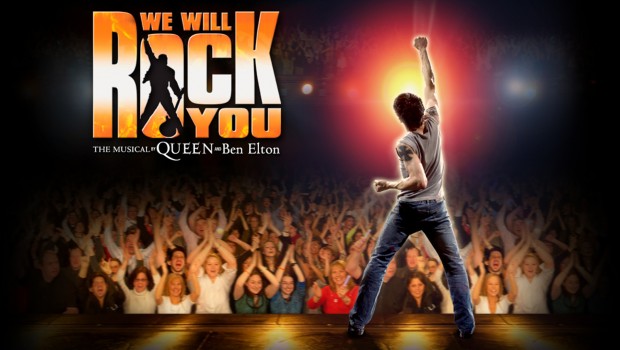 Published on February 13th, 2016 | by Admin
CAST ANNOUNCED FOR WE WILL ROCK YOU
Producers of the new Australian production of the worldwide smash hit musical WE WILL ROCK YOU, John Frost, Queen Theatrical Productions, Phil McIntyre Entertainment and Tribeca Theatrical Productions, today announced their exciting cast.
Gareth Keegan (Jersey Boys, MTC's Next to Normal, Hugh Jackman – Broadway to Oz concerts) will play the central role of Galileo, a Bohemian dreamer who hears strange song lyrics in his head and is ultimately the reincarnation of Freddie Mercury. Erin Clare (Heathers, The Phantom of the Opera) will be Scaramouche, a sarcastic, cynical Bohemian misfit with sharp wit who wins Galileo's heart and is the reincarnation of Brian May, only this time "he's a babe".
Brian Mannix, formerly the lead singer of 1980s band Uncanny X-Men, will return to the musical stage as Buddy, an old hippy librarian/philosopher and an expert on the lost sacred musical texts. Killer Queen, a ruthless and power-crazy businesswoman who rules the world through Globalsoft, the worldwide corporation responsible for the suppression of all live music and all original thought, will be played by the extraordinary Casey Donovan (The Sapphires, Rent).
Thern Reynolds (Rock of Ages, South Pacific) and Jaz Flowers (Hairspray, Hot Shoe Shuffle, Fame) will portray Brit and Oz, a pair of Bohemian lovers who strive to rediscover the lost music and rebel against Killer Queen and Globalsoft. And Simon Russell (ABC TV's Jack Irish, Neighbours) will be Khashoggi, Killer Queen's second-in-command, the sinister and cruel chief of Globalsoft police in charge of capturing the Bohemians and getting rid of any original or creative musical thoughts.
Also in the cast are Justin Anderson, Sheridan Anderson, Erinn Arnel, Michelle Barr, Hugh Barrington, Kyla Bartholomeusz, Sarah Clarke, Keane Fletcher, Scott McConnell, Suzie Melloy, Ruvarashe Ngwenya, Morgan Palmer, Joshua Russell, Ryan Sheppard, Leigh Sleightholme, Ashlee Smith, Thalia Smith, Mike Snell, Kate Thomas and Karla Tonkich.
Director Ben Elton claims he has assembled a powerhouse cast of Australian talent. "Australian musical theatre is famous world-wide for the excellence of the artists it produces," he said. "WE WILL ROCK YOU has featured Australians in productions as far apart as Toronto, London and Berlin. Check a musical cast list on Broadway or in the West End and the chances are you'll spot an Aussie. Brian, Roger and I know that the new all-Australian cast is second to none."
The Australian tour of WE WILL ROCK YOU begins at Sydney's Lyric Theatre on 28 April 2016, then travels to the Lyric Theatre, QPAC, Brisbane from 10 July; then on to Melbourne's Regent Theatre from 30 August. Perth's Crown Theatre follows from November, then the Festival Theatre, Adelaide from January, 2017.
Since 2002 over 15 million theatregoers in 17 countries have been thrilled by this awe-inspiring production which is based on the songs of Queen with a book by Ben Elton (The Young Ones, Blackadder, Popcorn). Elton fashioned this hilarious futurist comedy around more than 24 of Queen's biggest hit songs including We Are The Champions, Radio Ga Ga, I Want To Break Free, Somebody To Love, Killer Queen, Don't Stop Me Now, Under Pressure, Bohemian Rhapsody, Another One Bites The Dust and of course, We Will Rock You.
WE WILL ROCK YOU reflects the scale and spectacle that marked Queen's live performances and earned the band its pinnacle position in rock history. With Queen's Brian May and Roger Taylor as music supervisors and "a band without parallel in the theatre" behind the cast, the audience can expect WE WILL ROCK YOU to rock as fiercely as the best of Queen's concerts.
"There's no escaping the irresistible pull of these songs, or the visual and aural assault on the senses that the show accompanies them with." – Sunday Express
"A new breed of musical. It's brilliant." – BBC Newsnight
wewillrockyou.com.au
@ROCKYOUAU
SEASON DETAILS
SYDNEY
Venue: Sydney Lyric Theatre, The Star
Season: From 28 April 2016
Performance Times: Tues 7pm, Wed–Sat 8pm, Sat matinee 2pm, Sunday 1pm & 6pm
Price: From $69.90*
Bookings: ticketmaster.com.au or 1300 795 267
Groups 8+ call 1300 889 278
BRISBANE
Venue: Lyric Theatre, QPAC
Season: From 10 July 2016
Performance Times: Tues–Sat 7.30pm, Sat matinee 2pm, Sunday 1pm & 6pm
Price: From $69.90*
Bookings: qpac.com.au or phone 136 246
Groups 8+ 07 3840 7466
MELBOURNE
Venue: Regent Theatre
Season: From 30 August 2016
Performance Times: Tues 7pm, Wed–Sat 8pm, Sat matinee 2pm, Sunday 1pm & 6pm
Price: From $69.90*
Bookings: ticketmaster.com.au or phone 1300 111 011
Groups 8+ call 1300 889 278
PERTH
Venue: Crown Theatre, Burswood
Season: From November 2016
TICKETS ON SALE SOON – WAITLIST NOW FOR PRIORITY BOOKINGS
ADELAIDE
Venue: Festival Theatre, Adelaide Festival Centre
Season:From January 2017
TICKETS ON SALE SOON – WAITLIST NOW FOR PRIORITY BOOKINGS
*An additional transaction fee and/or a credit/debit payment processing fee may apply