Films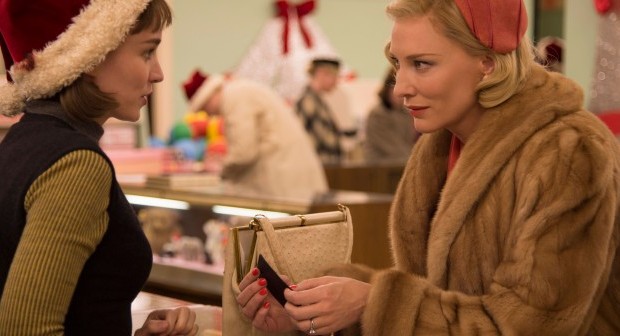 Published on January 16th, 2016 | by Damien Straker
Carol – Film Review
Reviewed by Damien Straker on the 16th of January 2016
Transmission presents a film by Todd Haynes
Produced by Elizabeth Karlsen, Stephen Woolley and Christine Vachon
Screenplay by Phyllis Nagy, based on The Price of Salt by Patricia Highsmith
Starring Rooney Mara, Cate Blanchett, Sarah Paulson, Kyle Chandler and Jake Lacey
Music by Carter Burwell
Cinematography Edward Lachman
Edited by Affonso Gonçalves
Running Time: 118 minutes
Rating: M
Release Date: the 14th of January 2016
Carol is an engrossing and understated drama about two women at different stages of their lives that realise through their feelings that they are in love with each other. Their romance is orchestrated by director Todd Haynes, an openly gay independent filmmaker, who often makes films about the subject of gender, sexuality and changing social values. One example of his work was Far From Heaven (2002), which starred Julian Moore as a housewife who tried to befriend an African American man amongst the bigotry of the suburbs in 1950s America. With this film, Haynes has sourced Patricia Highsmith's 1950s novel The Price of Salt to evoke similar themes of changing values. The novel was said to be inspired by Highsmith's own relationships with both men and women. Imagine the controversy it must have arrested at the time. In the 1950s, America's post-war period was deeply repressive of homosexuals as it headed into the Cold War. The Lavender Scares was an example of one of the campaigns used to discriminate and punish homosexuals, often by associating them with Communists, who themselves were blacklisted, imprisoned or fired from their jobs. Carol's recreation of this difficult period is also about today and how the desire to grasp equal rights and representation is still a struggle that runs strong.
However, Todd Haynes and screenwriter Phyllis Nagy opt to observe the minor behaviour and attitudes of the period and characters rather than highlighting specific historical moments. The film stars Rooney Mara (The Girl with the Dragon Tattoo) as Therese Belivet, a young woman that works in a department store. Her main relationship with her boyfriend Richard (Jake Lacey) isn't romantic or interesting to her. She's reluctant to travel with him in spite of his persistence. We see them interacting with their friends, watching films through the projector window of a cinema or getting drunk together in a bar. At one point, one of their friends shows her his office in the New York Times while they drink and then tries kissing her. These are young people who have limited long-term prospects and this complacency propels the uncertainty of Therese's life. The life of Carol (Cate Blanchett) seems equally unfulfilled, despite living under a wealthier social status. She is deeper into her life than Therese, being a mother and sitting in the middle of a divorce from her husband Harge (Kyle Chandler) and also having more sexual experience given she once had an affair with her friend Abby (Sarah Paulson). She bitterly assures Harge that she and Abby were over long before they were, stressing it wasn't a change in sexuality that dissolved their marriage. As Harge and Carol argue over their young daughter, it is clear that he still loves her and can't let go. But her heart and her eyes fall onto Therese after they meet by chance at the department store. The gloves she leaves on the store counter prompt Therese to return them by contacting Carol and entering her complex life.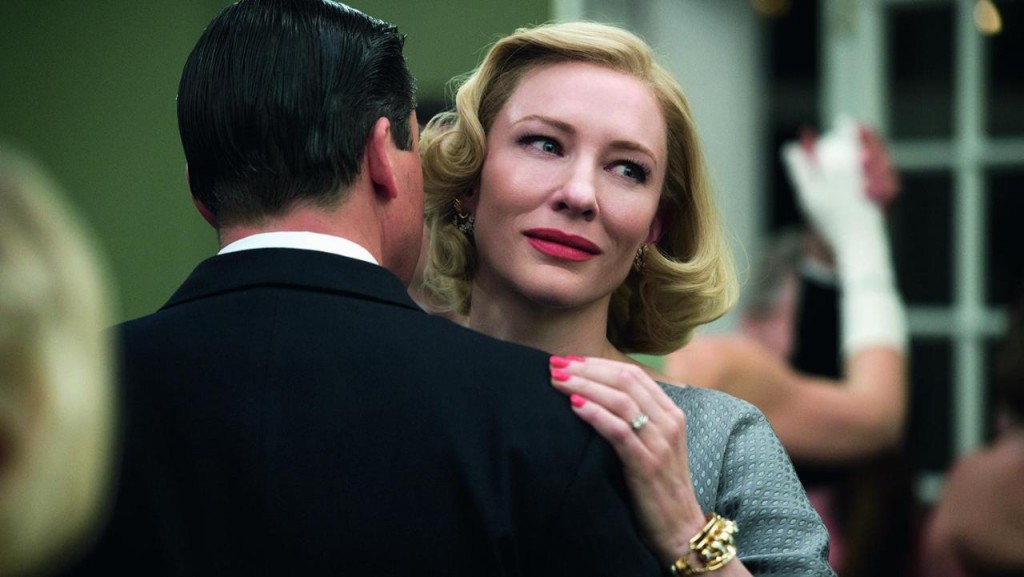 The uniqueness of their relationship is that the two women are almost entirely committed by a sense of feeling. The singularity of the connection is a contrast to films that contrive a romantic connection by parallel backstories and personal histories. Carol and Therese are long removed from their experiences in their age (the actors are 16 years apart), their economic status and their understanding of the world. The weight of their relationship, the content and shape of the film, is the generous amount of time dedicated towards these two characters feeling and sensing each other until they realise the binary of their emotions. Initially, Therese is deeply unsure of herself. She can barely decide on her order when the two women eat lunch together and she won't leave her boyfriend even though she doesn't love him. Rooney Mara, with her best performance, beautifully paints the shyness and delicacy of Therese through a quiet, nervous energy that filters through her sad face and eyes. A deep emotional resonance protrudes through her displacement, particularly a sad scene where she helplessly observes Harge and Carol fight and then cries on her way home. Meanwhile, Carol's self-confidence and dry wit corrodes with the realisation that these are feelings of love, not lust, that are infiltrating her life. Given Therese's young age, it is a passage of uncertainty for Carol herself when she concedes with Abby she doesn't know what she's doing. Both women are coming of age, but at different stages of their lives, realising what satisfies them sexually and mentally and having the power of choice, free from the men who disappointment them but regularly prolong their romantic feelings because it's all they understand. These are not terrible men but merely incapable of comprehending the interiors of women. Richard ridicules Therese when they discuss being in love with someone of the same gender, perhaps because people rarely talked about the subject openly in these times, which further underlines the theme of uncertainty in this period.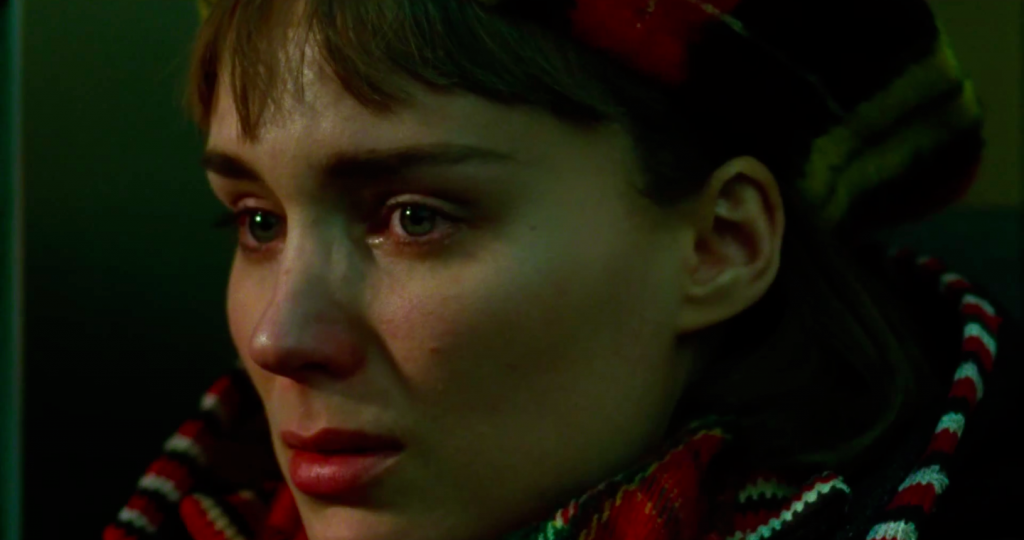 The technical elements Todd Haynes employs provide a sophisticated formal scheme that is imperative to the characters and the thematic content. Despite having impeccable trimmings of the 1950s era, the film doesn't draw attention to itself as a period film. The lighting is regularly dark and shadowy, infusing the film's somber tone and film grain paints a faint haze over the images. The darkness is further paired with the wintery Christmas setting, building a chilly atmosphere that reflects the repression of the emotions of the two women. Glass and windows are surfaces that become reoccurring visual motifs highlighting the emotional separation these women feel when part, including when Therese is in a car at night and looking out the window with the rain pelting down. In other scenes, the camera sometimes pans into position as though it is dictating the place of Carol and Therese in society but when they are looking at each other in the film's quietest moments it is deep in meaning and context about the feelings for which they are searching. So much of the film impresses but late in the film it did feel as though some of the air had escaped from it after finally presenting its biggest moment between the leads. But it soon falls back on its strengths, which are the contrasting experiences of its characters and the excellent performances. Though rich in charisma and finding time for dry wit and humour, Cate Blanchett's work is agreeably restrained as the older woman who only in her first impressions understands what she is pursuing. Rooney Mara, resembling Audrey Hepburn in appearance, is superb in humanising the fear of growing up and the uncertainty of her shifting emotions. The actress has said contentiously that the film isn't political. While the film's ideologies about the importance of freedom and self-expression in the Western world today are most certainly political, the relationship unfolds with such generosity by its writer and director and with such a measured approach that it becomes quite simply a small, important portrait of two ordinary people understanding their true desires. It is equally political and broadly universal and applicable in its aim of dramatising an unexpected trace of love that might be true and worth following.
Summary: It is equally political and broadly universal and applicable in its aim of dramatising an unexpected trace of love that might be true and worth following.