Games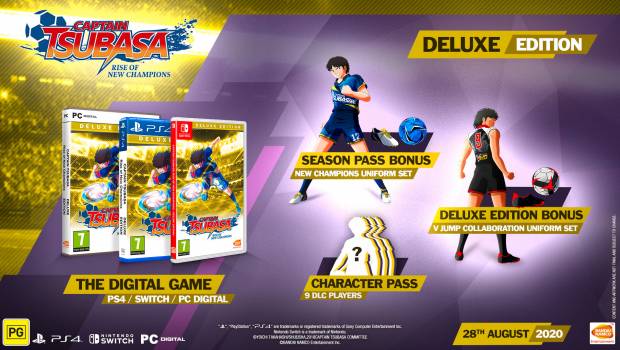 Published on May 27th, 2020 | by Alex Novus
CAPTAIN TSUBASA: RISE OF NEW CHAMPIONS to launch on 28th August 2020 for PlayStation®4, Nintendo Switch™ and PC
This new arcade football game will allow players to play as their favorite characters from the iconic franchise starting 28th August 2020. From breathtaking saves to gravity-defying shots, fans will be able to experiment the full range of moves that made the manga and anime a global success. CAPTAIN TSUBASA: RISE OF NEW CHAMPIONS will be available in Standard, Deluxe, Collector's, Champions and Legends Editions along with an early purchase offer – available to preorder from May 26th and until the 28th September on digital stores only.
The Champions Edition will be exclusive to our E-commerce store, adding to the already packed Collector's Edition a customised jersey.
The Legend Edition is something a bit more special, including a premium Captain Tsubasa table football table, made by one of the most respected manufacturers in the world – René Pierre*, on top of the Champions Edition and exclusive to the BNEE E-commerce Store.
Store :
https://bnent.eu/tsubasa-legends
https://bnent.eu/tsubasa-champions
https://bnent.eu/tsubasa-collector
For more information about CAPTAIN TSUBASA: RISE OF NEW CHAMPIONS or other BANDAI NAMCO Entertainment Europe products, , visit our website or follow us on Facebook or Twitter, or subscribe to our YouTube channel.