Comics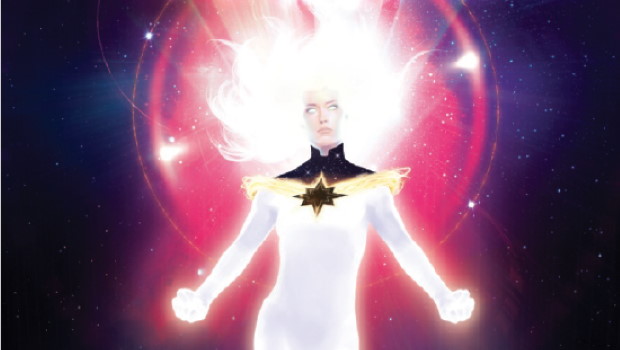 Published on February 5th, 2020 | by Chris O'Connor
Captain Marvel: The End (2020) #1 Comic Review
Summary: Carol Danvers has been trying to bring peace and justice to the far reaches of the galaxy for 50 years... what has become of her home in that time?
Carol Danvers has spent the last 50 years in the outer reaches of the cosmos trying to dispense peace and justice. In that time she hasn't seen a familiar face, but when a call for help comes through, it might just be time to go home and see what's changed.
Writing
It's an interesting premise to write a book specifically about an ending. In this particular case the ending is in some sense a giant homecoming… but it's not an easy situation to come home to. Kelly has taken a character, begun by showing what she has been known for doing and doing extremely well… then taken her back home after a 50 year absence and showed just what sort of an impact time can have. If you think time heals all wounds… this may make you think twice. What does 50 years do to the world and the people who live there… are there even people left to check in on?
Artwork
There are some lovely images of Carol in full illuminated power pose throughout… they do a great job of indicating just how much power is contained within her but also remind you that she is both blessed and cursed with her power. At times her image seems almost ghost like and to see her humanity through the glow can be quite touching.
Final Thoughts?
As much as this comic is an ending… it works quite well at presenting a snap shot of just who Captain Marvel is. We get to see her "at work" in the beginning, we see her return to where she started and we see how that affects her. We see what a toll her "job" has on her, what it means to be a cosmic protector, what you loose by being relied on to look after the entire cosmos. There are some touching moments throughout and if you are prone to a bit of eye leakage… you may want to have some tissues ready. For this peripheral Captain Marvel fan (I haven't done a deep dive but I like what I've read/seen so far)… this was a satisfying story. I'd recommend it to anyone who wants to get a greater feel for who Captain Marvel is and what she stands for.
Publisher: Marvel
Writer: Kelly Thompson
Artist: Carmen Carnero
Cover Artist: R Rahzzah
Genre: Superhero
Format: 32pgs, FC, Oneshot
Release Date: 29th January, 2020