Blu-ray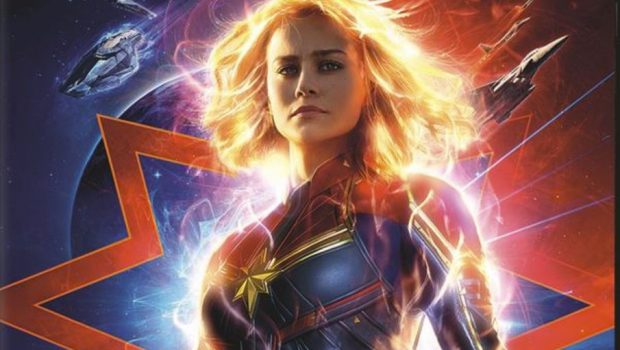 Published on July 1st, 2019 | by Admin
Captain Marvel 4K UHD Review
Summary: An energetic action spectacle with liberal lashings of nostalgia and humour, Captain Marvel doesn't deviate too far from the so-called "Marvel Formula" but is an enjoyable rollicking ride through both the cosmic elements of the MCU and the Nineties nonetheless.
Set in the 1990s, Marvel Studios' Captain Marvel is an all-new adventure from a previously unseen period in the history of the Marvel Cinematic Universe that follows the journey of Carol Danvers as she becomes one of the universe's most powerful heroes.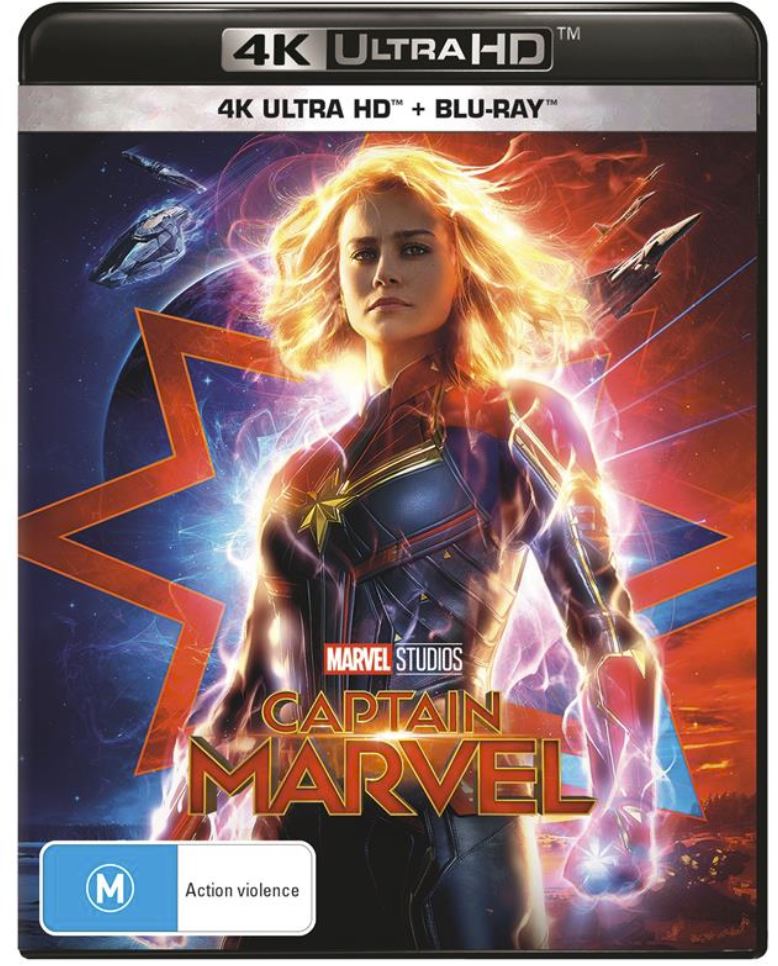 It'd be almost impossible to write a review about Captain Marvel, the 21st entry in the ever-expanding MCU and the first to showcase a female protagonist, without at least acknowledging the backlash from a small but vocal portion of the cinematic universe's fanbase regarding the perceived use of the film by star Brie Larson as a platform for feminist activism, but guess what? That cosmic sized elephant in the room is going to be not-so-subtly sidestepped here to focus on what is truly important: The content of the film itself.
Gender politics and the schism that somehow still exists between fans who desire equal representation in films and those who want to keep perpetuating the stereotype of bitter manchildren who can't accept equitable representation in pop culture have overshadowed the content and, indeed, the intent of Captain Marvel during the lead up to its release, but now that the film has hit cinemas, it's time to judge it upon its own merits and how it fits into the MCU as a whole rather than dwell on the, quite frankly, embarrassing reactions from a certain demographic of fans.
I've been fighting with one arm tied behind my back, but what happens when I'm finally set free?
– Carol Danvers
Directed by the team of Ryan Fleck and Anna Boden (Half Nelson), Captain Marvel also marks the first time a female director has been behind the helm for a Marvel film, albeit as a co-director.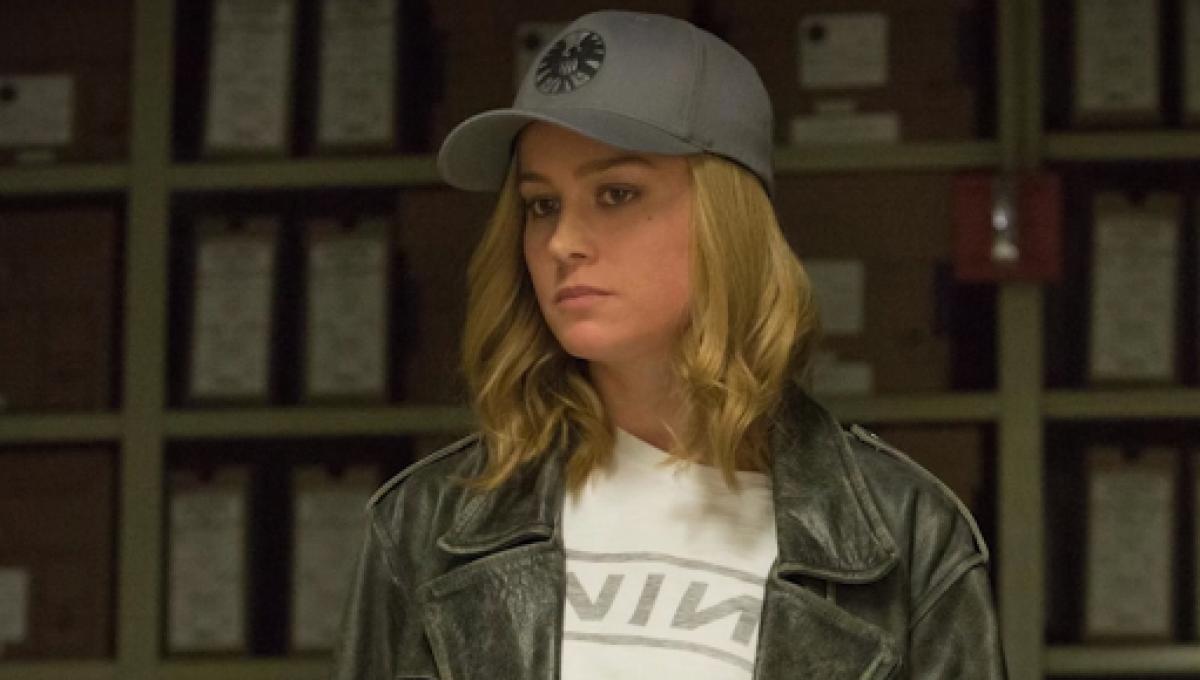 The film follows the story of Vers (Brie Larson), a member of a Kree strike team lead by her mentor Yon-Rogg (Jude Law) as they seek to exterminate the threat of the shape-shifting Skrulls and put an end to a conflict that has been tearing their respective homeworlds apart for eons.
When a team of Skrulls led by Talos (Ben Mendelsohn, relishing a rare opportunity to use his native Australian accent) capture Vers and subject her to a form of mental interrogation, she soon realises that being a Human/Kree hybrid may not be the only thing that sets her apart from her fellow soldiers.
Through a series of mishaps, she find herself crash landing on C-53, the Kree designation for a little planet we call "Earth", and encountering a fresh faced Nick Fury (A remarkably digitally de-aged Samuel L. Jackson), pulling him directly into the middle of an intergalactic war as the two team up to prevent the Skrulls from locating a device created by someone with close ties to our hero (Annette Benning) during her previous life as an Air Force pilot named Carol Danvers.
This isn't about fighting wars. It's about ending them.
-Mar-Vell
Captain Marvel isn't the most straightforward of origin stories, which plays in the film's favour in terms of narrative structure; we're slowly drip fed information at much the same pace as our heroine, although astute viewers will be able to get slightly ahead of the film in certain respects due to the presence of a few familiar faces from previous MCU films.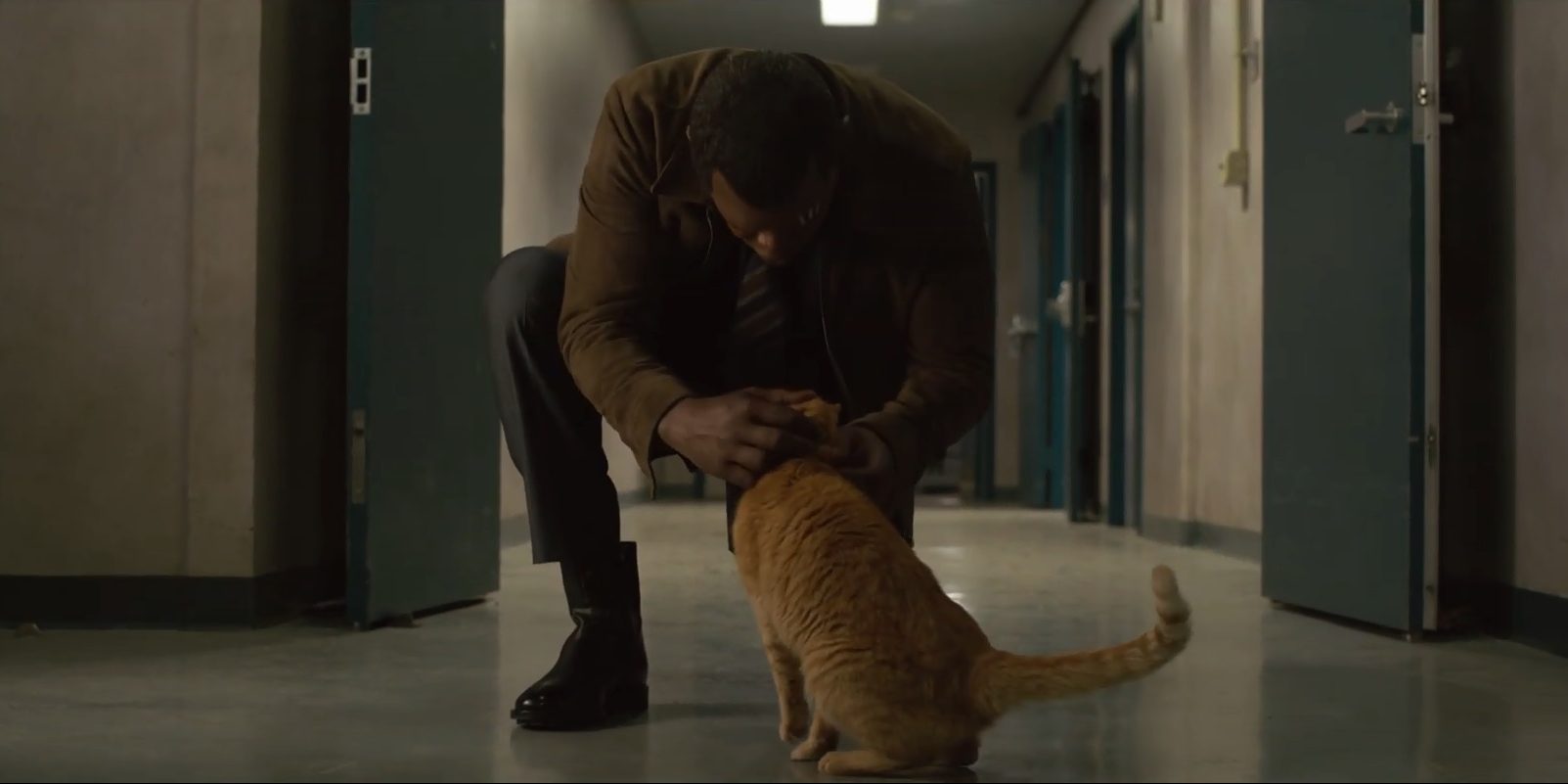 This is actually one of my few complaints about the film, in the respect that elements of the plot that were supposed to catch viewers off-guard weren't necessarily concealed all that well, primarily for what appears to be a few nods to fan-service rather than serving any real narrative purpose.
However, even if the trajectory of the plot isn't entirely effective in regards to the twists and turns that crop up, one can't deny that it's one heck of an enjoyable journey getting from the murky beginnings to the action packed finale; although not as heavily comedic an entry as, say Ant-Man or Thor: Ragnarok, Captain Marvel is one of the more amusing films in the MCU, with Mendelsohn's Talos, Fury and an unassuming little cat named Goose all jostling for position as the most laugh-out-loud character.
Grunge is a good look for you.
– Nick Fury
This is particularly surprising for Fury, who fans know predominately as the stoic, no-nonsense SHIELD operative. Younger and more naïve here, Samuel L. Jackson clearly took great pleasure in hamming it up and added a dimension of levity to the character that humanises him far more than any previous appearance.
The Nineties nostalgia can be laid on a little thick at times, often relying upon the reference itself rather than using it to inform a gag, and the action scenes can feel a little lacking in places, such as the incredibly murky opening battle which leads to Danvers' capture by the Skrulls, but when everything manages to come together properly, especially in the latter two acts of the film, then Captain Marvel is as exhilarating an entry in the Marvel Cinematic Universe as the very best of them… Let's face it – Any Marvel film that features Nirvana and Nine Inch Nails is going to get a pass from a Nineties music tragic like myself.
Fans will also get a kick out of seeing seeing how certain elements of the MCU were first established, such as Fury's loss of his eye and his fledgling relationship with Agent Coulson, the creation of the Avengers initiative and more.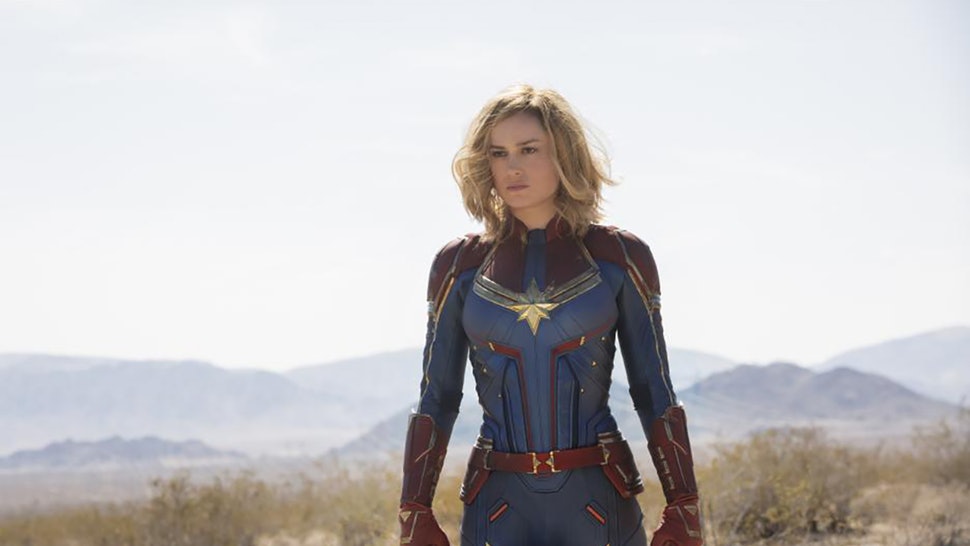 With Marvel gearing up for the next big phase of films, with many MCU stalwarts seemingly leaving their respective roles after the events of Avengers: Endgame, it's a relief to know that strong and relatable characters such as Captain Marvel are ready to step up to the plate and lead the cinematic universe into the future; I just hope we see more from Ben Mendelsohn in this next iteration, as he certainly stole the film, in my opinion.
Special mention must also be made to the title card sequence, which was tweaked in order to honour the recently passed Stan Lee, as well as his final cameo, replete with an additional layer of Nineties pop cultural reference that sees him poring over a particular script.
War is a universal language. I know a renegade soldier when I see one. It never occurred to me that one might come from above.
– Nick Fury
Final Thoughts?
An energetic action spectacle with liberal lashings of nostalgia and humour, Captain Marvel doesn't deviate too far from the so-called "Marvel Formula" but is an enjoyable rollicking ride through both the cosmic elements of the MCU and the Nineties nonetheless.
Special Features
Movie with Intro – An introduction by directors/screenwriters Anna Boden & Ryan Fleck.
Movie with Commentary – Commentary by directors/screenwriters Anna Boden & Ryan Fleck.
Becoming a Super Hero – Follow Brie Larson's journey as she joins the MCU, and see what it takes to be a Marvel Super Hero in every sense of the word.
Big Hero Moment – Explore how impactful Captain Marvel's entrance into the MCU is, and how she inspires audiences around the world.
The Origin of Nick Fury – Witness some of the MCU's most significant events through Nick Fury's eyes, and see how his influence helped shape the MCU.
The Dream Team – Discover why Anna Boden & Ryan Fleck are the perfect pair to direct Marvel Studios' most powerful hero.
The Skrulls and the Kree – Take a deeper look into the Skrulls and the Kree, their ongoing conflict, and the importance of shifting perspectives in the film.
Hiss-sterical Cat-titude – The cast and crew dish on working with Goose and the raw talent it takes to portray such a complex character on-screen.
"Who Do You Admire Above All Others?" – Kree Commander Yon-Rogg must answer to the Supreme Intelligence, who questions his leadership ability.
Starforce Recruits – Yon-Rogg lectures a roomful of students on the Kree's mission to defend all nations from the scourge of the Skrulls.
Heading to Torfa – Vers (Danvers) and her fellow Starforce members banter as they prepare for their rescue mission to Torfa.
"What, No Smile?" – In this alternate version of a scene from the movie, Vers is consulting a map when she receives a dubious offer of assistance.
Black Box – Keller attempts to track Vers and Fury after their escape in a quadjet from the Joint USAFA Facility.
Rookie Mistake – Novice S.H.I.E.L.D. agent Phil Coulson helps Director Keller out of an embarrassing situation.
Gag Reel – The fate of the universe hangs in the balance as the cast battles props, flubs and Flerkens in these outtakes from the set.
4K Details
Director – Ryan Fleck Anna Boden
Actors – Brie Larson, Samuel L. Jackson, Ben Mendelsohn, Jude Law, Annette Bening, Clark Gregg, Gemma Chan
Film Genre – Action
Label – Walt Disney
Audio – English (Dolby Atmos)
Subtitles – English
Running Time – 124
Aspect ratio – 2.39:1
Region Coding – B
TV Standard – HD
Rating – M
Consumer Advice – Action violence
Year of Release – 2019
Primary Format – Movies/TV – 4K Ultra HD