Events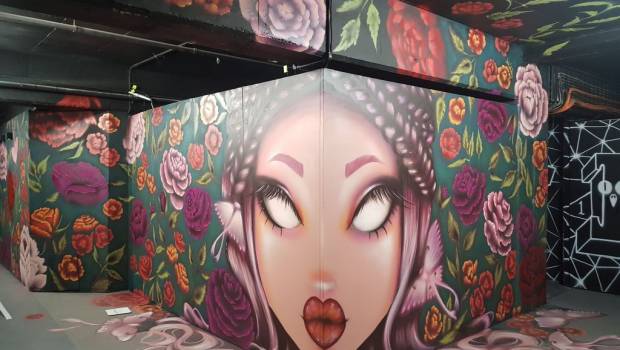 Published on March 3rd, 2020 | by Tim Chuma
Can't Do Tomorrow (2020) Review
Summary: An urban art event/festival at the Facility in Kensington, Melbourne. Get your funk on!
An Urban Art Festival
The Facility, Kensington, 20th – 29th February 2020
With feature exhibitions by Baudico, Shepard Fairey and Sharryn Higgens plus 150 other artists
I had heard of this but wasn't really considering going until the boost RRR FM gave it in the past few days especially Chris Gill on Get Down as he always knows what is funky in this town. Talking to some other  people even people close by had not heard about it either.
The last time I was at this venue was in 2010 for a music event. I am not sure of what has happened to it since then as I had expected it would have been turned into apartments by now being as close to the city it is.
Did not expect the queue at all but I arrived pretty close to the second viewing session of the day so there would be people waiting out the front to get in.
You do get a map and guide at the entry but I preferred to just wander around. It is a very social media friendly exhibition, you could scan people's Instagram name tags next to the works and buy their artwork on the spot.
Also downstairs there was a pop up print shop by Milk Bar with custom print-on-demand t-shirts and art prints. $65 might seem like a lot of a t-shirt but it might turn out you are the only person to own that t-shirt given the amount of works on display at the event. I would have gotten the fine art print of the people in the car including the lady with the chainsaw if I had the money.
Given it was an event that rewarded just wandering around and finding stuff it was hard to pick a highlight and there was a lot on display so it got a bit overwhelming at times. I did get to chat to the artist making artworks with very realistic fingers out of Sculpey and baking them in a mini oven in her kitchen set. She said that the event sent out invitations to artists or you could apply but I never seem to find these things until the last minute. I am sure next time this event will not have to send out anything.
Things did seem a bit more subdued downstairs with people walking around but as soon as you went up the stairs there were quite a lot more people, the music, bars, food and artists. It did have a vibe to it but it was hard to describe what it was. Not the opening night of an exhibition type feel as I usually can't wait to get away from those unless I really know the person. If it wasn't for my leg playing up I would have hung around a lot longer but no chairs.
Outside the venue on the tracks for the flour mill next door were the painted SSR rail carriages painted by different artists, they were rotated according to the train timetable. It does help having an elevated viewing platform for these as I tried to get a photo of one of them front ground level after and it was quite difficult.
An excellent event and I would be interested in seeing it again next year if it returns in some form or another.
List of artists:
23rd Key

Alyce Bell (Micha)

Amanda Valdes

Askem

Aurora Campbell

Badiucao

Ben Brown

Blaine Psxy

Bryan Itch

Callum Preston

Cam Scale

Cax One

Cel Out

Chehehe

Chimp

Chuck Mayfield

Civil

Cold Ghost

Conrad Bizjak

Creature Creature

Damien Mitchell

Daniel O'toole

David (Meggs) Hooke

Glenn Smith

Haser

Hayden Dewar

Heesco

Jason Parker

Jeswri

John Murray

Jon Kutt

Kaff-Eine

Kaitlin Beckett

Kasper

Kate Pullen

Kentaro Yoshida

Kirpy

Lachlan Philp

David Lee Pereira

Dela

Distrangeddesign

Dokta Pore

Dominic Taranto

Dominique Antony

Dscreet

Elle

Estranho

Evan Pank

Facter

Fausto Gallego

Fikaris

George Rose

Georgie Seccull

Giant Swan

Gigi Gordes

Glen Downey

Pizzabox Studio

Ladie Poise

Leadbeater

Ling

Lost Few

Lucy Lucy

Luke Day

Luke Neil

Luke Spindler

Michael Peck

Mike Perry

Miles Toland

Mysterious Al

Nick Azidis

Nolij

Nongpop

Paink

Pat Rogasch

Phoenix

Pierre Lloga

Hooks

Jack Douglas

Pornograffixxx

Presto

Resio

Rhys Ottley (TRU57)

Robyn Grove

Roqdraw

Rose Staff

Rudolph Herdiman

Ruskidd

Shannyn Higgins

Shepard Fairey

Silk Roy

Sindy Sinn

Stiff Ives

Sugar

Tinky

Toggles

Tom Gerrard

Unwell Bunny

Wei2

Xavier Davies
Links: