Comics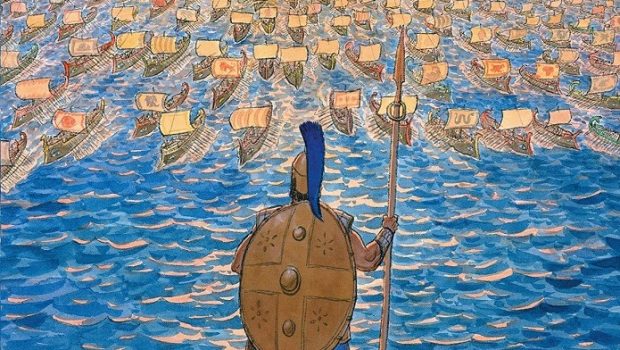 Published on February 28th, 2019 | by Dana Folkard
Candlewick Press To Publish Gareth Hinds' Graphic Novel Adaptation of The Iliad
Candlewick Press To Publish Gareth Hinds' Graphic Novel Adaptation of Homer's The Iliad. 
Rage. Sing to Me, O Muse, of the Rage of Achilles…. More than three thousand years ago, two armies faced each other in an epic battle that rewrote history and came to be known as the Trojan War. The Iliad, Homer's legendary account of this nine-year ordeal, is considered the greatest war story of all time and one of the most important works of Western literature. In this stunning graphic novel adaptation — a thoroughly researched and artfully rendered masterwork — renowned illustrator Gareth Hinds captures all the grim glory of Homer's epic.
Dynamic illustrations take readers directly to the plains of Troy, into the battle itself, and lay bare the complex emotions of the men, women, and gods whose struggles fueled the war and determined its outcome. Gareth Hinds spent two and a half years creating his adaptation of The Iliad, which features notes, maps, a cast of characters, and other tools to help readers understand all the action and drama of Homer's epic. Hinds regularly tours schools to speak with students about why the classics he's adopted — including Beowulf, King Lear, The Merchant of Venice, The Odyssey, Romeo and Juliet, and Macbeth — remain relevant and timely.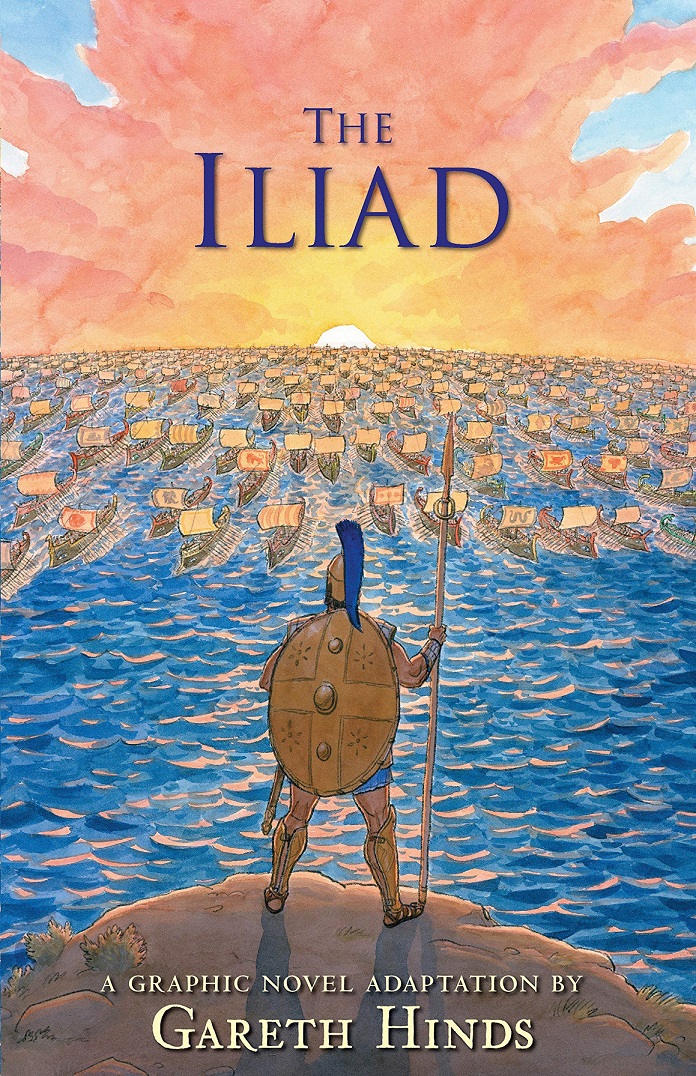 "This is no mere comics adaptation of an ancient classic. Through his intricately illustrated panels, Gareth Hinds brings us The Iliad's depth, brutality, and power. A Herculean effort worthy of the original." — Gene Luen Yang, Michael L. Printz Award winner for American Born Chinese
"A rousing graphic rendition of Homer's great epic."—Kirkus Reviews
"Excellent…The most striking scenes are the battles, presented in intimate detail and in awe-inspiring, sweeping overviews…an accessible entrée to an enduring classic." — Publishers Weekly (starred review)
"With his graphic novel retelling of The Iliad, Gareth Hinds  has created a work of such scope and power that it boggles my mind. It truly lives up to the — dare I say it — epic scale of the original poem." — George O'Connor, author of the New York Times best-selling Olympians series
"Gareth Hinds is doing important work, turning Shakespeare and other classics into graphic novels. This makes them SO much more accessible to many students who are required to read them. Every middle/high school library should have them!" —Shannon Hale, author of the New York Times best-selling Princess Academy
"This modern graphic novel retelling of Homer's epic immediately draws in readers with its artistry and readability."—School library Journal
"Hinds has excelled in creating literary adaptations that remind you what an artistic achievement bringing literary classics into the comics medium can be." — Comicon.com
Candlewick Books will publish Garth Hinds adaption of The Iliad on March 12, 2019, inviting readers of all ages to experience this timeless tale of friendship, love and war like never before. Hinds will be making appearances at bookstores and conferences throughout the year:
EVENTS:
3/4 – Left Bank Books, St. Louis MO
3/12 – Politics & Prose, Washington DC (official launch)
3/13 – The Curious Iguana (at Delaplaine Arts Center), Frederick MD
3/15 – Local Launch Party 7:30pm at Vigilante Coffee in Hyattsville MD
3/18 – Takoma Park, MD Library
5/18 – Gaithersburg Book Festival, Gaithersburg MD
3/21 – Bank Street Books
3/24 – An Unlikely Story, Plainville MA
3/25 – Porter Square Books, Cambridge MA
4/13-4/14 – LA Times Festival of Books
4/27 – Mrs. Dalloway's, Berkeley CA (with Pamela Turner)
5/1 – Books Inc., Mountain View CA
5/2 – Kepler's Books, Menlo Park, CA
5/3 – Hicklebee's Books – San Jose, CA
CONFERENCES
2/28-3/1 – Write To Learn, Osage Beach MO
4/4 – State of MD Literacy Association – Baltimore MD
4/17 – Texas Library Association – Austin TX
7/6-7/7 – Nerd Camp MI
11/22-11/24 – NCTE, Baltimore MD