Films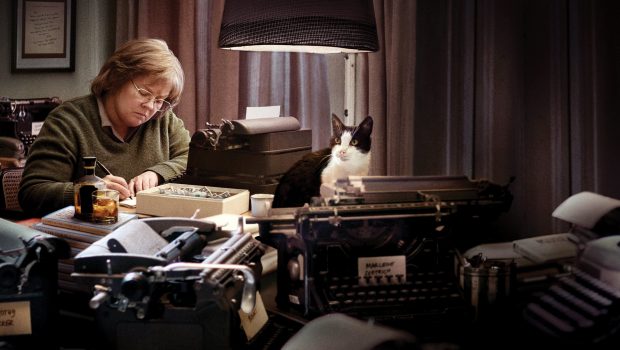 Published on December 13th, 2018 | by Damien Straker
Can You Ever Forgive Me? – Film Review
Reviewed by Damien Straker on the 13th of December 2018
Fox Searchlight Pictures presents a film by Marielle Heller
Produced by Anne Carey, Amy Nauiokas and David Yarnell
Screenplay by Nicole Holofcener and Jeff Whitty based on 'Can You Ever Forgive Me?' by Lee Israel
Starring Melissa McCarthy, Richard E. Grant and Dolly Wells
Music by Nate Heller
Cinematography Brandon Trost
Edited by Anne McCabe
Rating: M
Running Time: 107 minutes
Release Date: the 6th of December 2018
Can You Ever Forgive Me? is ignited by Melissa McCarthy who gives the best performance of her career. She has frequently played loud, brash characters in R-rated adult comedies. This slice-of-life, comedy drama, based on the memoir of author Lee Israel, presents McCarthy in a familiar light albeit at a different change of pace.
While she does not physically resemble Lee, McCarthy continues to play her interpretation perfectly as an out-of-sorts, outspoken type that is befitting of the large personalities for which she has become synonymous with in mainstream Hollywood.
However, it is a comparatively nuanced and more vulnerable portrayal of a woman nearing the end of her own rope. McCarthy embodies her character by unearthing the right amount of grit and black humour so that we come to understand her most dubious actions.
By reining in her overt and often overpowering comic style, McCarthy proves that she can build an emotional attachment to her role while still retaining her sharp comic timing.
The film is set during the early 1990s. Lee is a published author but down on her luck while living in New York. Her biography of Estee Lauder has bombed, and she is now an alcoholic. She is also burnt by the fact that her relationship with a woman has recently ended.
Now she is fighting with her publisher who tells her that she cannot obtain a wealthy advance like some popular wealthy male authors because she only wants to write about one subject, which is the life of the classic entertainer Fanny Brice. It is a subject that has unfortunately grown tired with readers.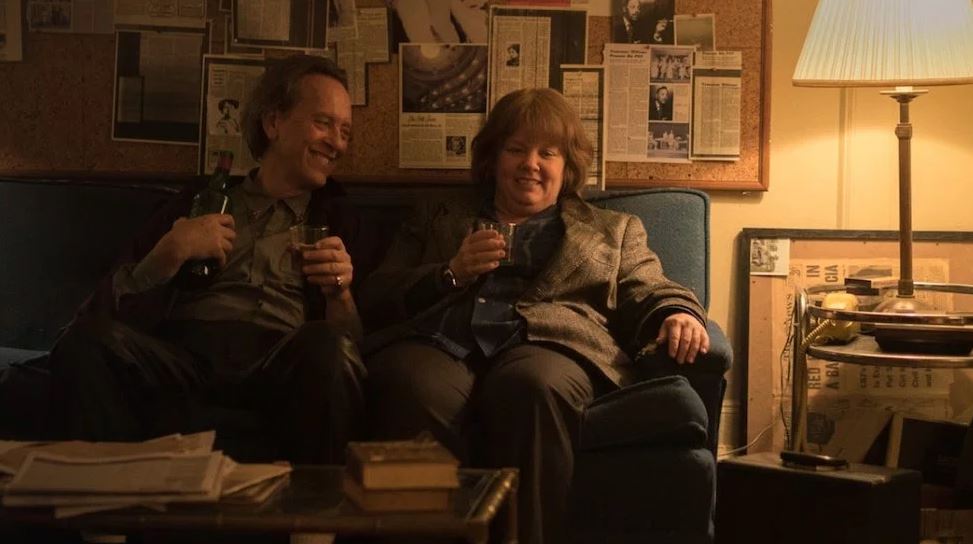 Her publicist tells her that she needs to clean up her life as well. Lee lives in a filthy apartment that has never been cleaned. Her anti-social behaviour is summarised when she tells someone, 'I prefer cats to people'. One of her only real friends is an openly gay man named Jack Hock (Richard E. Grant).
He also lives a very rundown lifestyle too and draws Lee back towards bad choices as she pulls herself together and makes money to survive. Before long, he becomes involved in an elaborate forgery scheme she concocts. Though TIME has suggested that some of their friendship has been fictionalised for the film, such as Jack bordering on being homeless.
To overcome her impoverished lifestyle, Lee develops the idea about forging the signatures of famous authors. She takes letters from people such as the playwright Noel Coward, but then writes additional paragraphs in their style and then forges the author's signature on the page. She sells them to collectors so that she can make money, pay her rent and care for her sick cat.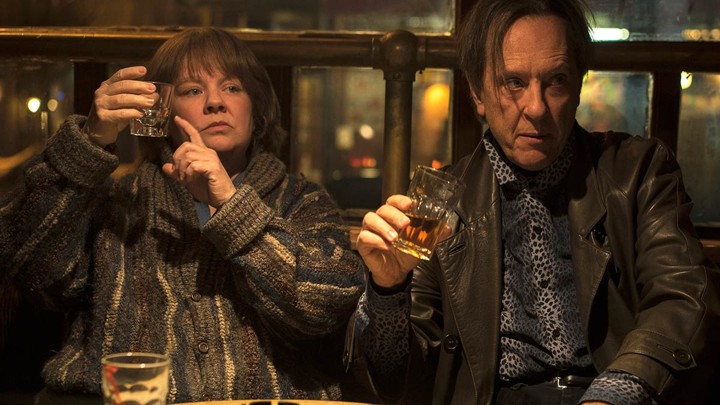 The more frequently she undertakes this crime, the more it arouses suspicion. It infringes on a potential relationship she develops with Anna (Dolly Wells) too who runs a bookstore that Lee rips off. Soon, the FBI are heavily involved with cracking the scheme wide open.
Director Marille Heller, whose previous film was the indie drama The Diary of a Teenage Girl (2015), strongly articulates Forgive Me?'s chilly New York atmosphere. She shoots the exterior shots at wintry locations and then contrasts them with brown colour tones for the interiors of rooms. The colour scheme resembles the brown smudges found on the pages of old books as they disintegrate. It infers we are watching Lee as a relic of the past.
The icy locations and the film's old-fashioned jazz tunes on the soundtrack combine to illustrate Abigail's isolation and loneliness as a dwindling figure desperate to recreate the magic of the past. The film's only technical fault is its pacing, which makes the proceedings longer than necessary.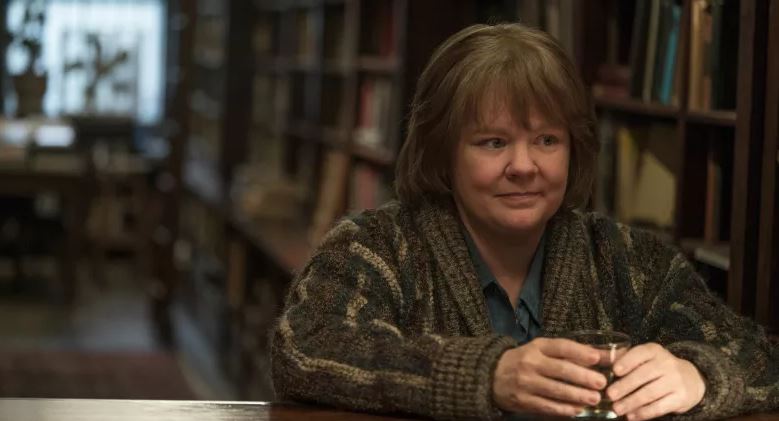 Another attraction is the witty script by writers Nicole Holofcener (Enough Said) and Jeff Whitty. It employs the appropriate amount of black humour to comically underline Lee's detachment from society. One of the funniest moments is when Lee is in her publicist's office and she begrudges Tom Clancy for being right-wing and receiving huge advances.
This scene stresses her discontentment with the way men are elevated above women in the publishing world. In another scene, she feels displaced among the other guests at a party and then blatantly steals someone's coat. The film mercifully sidesteps having Lee and Jack rapidly improve their lives in favour of highlighting their humorous flaws and unpleasantries.
Both Lee and Jack are shambolic people who live rough lives and throw funny barbs at each other. One of the best examples of the decay is within Abigail's apartment where action and visual detail combine. The absolute filth and rot that she lives within, having neglected a clean out, is gag-inducing. The most disgusting apartment this century is an image that perfectly summarises Lee's depression.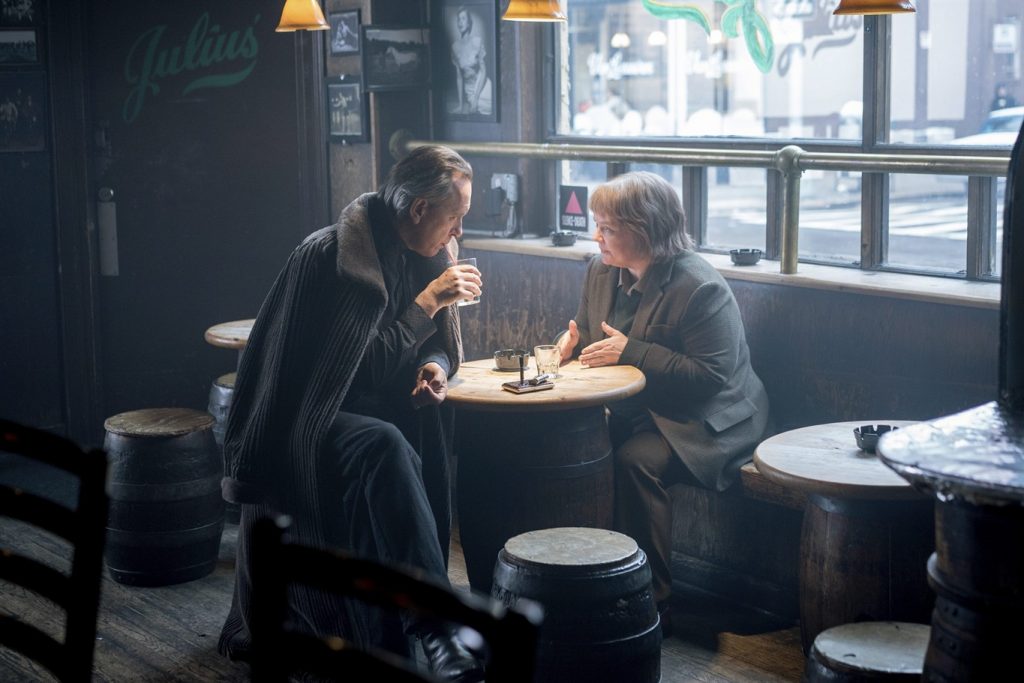 The film works well as a comedy-drama when it is making these acute social and behavioural observations. Although it dabbles effectively in crime and suspense, such when Lee tries stealing a letter from the Library for the Performing Arts at Lincoln Center, the brevity of these sections also means the film's overall genre is somewhat elusive.
It is best described as a character study of a woman who must concede she has falsified her past. Her ex-partner reminds Lee that she was never happy when they were together despite the rose-tinted glasses through which she views their former relationship.
Through this backstory and the action of forging the letters of the past, Lee must realise the state of her fractured life in the present day instead of literally and psychologically rewriting history.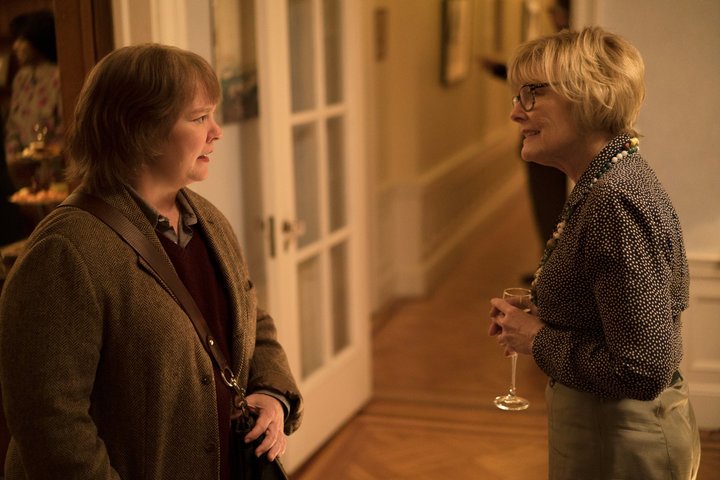 While Richard E. Grant might seem like an unusual pairing with Melissa McCarthy, his energy and humour are the perfect foil for her dry wit. He manages to be funny, but in the sequence where he trashes her apartment after she trusts him to mind it for her, we are reminded of his toxic influence because he cannot look after himself and makes bad choices.
Ultimately, the best decision director Marille Heller makes is keeping the camera on McCarthy. She has rarely been this enjoyable and engaging to watch. She fully utilises her typically commanding presence and unearths black humour and insights into Lee's psyche to show how she is blinded by the past.
Meanwhile, McCarthy's wit is enriched by the script's darkly funny banter. The humour is selective but funny enough to apply acidic verbal comedy to the proceedings. While not an exceptional film altogether, it never stops its excellent leads from soaring to their own great heights.
Summary: Can You Ever Forgive Me? is ignited by Melissa McCarthy who gives the best performance of her career.