Games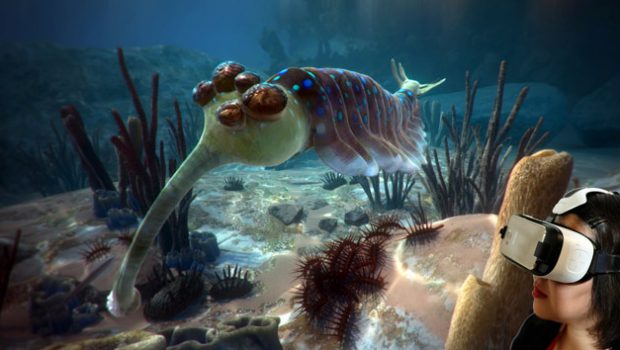 Published on April 10th, 2017 | by Admin
You can now experience David Attenborough's First Life VR on PlayStation VR
Sony Interactive Entertainment has today announced the release of three immersive Alchemy VR virtual reality experiences out now for PlayStation VR: David Attenborough's First Life VR, Cocos: Shark Island and Atomic Ghost Fleet.
First Life VR takes viewers on a journey into the heart of an ancient world with one of the greatest naturalists of modern times, Sir David Attenborough. Together you explore the ancient Cambrian ocean in this 15-minute film, which invites you to unearth the secrets of the evolution of the first life on Earth.  Here you meet Earth's earliest inhabitants, coming face to face with extraordinary extinct sea creatures including the fearsome Anomalocaris and the curious looking Opabinia. First Life is a fully rendered 360 CGI environment created by award winning SFX studio ZooFX who have created graphics for Hollywood films including Gravity. The experience has been shown in some the world's leading cultural organisations including London's Natural History Museum and the Australian Museum in Sydney, but now thanks to PlayStation VR you can watch this incredible experience without having to leave your sofa.
In Cocos: Shark Island, you'll journey to the incredible island paradise of Cocos, just off the coast of Costa Rica. Here you dive deep into its rich waters, discovering its incredible wildlife. But at night this underwater world transforms from a tranquil place to something quite different – these waters are teaming with sharks and when the sun goes down, you witness first-hand what a shark feeding frenzy is like in the deep dark of night.
The final virtual reality experience, Atomic Ghost Fleet, is an 18-minute underwater dive into a World War 2 warship graveyard located in the Bikini Atoll, in the crystal blue waters of the tropical Pacific. This VR experience takes you inside the hidden rooms of ships including the USS Saratoga, the biggest and most impressive ship sunk during Operation Crossroads, which enemy forces claimed to destroy on numerous occasions during the war, and the HIJMS Nagato that acted as the nerve centre of the Japanese attack on Pearl Harbour.
For more information on these immersive experiences available on PlayStation VR today, head to the PlayStation Blog.