Events
Published on September 5th, 2019 | by Admin
Calling all PUBG gamers to squad up and load up for Red Bull Fight or Flight powered by OMEN
Today registrations have opened for Red Bull Fight or Flight, the biggest PLAYERUNKNOWN'S BATTLEGROUNDS (PUBG) esports tournament for amateurs Australia has ever seen.
Red Bull Fight or Flight, a first-of-its-kind battle royale esports tournament powered by OMEN (HP's purpose-built gaming range) and in collaboration with ESL, will challenge 4-person squads with custom PUBG settings, to see whether they will fight, or take flight to become the last team standing.
The unique in-game settings for Red Bull Fight or Flight are different to PUBG esports. The games will be fast-paced, lasting no longer than 15 minutes, with the playing field shrinking rapidly and causing more damage to you and your team. In addition, the loot spawns are much more concentrated and more frequent care packages offer better equipment. With qualifiers open to all gamers, Red Bull Fight or Flight will level the playing field for amateur and seasoned gamers alike and make for a fantastic viewing experience.
Qualifier events will take place at PAX Australia in Melbourne at the Red Bull and OMEN booth (11-13 Oct), online via ESL Play (18-20 Oct) and at Carriageworks in Sydney (2 Nov). The Grand Final will be held at Carriageworks in Sydney on the evening of 2 November in front of a live audience and streamed on Red Bull Twitch, giving wings to amateur players who will experience a taste of what it's like to play on stage like a pro and a chance to win a prize pool valued at up to $45,000, including an all expenses paid trip to the PUBG Global Championship Grand Finals, taking place in Oakland, California, on November 23 and 24.
"At HP, we have long shared our users' passion and love for gaming, supporting gamers with purpose-built OMEN technology that can make the difference between a chicken dinner or defeat," said Ken Maher, Director Personal Systems at HP. "HP believes gaming is for all, so we're excited to be partnering with Red Bull and empowering Australia's best PUBG players to challenge themselves."
"PUBG is such an exciting game because you could always be a moment away from being taken out – with the Red Bull Fight or Flight rules this effect is doubled," said Kritikalmotion, one of Australia's most prolific PUBG streamers.
"We're constantly seeking unique experiences for our fans around the world, so we're thrilled to be working with Red Bull to bring one of the largest amateur PUBG competitions to our community in Australia," said Jeff Parker, Head of Central Events at PUBG Corporation. "The unique game settings we've devised are sure to keep things interesting and we're looking forward to an amazing event series."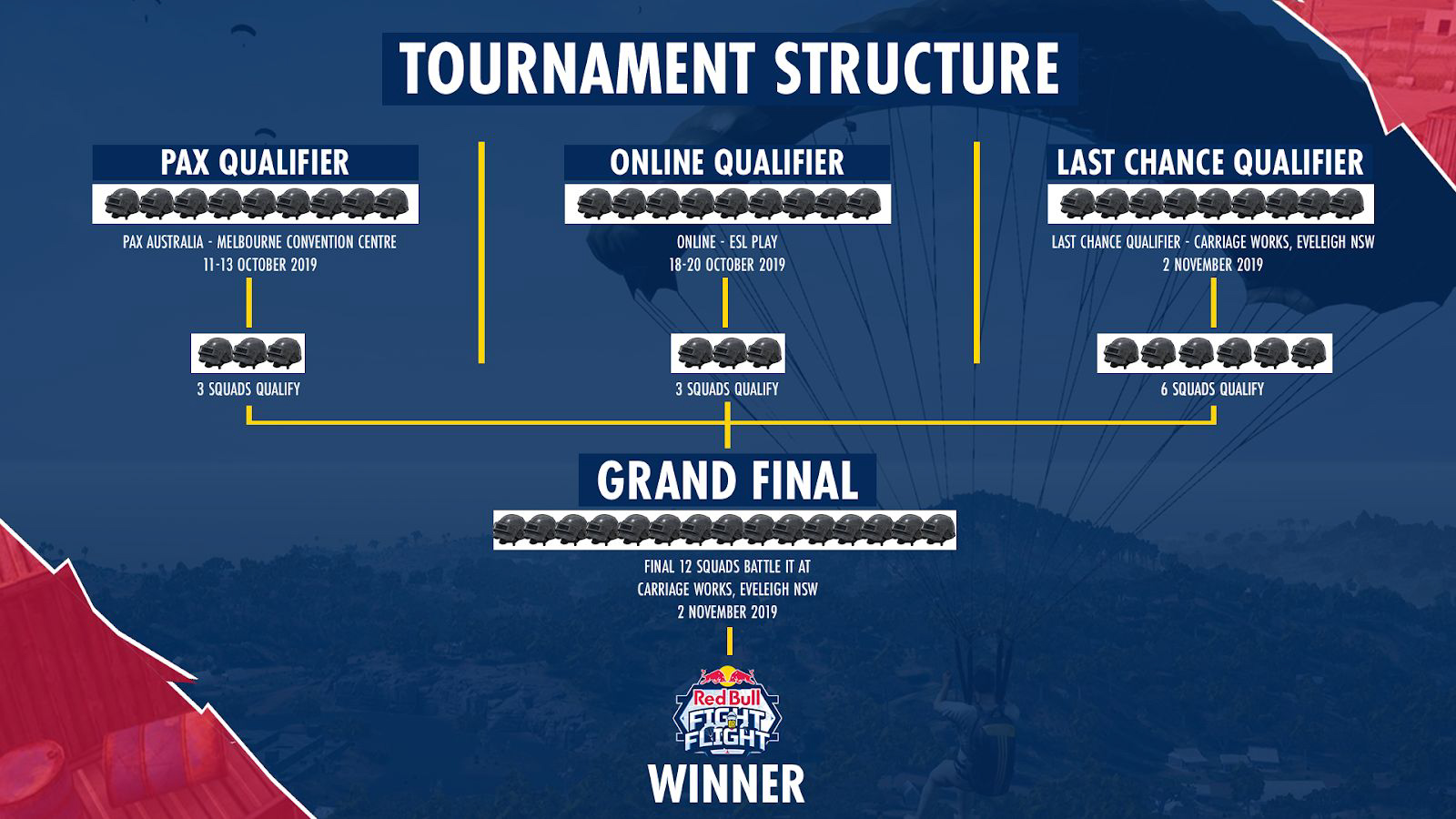 To be one of the 12 squads to compete at the Red Bull Fight or Flight Grand Final, PUBG players over 18 years old can enter their 4 person squad into one of the following qualifier events:
Live Qualifier: Red Bull Fight or Flight and OMEN booth at PAX Australia in Melbourne, 11-13 October
Squads can register at the Red Bull and OMEN booth during PAX on a first come, first served basis. The winning squad on each day (Friday, Saturday and Sunday) will win flights and accommodation to the Red Bull Fight or Flight Grand Final in Sydney on the 2 November 2019 to compete.
Online Qualifier: Online via ESL Play, 18-20 October
Registrations will be taken online at ESL Play until 11:59pm AEST, 17 October, 2019 or until timeslots are full. Teams will battle their way through a tournament format to claim number 1 spot. The winning team from each of the three online qualifiers will win a $2,000 stipend to assist with travel and accommodation to attend the Grand Final in Sydney.
Last Chance Qualifier – Carriageworks in Sydney, 2 November
Registrations will be taken online until 11:59pm AEST, 1 November, 2019 or until spots have been filled. The top team from each group will advance into the final lobby, with the top six teams of the Last Chance Qualifier qualifying to the Grand Final.
The final twelve teams that have qualified for the Grand Final will compete in a five-map series on the Sanhok map, with teams earning points for both overall round placements, as well as eliminations. At the end of the fifth map, the team with the highest total points will be declared the winner.
Use the hashtag #RedBullFightorFlight on Twitter and other social media channels.
For the unique Red Bull Fight or Flight PUBG game settings for the Sanhok map, to enter your squad or buy your tickets for the Grand Final, visit Red Bull Fight or Flight.