Games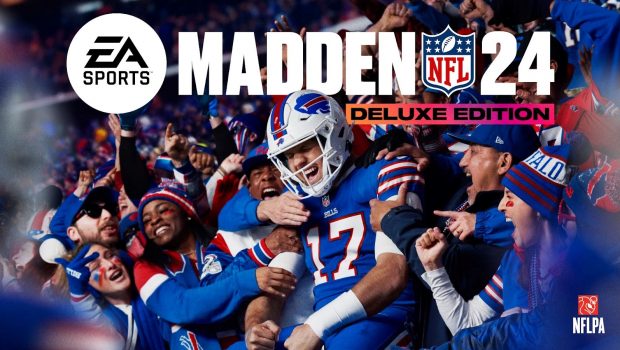 Published on August 19th, 2023 | by Adrian Gunning
CALL YOUR NUMBER IN EA SPORTS MADDEN NFL 24, AVAILABLE EVERYWHERE TODAY
On the cusp of a new football season, Electronic Arts Inc. (NASDAQ: EA) today released EA SPORTS™ Madden NFL 24 worldwide with game-wide innovation that immerses fans in the most authentic National Football League (NFL) experience to date. Increased control and realism delivered through gameplay innovations across the game on Sony PlayStation®5, Microsoft Xbox Series X|S and PC allow fans to become an NFL superstar while putting their skills to the test. Plus, with cross-play support* in head-to-head and certain online multiplayer modes, fans can compete across PS5™, Xbox Series X|S, and PC platforms for the first time in Madden NFL.
"Launching Madden NFL is about more than a game – it's a cultural moment in the football world, a signal to fans that a new season is here and it's time to play," said Daryl Holt, SVP, EA SPORTS and GM, Tiburon. "With ultra-realistic gameplay, greater depth in connected experiences across modes and cross-play functionality, Madden NFL 24 presents more opportunities than ever for football fans to play their own way and celebrate their shared passion for the NFL."
Fans are already enjoying the elevated gameplay experience through early access, and now everyone can pick up the sticks and explore everything Madden NFL 24 has to offer:
The next evolution of FieldSENSE™ on PS5™, Xbox Series X|S, and PC delivers more realism on the field through additions and adjustments to thousands of tackle animations, catch sequences and new pass types.
Foundational football enhancements across blocking, ball carrier pathfinding, quarterback decision-making and defensive back behaviors present an authentic challenge on PS5™, Xbox Series X|S, and PC versions.
EA SPORTS SAPIEN Technology on PS5™, Xbox Series X|S, and PC provides a new skeleton for player models built from the ground up that ensures a new level of animation fidelity, smoother movement, and more realistic looking bodies.
Fan-favorite Superstar Mode returns on PS5™, Xbox Series X|S, and PC platforms, with a revamped feature set that starts at the NFL Scouting Combine and continues with weekly mini-games, objectives and in-game feedback; all-new Superstar Showdown allows for continued avatar progression in a fast-paced 3v3 mode while playing alongside friends.
Franchise Mode features updates on on PS5™, Xbox Series X|S, and PC versions, such as the highly anticipated return of Training Camp paired with in-season mini-games, while new commissioner tools, draft generators and expanded trade slots give players more control over their NFL franchise.
In Madden Ultimate Team™, a new user flow and streamlined experience helps players navigate seven full seasons of content – the first of which is already underway.
Madden NFL 24 Mobile Football returns for its 10th season of action with an authentic and immersive NFL experience accessible from anywhere, anytime. Players will be treated to an array of improvements including the return of playbooks and unlockable NFL coaches, and a host of mobile-first visual design enhancements. Download Madden NFL 24 Mobile Football from the Apple App Store® or Google Play™ store now.
The Madden NFL 24 Championship Series (MCS) returns with more opportunities to compete, watch, and win part of the $1.7 million prize pool. The action begins on Saturday, August 19 as players compete in the Ultimate Kickoff. Tune in September 5-6 on Twitch and YouTube to see who will win the first MCS competition of the season and a piece of the $200K prize pool. SIGN-UP HERE and begin your journey to become the next Ultimate Madden Bowl champion. See Official Rules for details.