Games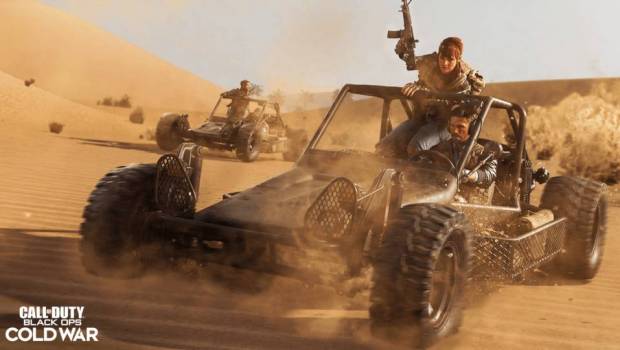 Published on September 10th, 2020 | by Adrian Gunning
Call of Duty: Black Ops Cold War Multiplayer Revealed!
Today, we revealed Call of Duty: Black Ops Cold War Multiplayer to the world, and we couldn't be more excited to share it! Additionally, we announced our Open Beta starting on from 8 October PT for Early Access pre-orders on PS4, so you can get your hands on the game soon.
You can find out more about the key pillars of the next generation of Black Ops MP: deniable operations, signature combat, and a connected experience across the community, by visiting the Activision Games Blog: https://www.treyarch.com/game-intel/2020/09/Black_Ops_Cold_War_Multiplayer_Reveal
We've also shared some more information about cross-play and Battle Pass plans: https://blog.activision.com/call-of-duty/2020-09/Black-Ops-Cold-War-Cross-Play-and-Battle-Pass-Intel-Overview
Some of the biggest take outs are summarised below:
DENIABLE OPERATIONS
In Black Ops Cold War, you'll choose from a selection of skilled Operators hailing from all over the globe, each with their own classified past that ties directly into the game's larger narrative. That story carries over into Multiplayer, where the narrative continues in the years after the events of the single-player Campaign.
Once you've customised your Operator, you'll be dropping into deniable operations all over the world, fighting your way through the battles that "never happened": from the cold, contested waters of the North Atlantic, to the searing deserts of Angola, to the neon-soaked streets of Miami's South Beach. Black Ops Cold War features maps ranging from our signature competitive three-lane map design and original, wide-open combat spaces, to unique large-scale maps that weave infantry and vehicle combat together in explosive new ways. We'd love to hear your feedback when you check out these locations in next month's Open Beta and at launch.
SIGNATURE COMBAT
With more than a decade of Black Ops Multiplayer experiences under our belts, "signature combat" means a lot: fast and frenetic action, fluid movement, fan-favourite weaponry, rock-solid game mechanics, and above all, tons of fun. In lieu of the old Pick-10 model, this Create-a-Class system is slot-based, giving players the freedom to choose a primary, secondary, tactical, lethal, Field Upgrade, Wildcard, and a full set of Perks in every loadout. Gunsmith goes beyond anything you've seen in a Black Ops game with up to 54 attachments per weapon across eight attach points on every primary weapon. In-game weapon stats offer a deep customisation experience, including exact percentage changes for all attachment stats. And for the first time, you can equip up to eight attachments at once on a single primary weapon with a certain Wildcard selected.
A CONNECTED EXPERIENCE BUILT FOR NEXT-GEN 
Black Ops Cold War brings the community together with next-gen, cross-gen, and cross-play compatibility, so players can party up with their friends no matter which platform they choose across current-gen consoles, next-gen consoles, or PC.  In case you missed it, post-launch Multiplayer maps and modes will be free for all players, and the game will feature a unified progression journey shared with Call of Duty: Warzone, adding inventory items that can be used in both titles. Both games will also share post-launch content from a narrative standpoint, interweaving some of the themes, weapons, and Operators of Black Ops Cold War into Warzone. 
On the technology front, our teams have pushed the limits of in-game visual fidelity through photogrammetry-captured environments and characters, photometric lighting, and a high-dynamic-range, 4K experience on next-gen consoles and PC. With the jump to 4K, tiny details in the environment stand out, and by using photogrammetric techniques that measure accurate colours and material properties of physical objects and environments, players can see even more crystal-clear details on-screen.
Black Ops Cold War features enhanced in-game audio, including 3D audio support on next-gen and PC, and a complete acoustic model to provide an authentic sound experience on all platforms. This allows sound waves to be delayed, reflected, and obstructed by geometry accurately, dynamically changing as players and other sound sources navigate through complex scenes.
We can't wait for you to see, hear, and play everything that was covered today when the game launches on 13 November AEDT/NZDT but before all that, the Open Beta kicks off in just a matter of weeks! Starting from 8 October PT for Early Access pre-orders on PS4, the game will be out in the wild and we'll be playing alongside all of you.
There's still plenty of work to be done before now but let us know what you thought of today's Multiplayer Reveal on Twitter and Instagram!