Films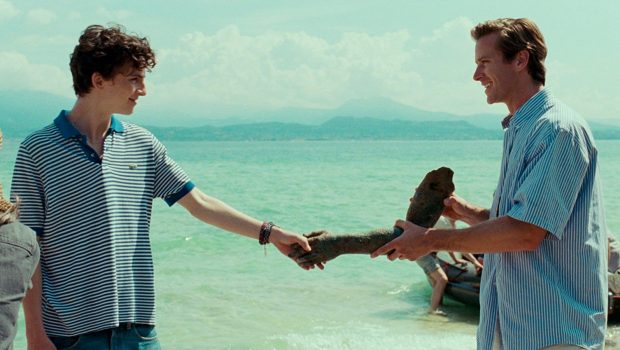 Published on December 18th, 2017 | by Curtis Mayfield
Call Me By Your Name – Film Review
Reviewed by Curtis Mayfield M-H on the 12th of September 2017
Sony Pictures presents a film by Luca Guadagnino
Written by James Ivory (screenplay by) and Andre Aciman (based on the novel by)
Produced by Luca Guadagnino, Emilie Georges, James Ivory, Marco Morabito, Howard Rosenman, Peter Spears and Rodrigo Teixeira
Starring: Armie Hammer, Timothée Chalamet, Michael Stuhlbarg, Amira Casar and Esther Garrel
Music by Sufjan Stevens
Cinematography: Sayombhu Mukdeeprom
Edited by Walter Fasano
Running Time: 130 minutes
Rating:
Release Date: the 26th of December 2017
It might be considered storytelling cheating when you set a love story in front of the beautiful rural setting of 1980s Italy. But you know what? Call Me By Your Name is still a gorgeous movie, and whether it gets unfairly categorised as Oscar bait is something we can worry about in the future. For now, we should just marvel at director Luca Guadagnino's free-flowing storytelling and the results he achieves from his amazing actors. Let's start with Timothée Chalamet who's set up to be the breakout star of this piece. Chalamet breezes his way through playing Elio, an intelligent 17-year-old musician and future scholar who lives with his academic parents in a small Italian village (already sounding beautiful right?).
Elio has knowledge and maturity beyond his mere teen years and it shows through the intellectual swordfights he has with his father's protégé Oliver, a muscular and self-assured 25-year-old American who's living with Elio's family. The deep voiced and normally screen dominating Armie Hammer fills the tatted Converse shoes of Oliver. Hammer is usually positioned to be the good-looking main attraction in other films (and it really isn't that much different here) but this time around he's just a little off centre from the spotlight and that works just fine. It's reassuring seeing a leading man present the ability to be a main character but in a more subtle way.
Elio resents Oliver's somewhat brash ways and his affinity to simply say "later" and walk away whenever the older American decides he wants to bid adieu or be left alone. After some time and slow steps towards a bonded relationship the two begin to become way more than friends but are held back from a full on physical relationship, mainly due to Oliver's fear of being outed. But Call Me By Your Name doesn't really end up being a movie about the need to hide a "forbidden" homosexual relationship. It's more of a love story that's just framed a little differently. The difference isn't in the gender of either lovers or the age gap. It's presented from a coming of age aspect more than anything else for the novice Elio as well as the more established Oliver.
The two have a lot to offer each other as they talk shop about literature and music while sunbaking next to a scenic pool in the Italian countryside. What's great about this movie is the fact that it doesn't have the usual tropes to which a lot of other romantic movies normally fall victim. There's no meet-cute situation or shots of two lovebirds looking at each other from across the room. In fact, they avoid each other for the first quarter of the film. What this movie does have is an emotional build up that sounds like a "will they or won't they?" type of deal on paper but on the screen it comes out as a poetically charged monsoon of romance and self-realisation.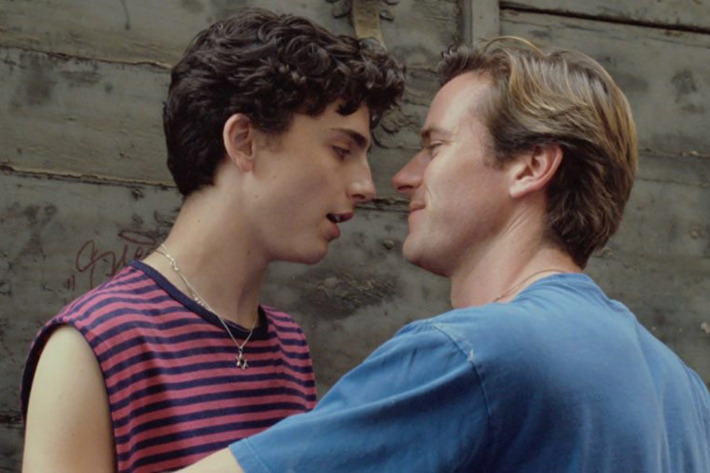 There are some aspects of Call Me By Your Name that might be too confronting for some audiences but it's doubtful that Guadagnino was ever aiming for a mainstream crowd as it really steers into the exploration of sexuality and chemistry with others. One scene involving Elio and a peach would even make Jason Biggs blush. It's clear that Timothée Chalamet has a very bright future in acting. It's not surprising that one of my notes said that the actor has the subtle magnitude of a young Casey Affleck since Chalamet played the child version of Affleck's character in Interstellar.
A lot can be said for the actors who play the very open and affectionate parents. Amira Casar, who is caring and approving towards her son, plays mum but it really is Michael Stuhlbarg's performance as dad that steals the show. Stuhlbarg gives an amazing monologue towards the end of the film that will definitely inspire even the most hardened moviegoer to shed a tear or two. Guadagnino and screenwriter James Ivory have created a fine movie that's light on the drama and becomes playful when it needs to be. Seeing Elio and Oliver playfully wrestle with each other (physically and mentally) makes for some quite touching moments.
It's not all roses though as Elio, as confident as he is, has a lot of rough terrain to navigate as he figures out his sexuality. Unfortunately, that means his sort of girlfriend Marzia (stunning newcomer, Esther Garrel) must suffer for it. Elio as a character is also a very interesting study into the idea that loving someone is on par with suffering as the teen watches Oliver woo the Italian women who catch his eye. Despite this Casanova aura it's obvious that the two men are destined for one another but a time crunch does add pressure to this coupling. Throw in a great musical score by Sufjan Stevens to complement the actor's beautiful performances and you've got one touching movie on your hands.
Summary: It comes out as a poetically charged monsoon of romance and self-realisation.