Games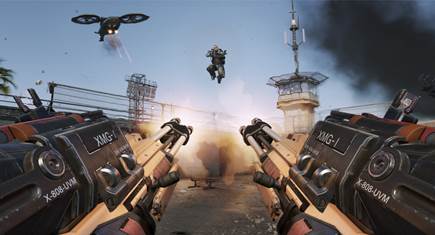 Published on September 15th, 2014 | by admin
CALL OF DUTY®: ADVANCED WARFARE MULTIPLAYER HANDS-ON AT THE EB GAMES EXPO 2014
Xbox to proudly host first Call of Duty®: Advanced Warfare hands-on in Australia Playable only on Xbox One 
Activision, Sledgehammer Games and Xbox are bringing Call of Duty®: Advanced Warfare to the EB Expo in Sydney from October 3.  There will be 36 multiplayer stations at the Xbox booth, giving Australian fans the first and only opportunity to play Advanced Warfare ahead of the release of the Day Zero Edition, which grants fans who pre-order the game early access, 24 hours before the November 4 standard edition release.
Fans will have the chance to experience 4 multiplayer game modes which include fan favourites, Team Deathmatch, Capture the Flag and Hardpoint as well as a new mode called Uplink.  These modes will be played across four maps: Biolab, Riot, Ascend and Defender.
Call of Duty®: Advanced Warfare is the first in the franchise to be created with a three-year development cycle and fundamentally changes the Call of Duty multiplayer experience. With the all-new exoskeleton, players can boost, jump, dodge, dash, slide, slam and more as the action goes vertical, while using future-tech, cutting-edge capabilities.  Offering a new reward system, including more than 1,000 in-game player rewards, and nearly limitless customisation options, the title offers the most in-depth, robust and advanced Call of Duty multiplayer experience ever, on both next generation, current generation systems and PC.
The Call of Duty area will be restricted to attendees aged 15+ based on the MA15+ rating issued by the Classification Board of Australia. The EB Games Expo takes place on October 3 – 5 at the Sydney Showground  Visit www.ebexpo.com.au  for ticket enquiries.
For full product information, visit www.callofduty.com/advancedwarfare.  For the latest intel, check out: www.callofduty.com, www.facebook.com/callofduty, www.youtube.com/callofduty or follow @CallofDuty_ANZ on Twitter and Instagram.