Films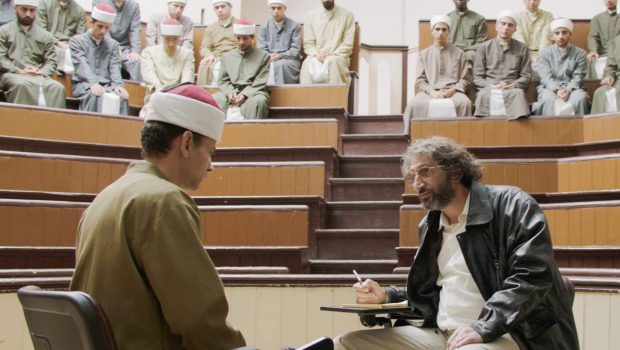 Published on May 1st, 2023 | by Tim Chuma
Cairo Conspiracy Review (2022)
Summary: A rare political thriller that manages to acheive excitement without car chases, explosions or even moving from the same location that much. Worthwhile viewing.
When Adam (Tawek Barhom) receives a scholarship to Al-Azhar university, the world's leading Islamic institution, he finds himself sucked into the intrigues surrounding it when the government informer Zizo (Mehdi Dehbi) chooses him as his replacement on the orders of government secret service agent the rumpled-looking Colonel Ibrahim (Fares Fares).
The government is interested in maintaining control over the institution to ensure stability in the country. When the current leader of the university passes away a chain of events go into action with many people trying to put their finger in the pie and young Adam stuck in the middle.
This is a thriller in a setting you would not normally see as you don't really hear that much from inside an educational institution like Al-Azhar university except the one-sided reporting that usually comes out from the West. It is always the "bad influence" of Imams that is concentrated upon.
While the film is set in Cairo it actually had to be shot overseas as the director has been exiled from his country. His grandfather was a student who attended the university on scholarship and he wanted to show what happens when young and impressionable young people move to a big city and get exploited.
It is a very dialogue-heavy movie with a lot of people sitting and listening to other people talking. You would think that this would make it boring to watch but it does have a brisk pace that reminds me of a Cold War spy movie like Tinker Tailor Soldier Spy where important things are only said once and you are expected to keep up. There is some action but it is only as a result of people acting when they should not have.
The politics and motivations of the characters are very murky in this movie. It is difficult to say who is in the "right". Should it be the government wanting to maintain order or the institution wanting to maintain their independence? From the scenes within the institution it seems the students choose which Imam they want to study under.
I would recommend this movie if you like complicated political thrillers but get tired of all the car chases and explosions that modern Hollywood stories seem to involve. This is more of an old-school cerebral type of thriller that requires you to actually think about what is going on screen.
Film details:
Writer/Director: Tarik Saleh
Starring: Tawfeek Barhom, Fares Fares, Mohammad Bakri, Makram Khoury, Sherwan Haji, Jawad Altawil, Ramzi Choukair, Samy Soliman
Genre: Thriller
Language: Arabic
Length: 126min
Trailer