Events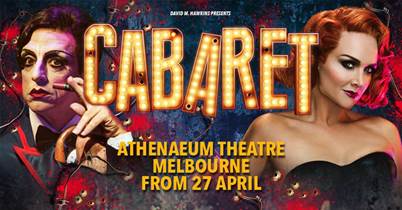 Published on April 4th, 2017 | by admin
CABARET – FULL MELBOURNE CAST ANNOUNCED
CABARET
book by Joe Masteroff
based on the play by John Van Druten and stories by Christopher Isherwood
Music by                                   Lyrics by
John Kander                      Fred Ebb
FULL MELBOURNE CAST ANNOUNCED
PAUL CAPSIS & CHELSEA GIBB
KATE FITZPATRICK     JOHN O'MAY     DEBORA KRIZAK     JASON KOS
and joining Cabaret for the Melbourne season
MICHAEL CORMICK & ANGELIQUE CASSIMATIS

"Quite simply – this is a must-see production" Australian Stage
"evocative…authentic" Ben Neutze, Daily Review
"professional snap and crackle" Jason Blake, Sydney Morning Herald
"If you can get a ticket: do it now "Diana Simmonds, Stage Noise
"outstanding…electric" Polly Simons, Daily Telegraph
Following a sell-out season in Sydney, The Kit Kat Club is returning to Melbourne in all its decadence for a new Australian revival of CABARET playing at The Athenaeum Theatre from 27 April for 4 weeks only.
Cabaret features the amazing Paul Capsis as Emcee; Kate Fitzpatrick (Fräulein Schneider)  Debora Krizak (Fräulein Kost) John O'May (Herr Schultz), Jason Kos (Clifford Bradshaw), along with Australian actress, singer and leading lady of musical theatre Chelsea Gibb (Sally Bowles).  Today the final cast members were announced with Angelique Cassimatis as Helga and Michael Cormick as Ernst Ludwig
Winner of 12 Tony Awards, 8 Academy Awards and 7 BAFTA Awards, CABARET wows audiences and critics alike time and time again sky-rocketing the careers its starts.  Fifty years ago in 1966 the original Broadway production made a household name of Joel Grey who shook audiences as The Emcee.
Two years later an unassuming Judi Dench stole the show as Sally Bowles on London's West End.  Arguably the most iconic movie musical of all time made a star of Liza Minnelli when she brought Sally Bowles to the silver screen directed by Bob Fosse.
CABARET in its musical form is based on The Berlin Stories by famous author Christopher Isherwood who exchanged his upper-middle-class conservative upbringing for the sexual freedom and social liberation of Berlin during the bustling 1930s.  CABARET the musical, adapted by song and lyrics team Kander and Ebb, became a semi-biographical portrait of Isherwood's life, celebrating life on the edge.
Beneath the fun and games of CABARET lies an ominous melody, providing a glimpse of vibrant Berlin's dark undercurrents during the rise of Hitler.  CABARET walks the tightrope of pure entertainment and serious political consciousness and for this very reason the musical continues to allure audiences.
At a time when much of society is again vulnerable to destructive powers, David M. Hawkins is proud to bring an innovative and exciting new production to Australia.
"My aim is to create a new production of CABARET that engages audiences unlike any previous production, and to do that I believe we need to return to the original source material.  The universal issue of the human condition at the core of CABARET comes from Christopher Isherwood and his perception of what it was like to live in Berlin during the rise of Hitler," Hawkins said.

"The Weimer period offers many exciting theatrical techniques like Brecht's that are present in the script that should be explored.  I want Isherwood's Berlin to be the heart of this production to open endless new layers."
David M. Hawkins has brought some of the biggest Broadway stars to Australia including Liza Minnelli, Chita Rivera, Ben Vereen, Lillias White, Faith Prince, Donna McKechnie and Shoshana Bean.  Hawkins produced the award-winning 2006 tour of Hedwig and the Angry Inch starring iOTA, and historically opened the cabaret room Kabarett Voltaire where he introduced Sydney audiences to phenomenal talents including Rufus Wainwright, Christine Anu, Eddie Perfect and Tim Minchin in his first solo cabaret.  He has presented national tours of Grammy winner Macy Gray twice and legends Helen Reddy and Melanie Safka.
Venue            The Athenaeum Theatre, 188 Collins Street, Melbourne
Dates             From 27 April 2017 – 4 weeks only
Times            Monday to Saturday Evenings at 7.30pm, Matinees Wed 1pm, Sat 2pm
VIP Kit Kat Klub Table Seats available and selling fast
Bookings      www.CometotheCabaret.com.au
B Roll             Featuring Paul Capsis and Chelsea Gibb in conversation:
https://web.facebook.com/cabaretthemusicalaustralia/videos/1534097879955671/