Comics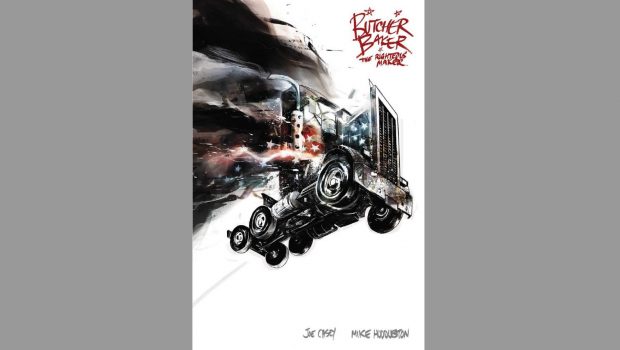 Published on November 22nd, 2017 | by Chris O'Connor
Butcher Baker, The Righteous Maker TP Comic Review
Summary: Testosterone fueled by gasoline thundering down the highway at top speed.
It was part way through reading Butcher Baker that I started to realise why there was a familiarity to it… it's written by Joe Casey the man behind Officer Downe and it has that same sort of "balls to the wall" exaggerated 80's movie style approach to action and adrenaline. Butcher Baker is a retired agent who gets drawn out of retirement for "one last mission"… but of course things aren't that simple and what should have been a simple removal of some loose ends becomes a cat and mouse game of epic proportions.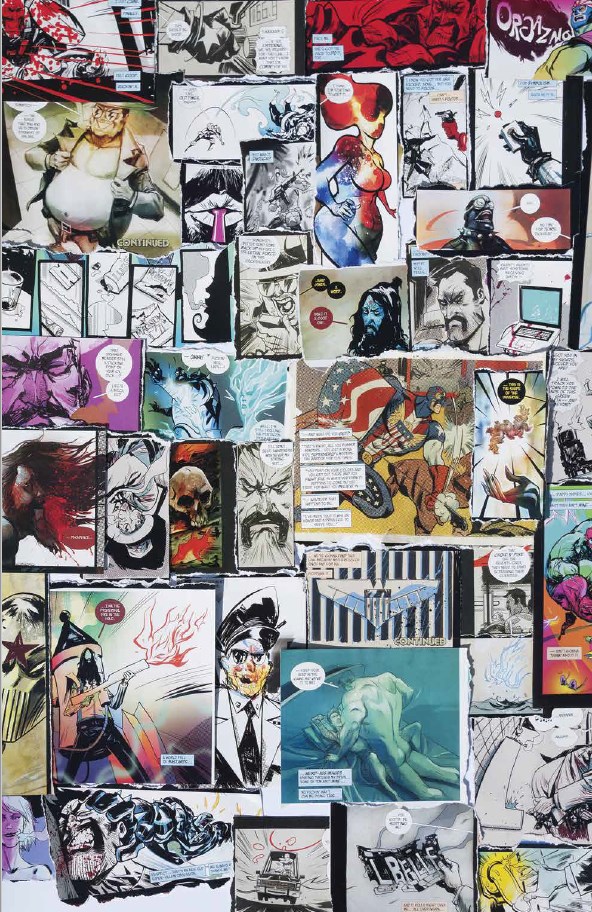 Writing
Joe Casey has a very bold style when it comes to writing… he turns everything up to 111 (why stop at 11). In this case it's not enough to simply have Butcher be physically larger than life… the guy is actually powered by an engine! He comes across as a melding of Jack Burton from Big Trouble In Little China with The Terminator (maybe a bit of Robocop thrown in for good measure). But he isn't the only thing that is over the top… you've to a collection of foes ranging from a sexually fluid hippy to a foe who seems more like a concept than a physical entity. It's well and truly over the top but it's a heck of a lot of fun along the way.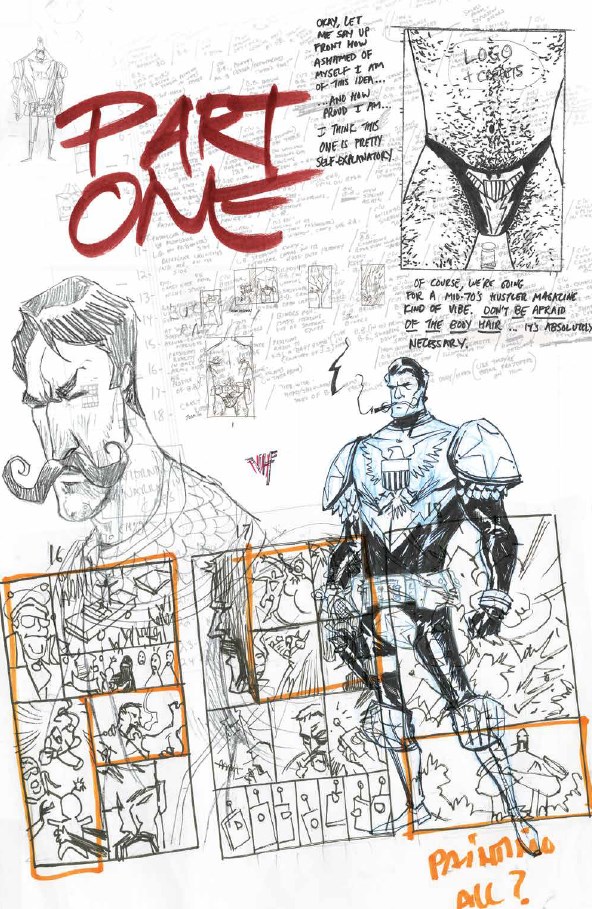 Artwork
The only thing that could possibly match Joe's writing is Mike Huddleston's art work. No doubt drawing on the Smokey and the Bandit inspiration for Butcher (and his law enforcement nemisis) Butcher stands as a physical embodiment of the archetype of testosterone. The military industrial complex has been imagined as what seems to be Jay Leno and Dick Cheney (complete with Darth Vader garb). The images change from black and white to coloured, standard presentation to apparent page out of a sketch book style. The variation in pages adds to the vitality of the whole comic. There's a lot of love and skill shown in all the pages throughout this adrenaline rush of a macho fever dream.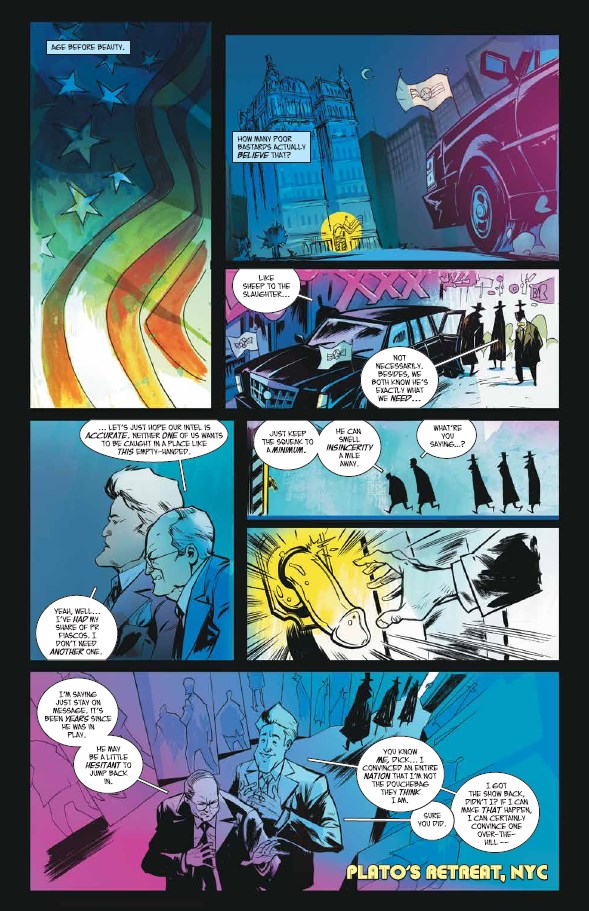 Final Thoughts
There's a very good chance some people will be offended by this comic, it doesn't hold back, in fact it almost looks at what is out there already and breaks down the walls and ramps everything up a few notches. If you thought Duke Nukem was an over the top example of male aggression and sexual appetite you're in for a surprise. Unquestionably for the mature audience only but for those over a certain age, perhaps especially those who grew up with the exaggerated action films of the 80's and 90's, this is a fun romp. Ridiculous in many parts but also fun… I don't think there was any point that I would consider a lull in the story. Will we see Butcher again? Who knows… but I might just have to jump in the cabin, pull the air horn and see what the highway holds.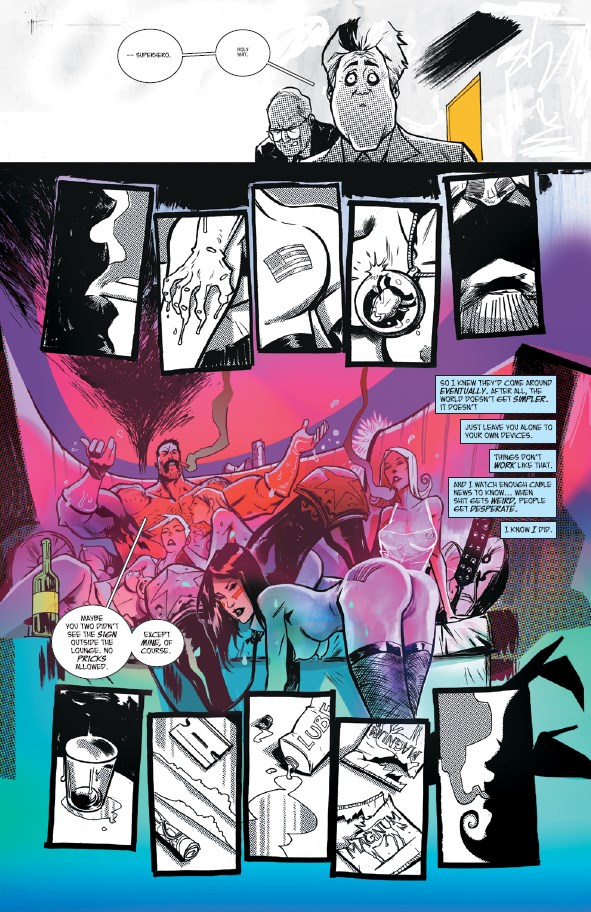 Publisher: Image Comics
Writer: Joe Casey
Artist: Mike Huddleston
Cover Artist: Mike Huddleston
Genre: Action/Adventure
Format: 252 pgs FC, TP
Release Date: 15th November, 2017