Games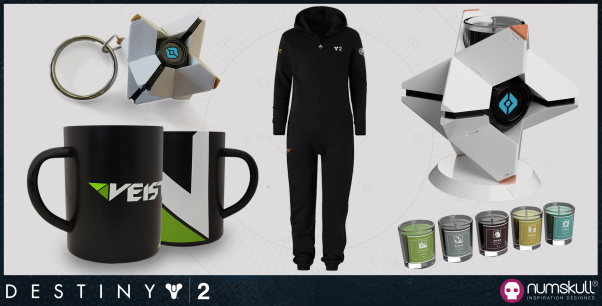 Published on August 8th, 2017 | by admin
Bungie 'Destiny 2' Announcement
London – Tuesday 8th August:
Bungie and Numskull Designs are delighted to formally announce the Official range of unique Destiny merchandise products, to celebrate the launch of the highly anticipated Destiny 2 video game, which is due for release on 6th September 2017 for PS4, Xbox One and PC.
With 22 new and innovative merchandise products in the line up, Destiny fans will be absolutely delighted for the chance to collect items that have never been made available before…… well, until now!
Perhaps the most interesting products are the Scented Candle set, and the replica 3D Ghost Key Chain:
Replica Ghost and Scented Candle Set (Product Link):
Each of the 5 candles has an individual scent that represents the materials found on each planet within the game. The materials are also reflected in the colour of the wax and candle names.
Simply light the scented candle that corresponds to the planet you are exploring, to add a further dimension to your gaming experience.
Comes complete with 130mm tall 3D Replica Ghost to hold each candle.
Replica 3D Ghost Key Chain (Product Link):
At only 32mm in size, this neat and very detailed replica 3D Ghost Key chain is a must for all Destiny fans. Made from durable hard plastic, with a hand painted finish – this will give your keys the power to open any door from your very own mini Ghost!
The entire merchandise range consists of:
A scented candle set (sold with or without Ghost candle holder)
Onesies
Bathrobes (2)
Bottle Opener
Ice Cube Tray
Xmas baubles / Ornaments
Fridge magnet set
Key chains (4)
Wallets (2)
Steel Mugs (2)
Heat reactive mug
Snapbacks (2)
The full range can be viewed here (Link to entire Destiny range)
Designed, manufactured and distributed by UK based merchandise specialists Numskull Designs, the Destiny range has been supported by a long list of high profile retailers and distributors, in over 12 different countries, and is now available for pre-order.
Most notable high profile stockists are:
GAME UK & GAME Spain
Hot Topic USA
EB Games Australia & New Zealand
Gamestop Italy & Ireland
Micromania France
Koch Media Germany
Amazon
Game Mania Benelux
Plus many more…
Visit Numskull for more information on stockists.