Blu-ray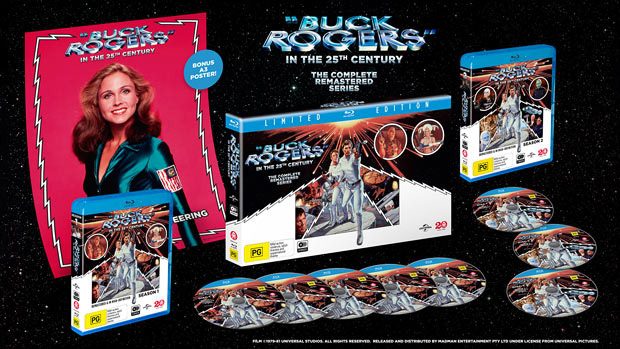 Published on September 12th, 2016 | by James Wright
Buck Rogers in the 25th Century the Complete Remastered Series Limited Edition Blu-ray
Summary: Buck Rogers in the 25th Century the Complete Remastered Series Limited Edition is a must have Blu-ray or DVD collection for any fan of Buck and Wilma... or those that love retro sci-fi!
Wow… I remember growing up watching Buck Rogers which was released around the time of some other sci-fi greats that included Star Wars and Battlestar Galactica. Although the other films and movies captivated me, Buck Rogers also held a special place in my heart and millions of other people from around the world as we followed astronaut Captain William Buck Rogers (Gil Gerard) who found himself 500 years in the future. Although Earth was left devastated due a nuclear holocaust, Buck found some allies that included the beautiful and savvy Colonel Wilma Deering (Erin Gray) and also the famous robot called Twiki (voiced by Mel Blanc) that together these three traversed space and planets in some fantastic adventures.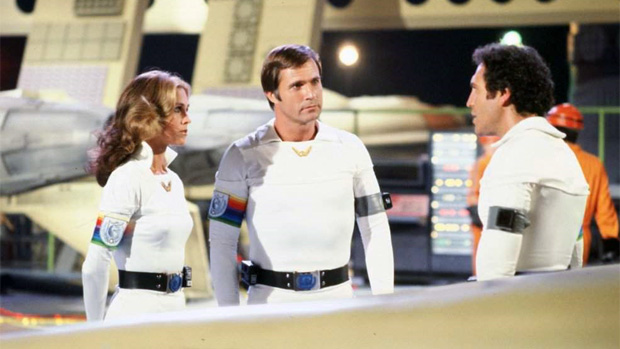 Furthermore, Buck Rogers boasted some amazing guest stars that included Tim O'Connor, Jamie Lee Curtis, Cesar Romero, Jerry Orbach, Vera Miles, Roddy McDowall, Julia Newman, Frank Gorshin, Peter Graves, Jack Palance, Gary Coleman Buster Crabbe, Michael Ansara and Pamela Hensley to name a few. It was definitely the place to be if you were a star! Although this collection contains the entire series of Buck Roger in the 25th Century, it has been remastered in high definition which not only looks amazing on Blu-ray but also sounds amazing. Add in an awesome reversible poster of both Buck and Wilma and it's like being a kid again in the 80's as I eagerly opened up this collection.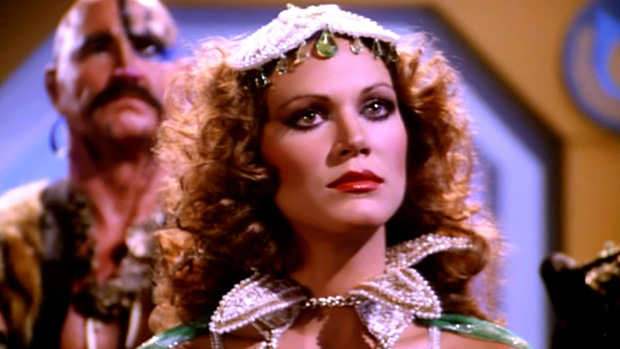 Of course there are a few amusing things about this collection and unlike the kid that originally watched this series, some things have become a little dated and at times, the episodes that gave me a fright now made me quite amused. So whether its 'space' vampires or people ageing backwards,Buck Rogers is filled with some strange things but thankfully the action and adventure set in this sci-fi universe is still a fun watch, even all these years later. Sure some of the acting is a little over the top but given that this was the norm back in the day, I really can't fault this release on Blu-ray because it still delivers, especially with the theme music.
So as mentioned, the series follows Buck who was an astronaut for NASA in 1987 and was the first man to control one of their deep space ships. However his mission goes haywire and ends up frozen for 500 years only to be returned to Earth that has been devastated from war. Unfortunately for Earth, it's now a war ground which is where he meets Colonel Wilma Deering who works for a military organisation that protects the planet. Although their introduction is a little uneasy, these two soon become the 'best' of friends as our old space hero encounters the Draconians.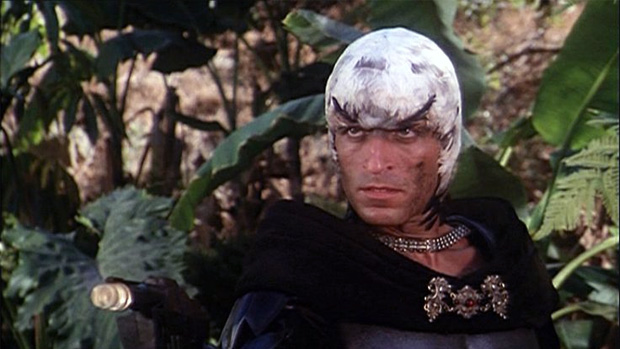 It is also here that we the viewer plus Buck and Wilma learn that that the treaty between the Draconians is only a ploy for this alien force to take over the planet which is led by Princess Ardala (Pamela Hensley), another gorgeous bombshell of the late 70's. Needless to say, Buck must prove himself to Wilma as this hero from the past. Another fun character of the series was Hawk (Thom Christopher) who played the last of his extinct bird people (season 2) and Theo (voiced by Eric Server) who was a sentient computer as this team attempts to save the innocent from a variety of villains.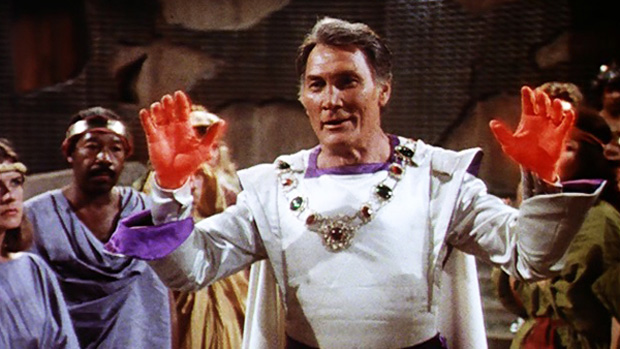 Although there is a slight disconnect between season 1 and 2, I actually enjoyed the following season as Buck and his friends go up against the dreaded Draconians and lots of nefarious and over the top villains. Also, it was quite fun seeing all those stars of yesteryear like Roddy McDowall, Jack Palance, Julie Newmar and Gary Coleman from Different Strokes. Like I said, Buck Rogers was the place to be!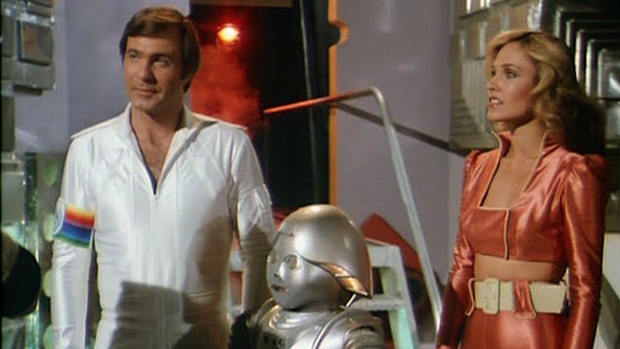 Episode Listing
Awakening (1)
Awakening (2)
Planet of the Slave Girls (1)
Planet of the Slave Girls (2)
Vegas in Space
The Plot to Kill a City (1)
The Plot to Kill a City (2)
Return of the Fighting 69th
Unchained Woman
Planet of the Amazon Women
Cosmic Wiz Kid
Escape From Wedded Bliss
Cruise Ship to the Stars
Space Vampire
Happy Birthday, Buck
A Blast for Buck
Ardala Returns
Twiki is Missing
Olympiad
A Dream of Jennifer
Space Rockers
Buck's Duel to the Death
Flight of the War Witch (1)
Flight of the War Witch (2)
Time of the Hawk (1)
Time of the Hawk (2)
Journey to Oasis (1)
Journey to Oasis (2)
The Guardians
Mark of the Saurian
The Golden Man
The Crystals
The Satyr
Shgoratchx!
The Hand of Goral
Testimony of a Traitor
The Dorian Secret
Video, Audio & Special Features
Given the age of this release, Madman and co have done an outstanding job at transferring it to HD which does boast some great image quality but there still is some specks, scratches and noticeable glitches. Sure, it can't be compared to today's releases but nonetheless, I was quite impressed and it's great that this series has received a HD makeover.
I had a look at some of the older episodes on YouTube and I must admit that this release looks great on 1080p, especially the colour palette which just pops out at you. Audio is also quite acceptable with good levels, clear dialogue and well balanced sounds. For special features, the highlight is of course the reversible poster starring Wilma Deering that comes with a handful of bonuses but the real star of this release if the high definition upscaling of the original TV series.
Special Features
Reversible Buck Rogers and Wilma Deering Poster
Theatrical Version of the Pilot episode (in standard edition)
Ending and Opening sequences for 2-part version of 'Awakening'
Opening and Closing Textless Titles
Bonus 'Awakening' feature-length version (in standard edition)
Bonus 'Journey to Oasis' syndicated 2-part versions (in High Definition)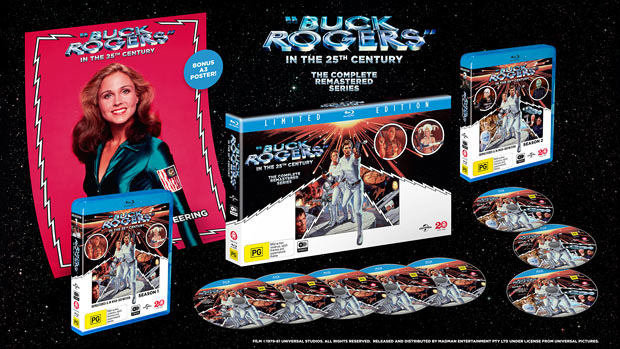 Final Thoughts?
This is really the definitive collection of Buck Roger's in the 25th Century and is a must have for all fans! It's beautifully presented on Blu-ray, especially with the restoration and fun special features! It's time to relive a true sci-fi classic!
Blu-ray Details
Actors – Gil Gerard, Erin Gray, Tim O'Connor, Eric Server
Film Genre – TV Sci-Fi
Label – Madman Entertainment
Audio – English (LPCM 2.0)
Running Time – 1974
Aspect Ratio – 1.33:1
Region Coding – 4
TV Standard – PAL
Rating – PG
Consumer Advice Line – Mild action violence, Adult themes, Supernatural theme
Year of Release – 1979
Primary Format – Movies/TV – Blu-Ray