Switch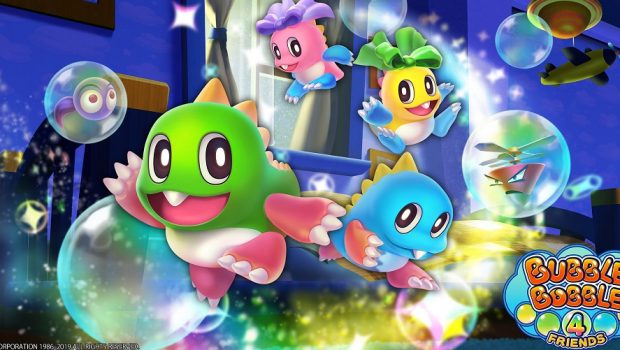 Published on November 18th, 2019 | by Adrian Gunning
Bubble Bobble 4 Friends Nintendo Switch Review
Summary: Bubble Bobble 4 Friends is a successfully return of a great franchise!
Way back in 1986, Top Gun and Ferris Bueller's Day Off became two of the biggest films of that year and the Oprah Winfrey Show debuted… an amazing game called Bubble Bobble was released from Taito that revolved around two little dragons "Bub" and "Bob" who had the uncanny ability of blowing bubbles which allowed them to defeat their enemies and make the world a safer place.
Needless to say, it was and still is one of the classic arcades of all-time, and now in 2019, Bub and Bob are once again called to arms or bubbles to help save the world again from the nefarious Bonner… welcome to Bubble Bobble 4 Friends! It's the classic story of good vs evil (kidding).
The "story" behind Bubble Bobble 4 Friends is delivered as a CGI film and starts in a child's bedroom during one dark night. On this night, the soft-toy Bonner comes to life who is jealous that the child loves Bub more than him and as a result, this long-standing villain of the franchise challenges him again… right after hitting our hero in the head with his magical staff.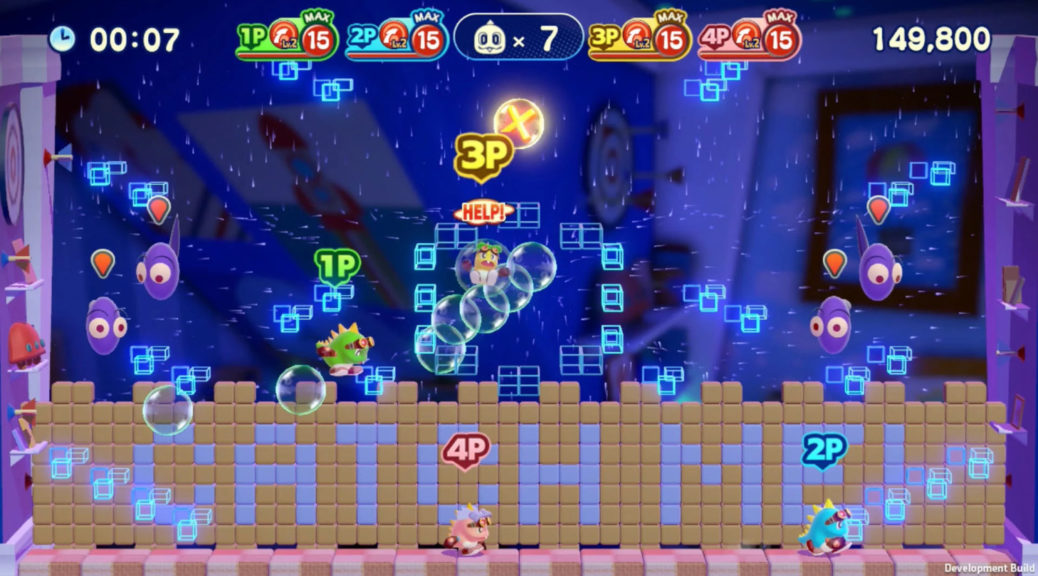 It's then up to the player or players to help defeat this villain and put him back in his toy box so to speak. The game is also split into 5 different colourful worlds with 10 stages in each world and to give you more incentive, there is a rating system of how well you performed in this 3-star system. Needless to say, there's plenty of encouragement to be found in this new Bubble Bobble game.
Taking its cues from the original game, Bubble Bobble 4 Friends is still a 2D arcade game which requires players to defeat a number of enemies in each level as they use their bubble abilities and power-ups. There are also letters to collect which make words in order to give you additional lives an power-ups which is sometimes needed when you go head to head against the in-game bosses.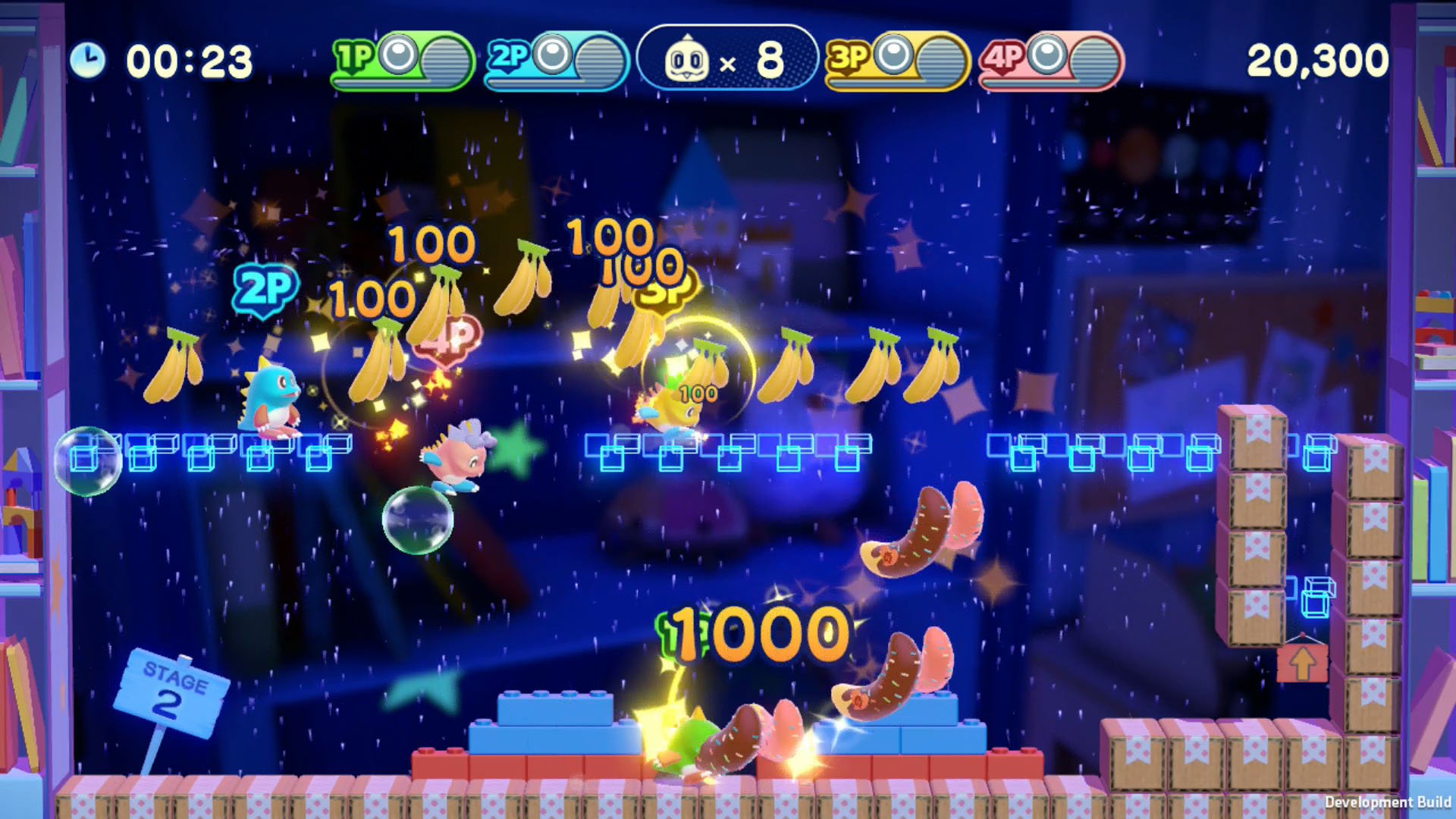 So while you jump, encase your enemies in bubbles, then proceed to pop them, collect power-ups, jump on bubbles to reach higher places, this game may feel like a grind but the overall cuteness of the title makes it a thoroughly enjoyable experience from start to finish and I really love chaining my bubbles together to make things go POP! Also by clearing a world, you can unlock additional skills for your dragons (5 to be precise) and there's some great level design as well which really ups the ante from the original game.
Skill List
Long Shot: increases the range of the bubbles
Thunder Bubble: attacks enemies in a horizontal line when bubble bursts
Bomb Bubble: The bubble explodes after some time and causes damage.
Stop Wind: air flows are interrupted for a short time
Dash Skill: lets characters pass through enemies unharmed
Another highlight of the game is the ability to play with up to four players which sometimes becomes a mad dash to work as a team and defeat the enemies. With that said, teamwork really plays an important role, particularly if you have been caught in a bubble and you're waiting for a buddy to free you, before you end up floating away.
The only thing missing from multiplayer is the ability to play online but nonetheless, the local multiplayer options is still very enjoyable. There's also 50 levels to work through and when this is completed, you can replay them again on the newly unlocked highest difficulty mode which his great for those competitive families.
Furthermore, controls work exceptionally well on the Nintendo Switch and no matter your gaming prowess, you'll be popping bubbles in no time. Controls can also be tweaked such as the Type A (Y/A to jump & X/B to blow bubbles) and B configuration (Y/A to blow bubbles & X/B  to jump) with the analog stick or D-Pad to move.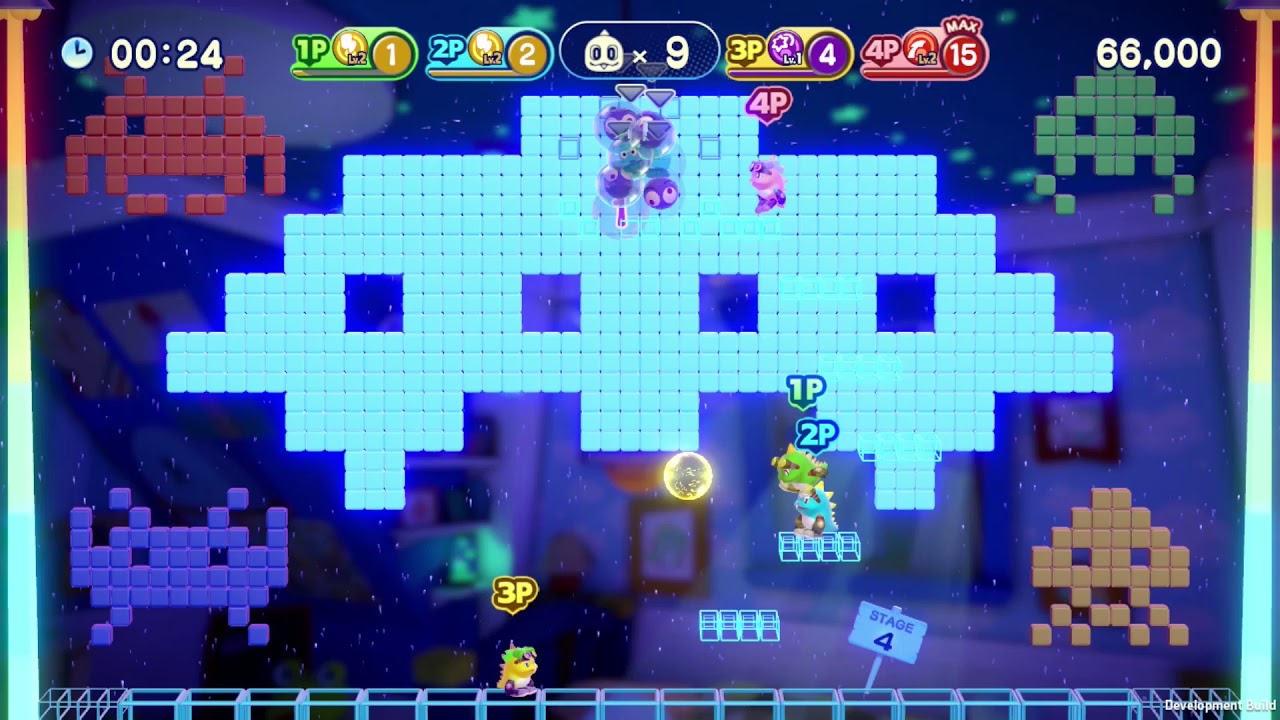 Graphics & Audio
Graphically, Bubble Bobble 4 Friends is a simplistic yet colourful affair on the Nintendo Switch and while it mirrors the original game well, the graphics have been tweaked to offer a touch of modernity. There's also lots of special effects thrown into the fray which add to the overall enjoyment factor of the gameplay plus the character models are pretty darn cool. Then you have the excellent soundtrack and yes… the original Bubble Bobble theme returns as do all the whacky sound effects, including the sounds of bubbles being blown, bounced and popped. All in all, Bubble Bobble 4 Friends comes together perfectly well and if you're a nostalgic like me, it's what Star Wars the Force Awakens SHOULD have been like so kudos to the developers.
Final thoughts?
We really enjoyed Bubble Bobble 4 Friends on the Nintendo Switch and like the 1986 original, it is definitely a far superior game if played with others. As a result, it ramps up the fun factor as gamers with their friends and family are once again returned to the loveable characters of Bub and Bob with its tweaked gameplay and equally cute graphics. It's the perfect 2019 reimagining of an arcade classic and is also fun to play solo as well!
Recommended!