Hardware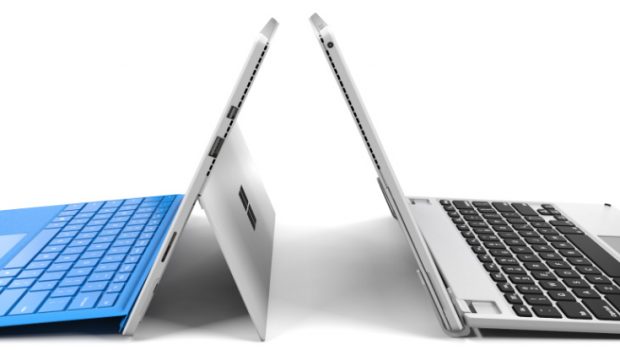 Published on May 25th, 2017 | by Admin
BRYDGE LAUNCHES GAME-CHANGING KEYBOARD FOR MICROSOFT SURFACE PRO
U.S-based, Aussie tech company debuts first-of-its-kind Surface keyboard in Australia
MAY 25th, 2017:  Brydge, the company that set a new benchmark for iPad keyboards around the world, is proud to launch its first keyboard for the Microsoft Surface Pro in Australia. The Brydge 12.3 (RRP$249), which was named a CES 2017 Innovation Awards Honoree earlier this year when it launched in the U.S., is now available at JB Hifi and selected Harvey Norman stores around the country.
Headed up by Australian duo, Nicholas Smith and Toby Mander-Jones, who have transformed Brydge into a multi-million dollar operation that sells in more than 100 countries, Brydge made its mark initially by designing and delivering innovative keyboards for iPads.  Combining laptop productivity with tablet mobility, Brydge is now bringing its sleek design, high-quality construction and innovative functionality to Microsoft Surface users.
Unlike any other keyboard on the market, the Brydge 12.3, transforms the Surface into the ultimate laptop.  It is the only keyboard for the Microsoft Surface Pro that removes the dependency of a kickstand, allowing the user to have a full laptop-like experience.  Marketed as the perfect laptop-tablet hybrid, the Brydge 12.3 brings a 100 percent aluminium body with a full backlit keyboard, 180-degree screen rotation and adaptive trackpad to the Microsoft Surface.  Brydge has also released a model with 128gb integrated storage – currently available via its website – www.brydgekeyboards.com.
"Surface users have been waiting for a powerful and complementary keyboard like the Brydge 12.3," says Brydge Managing Director, Toby Mander-Jones.  "The Surface is a powerful and versatile device that deserves a keyboard that unlocks its true potential." he said.
Mander-Jones believes the Brydge 12.3 provides Surface users with a keyboard that has greater functionality than the entry-level model and at a better price than the Surface Book.  "The combination of the Brydge 12.3 and Surface creates a game-changing package that transforms the Surface into a true laptop replacement and the ultimate in mobile computing for Windows users," he said.
"Brydge's unique hinge design with interchangeable shims also means it is compatible with different Surface models with the same external dimensions.  Based on Microsoft's initial announcement, the Brydge 12.3 will be compatible with the new Surface," said Mander-Jones.  Brydge will provide further details on compatibility with the new Surface model when the new Surface officially starts shipping in June 2017.
BRYDGE 12.3 KEYBOARD TECHNICAL SPECIFICATIONS:
Thickness:  0.74 centimeters
Weight: 745 grams
Connectivity: Bluetooth 3.0
Color: Silver
160-degree viewing angles
Backlit, tactile keys with varying brightness levels
Rechargeable three-month battery
Optional expandable 128gb SSD storage
The Brydge 12.3 is priced at RRP $249, and is now available in JB HiFi and selected Harvey Norman stores or online at www.brydgekeyboards.com.