Hardware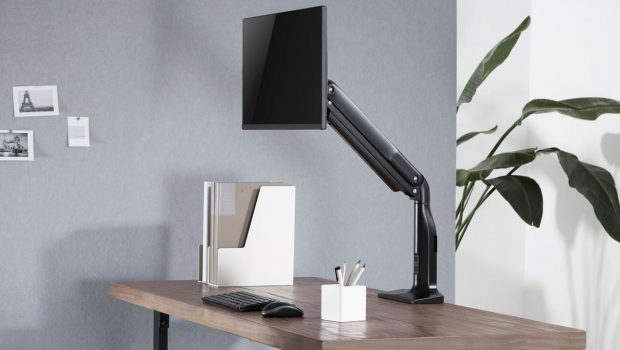 Published on December 14th, 2022 | by Andrew Bistak
Brutus Single Heavy Duty Monitor Arm Review (Samsung 49″ vs Brutus)
Summary: Samsung 43" vs Brutus.... Brutus Single Heavy Duty Monitor Arm, outstanding victory!
Widescreen and gaming monitors take up a considerably amount of desk space, particularly their stands that are required to hold these heavier displays. As a result, you are limited to the configuration options on your desks and if you want to take your screen to the next level, a heavy duty monitor arm is a must. While most fixed monitor stands allow flexibility over height, tilt and left/right, your screen is fixed in one central location. This is not the case with a monitor arm!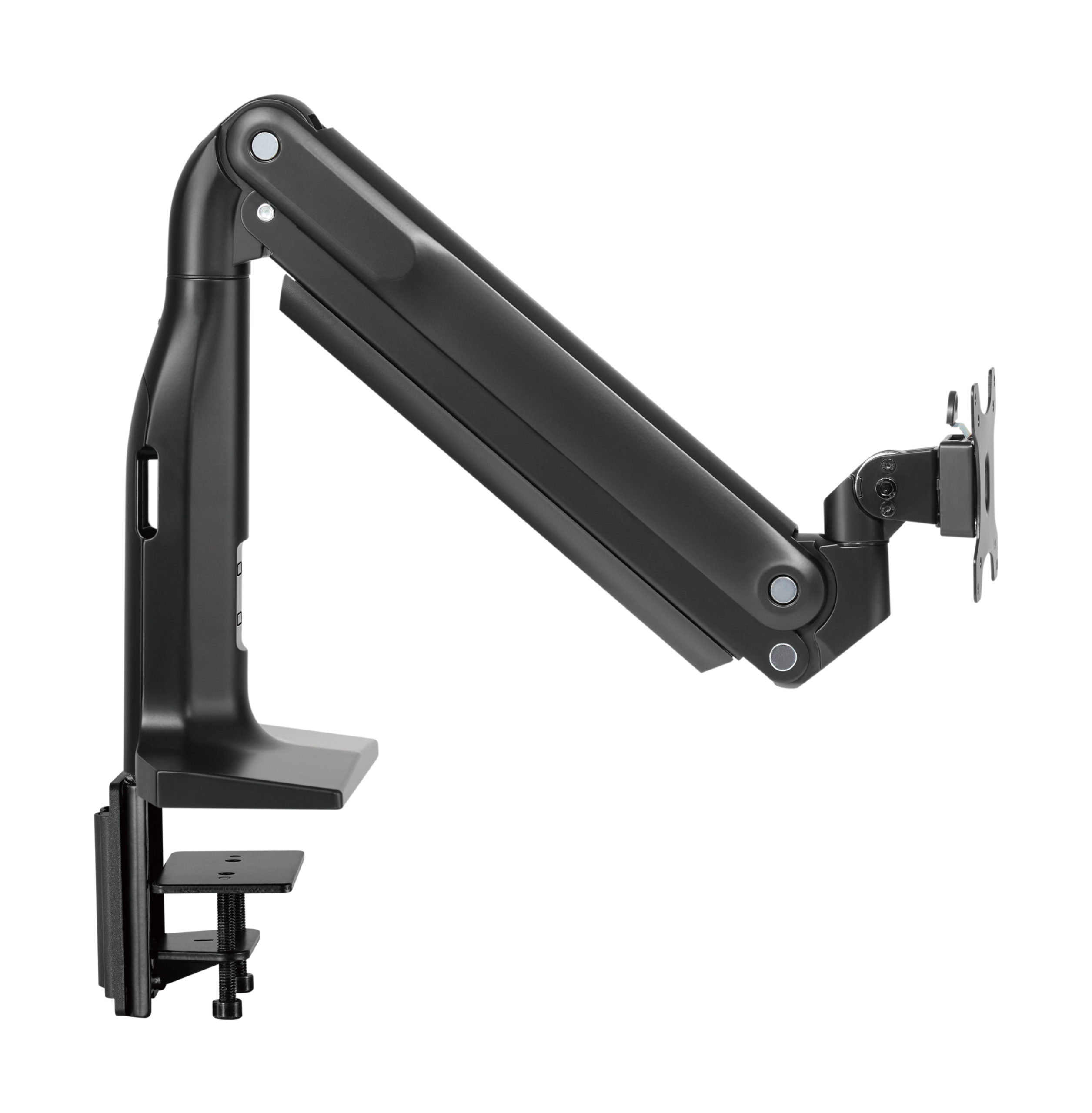 Welcome to the Brutus Single Heavy Duty Monitor Arm that supports monitors up to 43" with a whopping weight of up to 18kg that in essence creates a floating monitor and finger-tip adjustments. The key element here is "heavy duty" because thanks to physics, this is impossible with a standard monitor arm. However just like the historical figure of Ancient Rome, the Brutus Single Heavy Duty Monitor Arm slays its competition and comes with a RRP of $350AUD (December 2022).
So when Impulse Gamer was given the chance to check out the Brutus Single Heavy Duty Monitor Arm courtesy of Uplifting, we jumped on the opportunity as we have yet to find a product that could handle our Samsung CHG90 QLED Gaming Monitor that has a width of 49" and a weight of 11.88kg and its dimensions of 47.36" x 14.54" x 7.65". However there is a curveball in play here… the Brutus supports monitors up to 43" and our screen is 49" that is 6 inches more but we are well in the ball park of the weight category.
Did we succeed? Read on!
The Brutus Single Heavy Duty Monitor Arm is very well packed from Uplifting and comes with everything you need to connect your new monitor arm to your desk. The Brutus also supports desks up to 40mm in width, including the ability of using a desk-clamp or through through-desk mount option. The through desk-mount setup is sturdier, however the desk-clamp is far superior as you don't need to drill into your desk.
Once unleashed from its packaging, the first thing that we noticed about the Brutus was how solid, heavy and well-built the parts were, including integrated cable management to ensure a tidier workspace. The integrated gas spring, easily allows you to move the screen to your preferred position and it ideal for gamers who want to chill in their gaming chair. The Brutus also allows you to adjust height, tilt and depth, including pivoting from landscape to portrait that is useful for some screens.
Unboxing Gallery
Features
Suitable for most LCD/LED monitors up to 43"
Supports monitors up to 18 kg per monitor
Supports curved monitors
Desk-clamp or through-desk mount included as standard (not wall mountable)
Easy above desk installation
Desktop thickness: 10 – 84 mm
Rotate and swivel at three different axes
Flexible tilter action (wide variety of angles)
75 x 75mm, 100 x 100mm and 200x100mm VESA mounting pattern compatible
Quick release VESA brackets for easy monitor mounting
Fingertip adjustment of depth and height
Integrated cable management
Vertical reach: 240 – 580 mm (measured from centre of VESA bracket)
Horizontal reach: 0 – 620 mm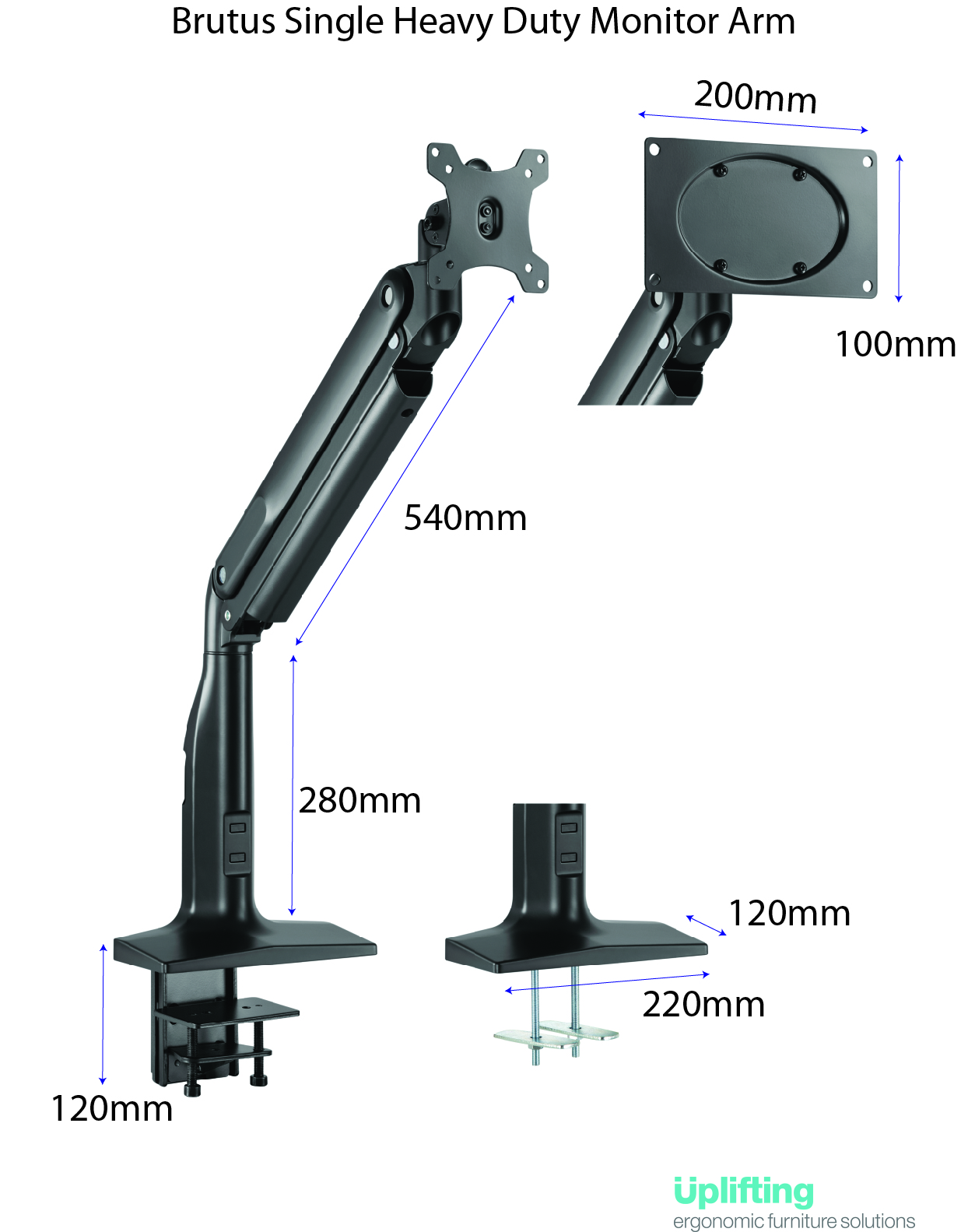 Setting up the Brutus is a relatively easy process, particularly from a desk-clamp perspective and the developers include a pictorial to help piece together the monitor arm. While the instructions are good, the included ones are a little small, however you can access the instructions via the website at https://uplifting.com.au/wp-content/uploads/2022/02/Brutus-HDuty-Instructions.pdf. You do need a second person to help with the install however, especially for those larger screens as once the second part of the monitor arm is attached, it needs to be adjusted in a horizontal position with the Allen Key. Anti-clockwise moves the screen up and clockwise down. We placed a box under our monitor which helped the setup considerably.
Setup Photos
As you can tell from the setup photos, the Brutus Single Heavy Duty Monitor Arm succeeded in attaching the gigantic Samsung CHG90 QLED Gaming to our desk minus the stand thanks to its heavy duty design. Given that the monitor was slightly wider than its recommended specifications, it fell way under the recommended weight which made it possible. Once attached, we had full and easy control to all tilting and height functions of the monitor and best of all, more desk space, less clutter and a clever cable management system. We could even turn the monitor to landscape mode, not that we wanted that. Nonetheless, perfect for work, perfect for gaming and perfect for streaming… including perfect for standing desks.
From this…
to this!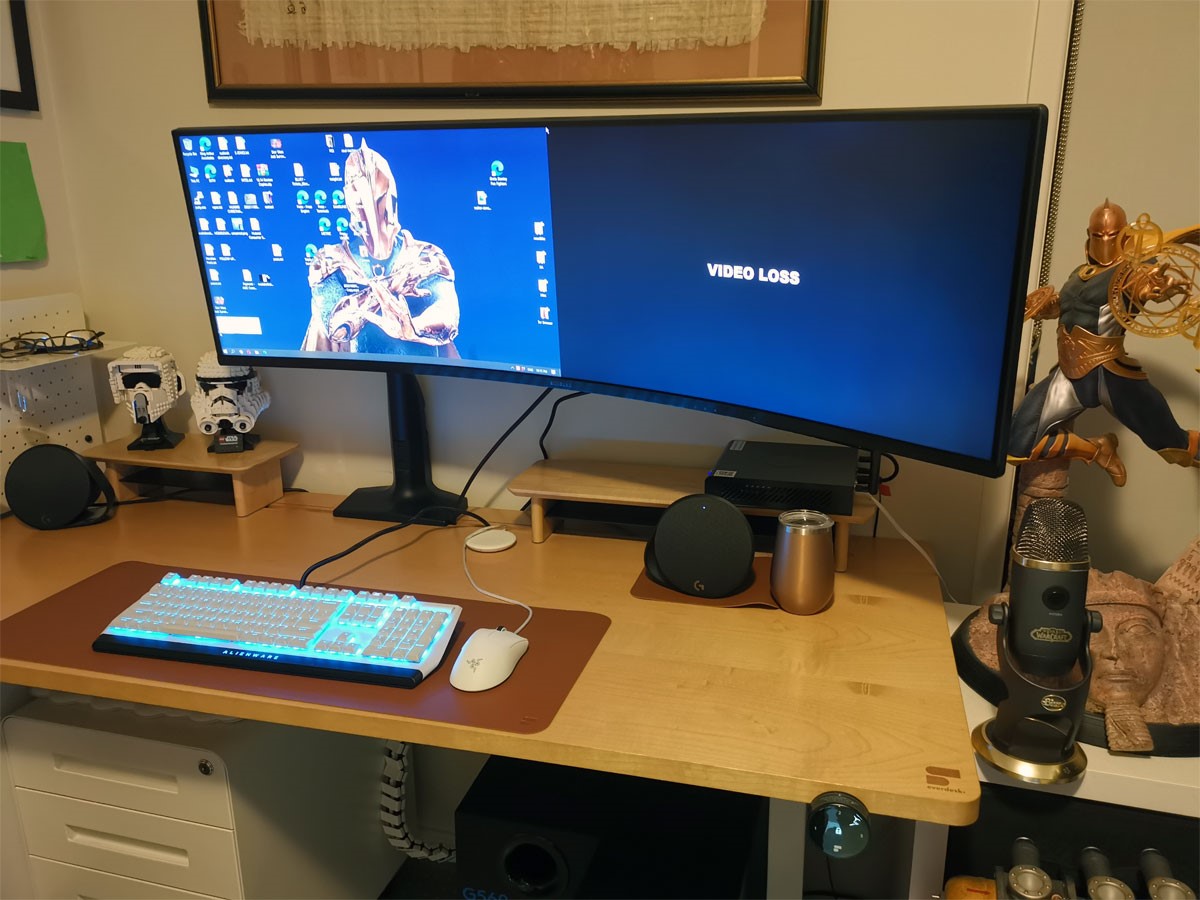 #: Notice the more desk space
and gone is the oversize monitor stand…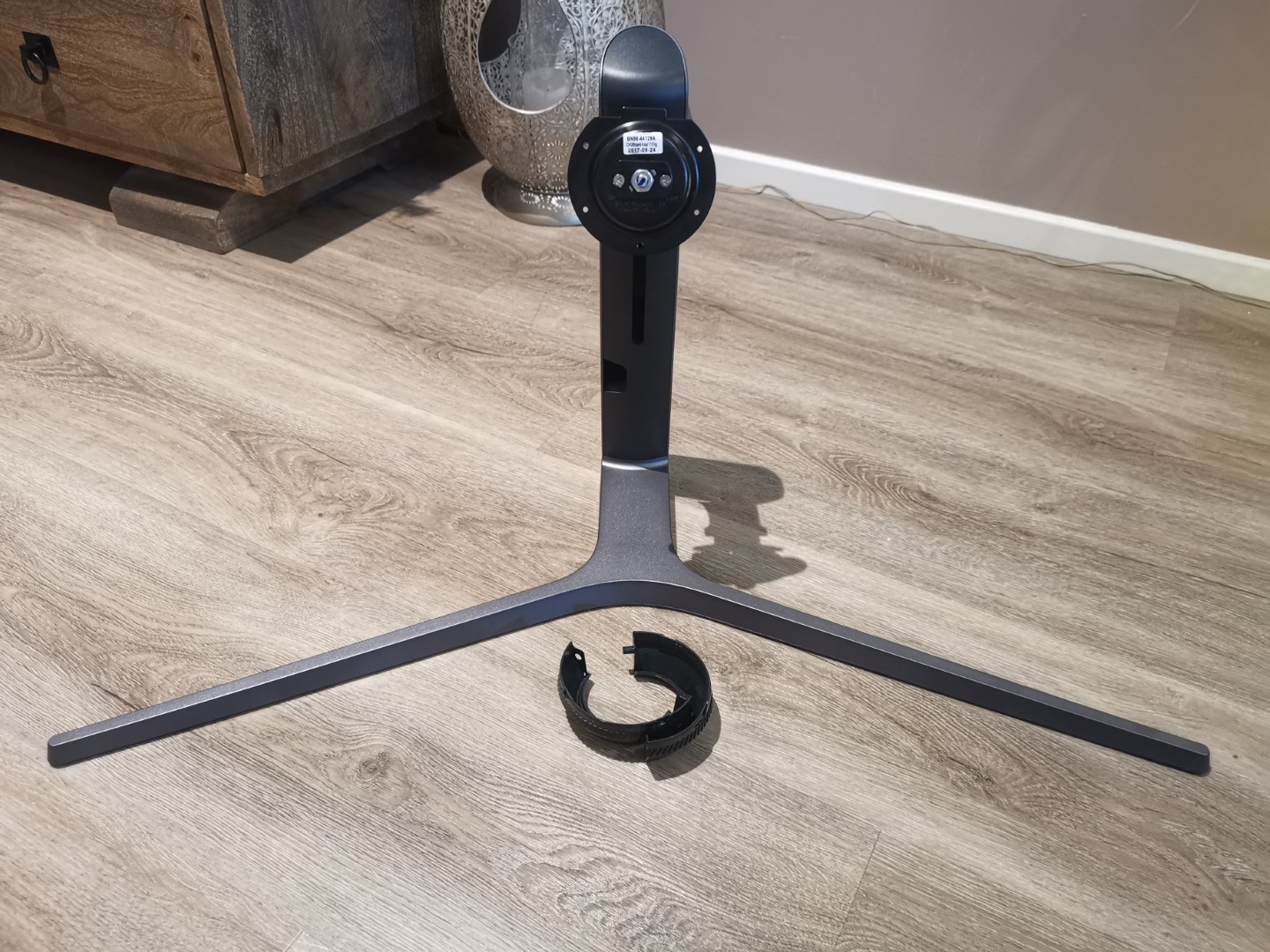 Final Thoughts?
If you're looking for a very sturdy and more importantly safe way to display your large monitor, then the Brutus Single Heavy Duty Monitor Arm tames your oversized monitor and gives you unparalleled controlled placement. While the arm is quite heavy, the oversized desk-clamp nicely holds the arm in place plus the counterbalance and gas mechanisms really adds peace of mind… and yes, I was scared my monitor would be cracked the next day or week but this was not the case. All in all, we could not fault this excellent product from Uplifting.
For more information on the Brutus Single Heavy Duty Monitor Arm, please visit https://uplifting.com.au/product/brutus-single-heavy-duty-monitor-arm or https://uplifting.com.au for more products.