Events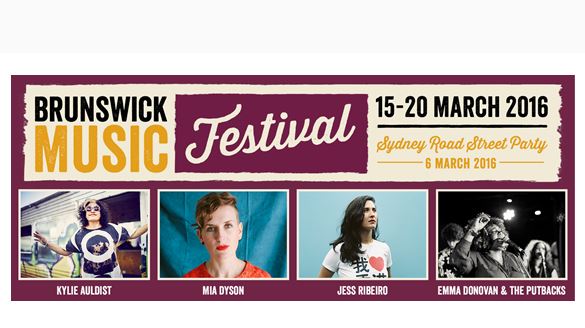 Published on December 10th, 2015 | by admin
Brunswick Music Festival 2016
The longest running urban music festival in Australia, Brunswick Music Festival, expands its stellar lineup with the addition of three huge events and two venues to the 2016 program.
"In 2015, the public pointed out to me what a great female contingent of organisers and song writers were keeping BMF alive and thriving" said Festival Producer Natalie Lidgerwood. "I've been working with amazing Louise Terry as Program Manager and this week we're really proud to announce additional events for 2016 with a great female line up. I have so much respect for these women, their talent and how they've built such a great name for themselves in Brunswick, nationally and internationally" said Natalie. "They continue "to put Brunswick on the map as a home of great outstanding songwriting and musical talent. Mia Dyson last performed with us in 2005 and she's excited to come back to base after numerous big international shows with The Waifs."
In 2016, Brunswick Music Festival are working with industry partners SHADOW ELECTRIC to present several events in Estonia House including Mia Dyson and Jess Ribero. Both of these leading singer-songwriters have had huge years, Ribeiro's darkly personal album Kill It Yourself (recorded with Mick Harvey) has picked up widespread critical praise, while Mia Dyson returns to BMF with songs from her latest release Right There – gutsy tales of teenage rebellion and adult longing, swinging through Soul and Country to land on some hard-edged Rock and Roll.
Melbourne's leading lady of soul and well known front woman of The Bamboos Kylie Auldist will launch her new single Family Tree from the forthcoming album of the same name at Howler on March Saturday 19 as part of BMF in what will be a huge night of soul, disco and electro-boogie mayhem.
Fellow soul sensations Emma Donovan and the Putbacks will perform at a special Sunday afternoon showcase on March 20 at Ceres, joined by rising young indigenous performer Yirrmal and headlined by legendary Australian singer-songwriter Shane Howard.
These newly announced acts join the 28th edition of the Brunswick Music Festival, joining the 'acid croft' sounds of Scottish band Shooglenifty, supported byCeltic Irish act Mànran, Sudanese/USA retro-pop group Alsarah and The Nubatones, Tokyo kings of turbo charged 'Godzilla Funk' Mountain Mocha Kilimanjaro, English folk act Spiro and Irish trad-folk, world instrumentalists Moxie as well as Australia's Djuki Mala (Djuki meaning 'chooky' with a Yolngu accent and mala meaning 'mob'), direct from Elcho Island with their high-energy fusion of traditional Indigenous culture, contemporary dance and storytelling.
Brunswick Music Festival presents the best of local talent and brilliant international acts. Stay tuned for the the full program announcement January 2016. Brunswick Music Festival will again be supported by principal public partner Moreland City Council. Tickets for the shows below are now on sale at www.brunswickmusicfestival.com.au and for the first time ever BMF is offering 'The Town Hall Venue Pass', which gives punters access to each show playing in the Brunswick Town Hall over 5 days as part of the festival program.