Events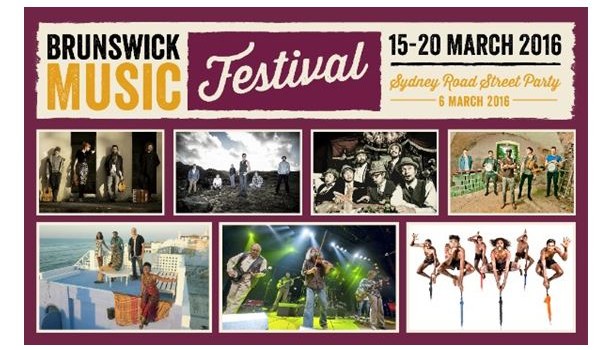 Published on January 14th, 2016 | by admin
Brunswick Music Festival 2016 Announces Full Lineup
Brunswick Music Festival is fast approaching and the annual March festival adds yet another dose of hot local and international talent to mark its final program announcement. Mouth-watering combinations of food, music and multiculturalism are also the stars of the program as the Festival teams up with some of Moreland's famous local eateries pairing traditional feasts with stunning performances.
The new announcement includes New York artist Blind Boy Paxton who at just 26 years of age has earned a reputation for transporting audiences back to the 1920's and singing pre World War II blues like a Fats Waller or "Blind" Lemon Jefferson reincarnate. Moving between banjo, guitar, piano, fiddle, harmonica, Cajun accordion and the bones (percussion), Blind Boy Paxton performs as part of the "Live at The Wick Studio's" sessions – a brand new collaboration between BMF and the Wick Studios in Leslie Street, Brunswick – on Thu 17 March.
Each of the "Live at The Wick Studio's" sessions held across the 5 day festival will be recorded live in the salacious surrounds of this acoustically striking warehouse, and ticket holders will receive their very own recording of the show via digital download.
The 2016 program boasts the return of "I Feel Like Going Back", after a sell-out show at the 2015 Darebin Music Feast, and re-worked to bring together the local histories and songwriting talents of Darebin and Moreland in its new incarnation simply titled "Goin' Back". Held at the Mechanics Institute on Fri 18 and Sat 19 March, "Goin' Back" features the addition of Moreland songwriters Jeff Lang and Alison Ferrier, Kim Salmon (Darling Downs, The Scientists), and Mandy Connell who join former cast members Mick Thomas, Charles Jenkins, Cat Canteri & Justin Bernasconi, Sean McMahon, Jemma Rowlands, Rich Davies, Brooke Russell and Ayleen O'Hanlon.
The pure-dynamite duo that is Hat Fitz & Cara will take the Spotted Mallard by storm on Fri 18 March with their foot stomping, hill-style blues, complete with washboards, quick-talking soul vocals and extraordinary percussion. The night will be opened by Suzannah Espie who has been making waves with the recent release of her critically acclaimed alt-country folk album 'Mothers Not Feeling Herself Today'.
The 2016 Brunswick Music Festival will be teaming up with some of the suburbs world class restaurants and cafes, with special performances pairing music and food, a highlight of which is the "Rumi Lebanese Dinner & Show" featuring Zourouna and Lala Shouha, who'll present traditional live music and belly dance to accompany a banquet of the best of Rumi's Lebanese cuisine on Thu 17 March at Rumi Kitchen.
On Sat 19 March the Brunswick Uniting Church will play host to the BMF "Gospel Brunch" featuring music by the Sweet Monas Choir and hosted by PBS FM presenter Peter Miles, all washed down with a mouth-watering brunch by the folk from local eatery Pope Joan.
Brunswick Uniting Church will also host an "Asylum Seeker Welcome Centre Dinner", featuring performances by Ajak Kwai, Bashra and Jawa Pitu Band alongside a community dinner to celebrate the Centre's essential contribution to the community.
Don't miss the coming together of southern Italian folk darlings Santa Taranta and Greek fusion aficionados GYZI as they premier their new Italian and Greek orchestral ensemble "Magna Grecia" at Brunswick Town Hall on Sun 20 March. Audiences will be transported by the spirited song, rustic cuisine and endless dancing.
And with a closing party to end all closing parties, BMF are teaming up with the Cumbia Massive team to present an explosive line up of local talent in tropical music to close the 2016 festival. Featuring Melbourne's futuristic outfit Cumbia Cosmonauts, the raw-Colombia-grooves of Los Kumbia Killers, and La Descarga, Melbourne's number one Colombian folklore ensemble. The night will be topped off with two of Melbourne's biggest tropical DJs, Saca La Mois DJ!! and Sonidero Esperanza.
These acts will join previously announced performances from Alsarah and the Nubatones, (Sudan/USA), Mountain Mocha Killimanjaro (JAP), Mànran (SCOT), Spiro (UK), Moxie (IRE), Shane Howard Trio, Emma Donovan and the PutBacks, Yirrmal, Mia Dyson, Jess Ribeiro, and Arnhem Land dance troupe Djuki Mala (The Chooky Dancers).
Yet again, Brunswick Music Festival presents a program as exciting as it is diverse, populating the city of Moreland's venues, eateries, halls and churches, and reminding audiences why Brunswick is the heart of Australia's music and songwriting community.
Program highlights below and for the full program and to purchase tickets head to www.brunswickmusicfestival.com.au