Events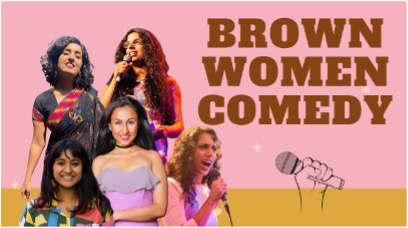 Published on March 30th, 2023 | by Adrian Gunning
Brown Women Comedy for Melbourne Comedy Festival
"Majumdar's tales of growing up with a unique name and being the non-favourite sibling left many audience members cackling in agreement!" RMITV
"[Amna has] a wicked sense of humour that's instantly engaging." Time Out
The largest line-up of South Asian female comedians comes together to present "Brown Women Comedy" at this year's Melbourne International Comedy Festival. Amna Bee, Sukhjit Kaur Khalsa, Daizy Maan, Moose Jattana and Kripa Krithivasan (with more to be announced) assemble to share stories about failing their parents and finding independence as brown women.
With a Pakistani and Canadian background, Amna Bee is now based in Melbourne. Her debut solo show "Don't Tell My Family" premiered at the 2021 Melbourne International Comedy Festival with a sold-out run and rave reviews.
Sukhjit Kaur Khalsa's passion for storytelling began as a finalist in the Australian Poetry Slam and semi-finaliston Australia's Got Talent. Her work as a writer, performer, theatre-maker, filmmaker, and producer for the last ten years has been recognised by many fancy and reputable organisations whose names take up too many words to fit them all in here! As Kelly Osbourne said, "I bow down to you and your braveness".
Daizy Maan's hilarious TikToks have garnered more than 25 million views where she calls out sexism in Pubjabi music and, well… Punjabi men. As the producer of Brown Women Comedy, she's passionate about amplifying the voices of South Asian women.
Comedian, dancer, and podcast host Kripa Krithivasan began her stint in stand-up comedy in Sydney before starting the "Uncultured the Podcast" podcast to create a platform to share stories from diverse voices. When she's not being funny or dancing, Kripa is trying very hard to finish off her law degree before the grey hairs set in.
Moose Jattana is a 22-year-old Australian-Indian star on the rise with over 400k followers on Instagram. She has a passion for activism, filmmaking, storytelling, and making people laugh. With a unique blend of humor and social commentary, Moose has become a youth icon with millions of views across platforms like Instagram and TikTok.
This is an outstanding line-up of hilarious women with exceptional talent featuring diasporic Indian, Pakistani, andSouth Asian women. This is "Brown Women Comedy" with hilarious take-downs and life's musings that are sure to bring the house down.
The show will run from 6th – 12th April 2023 at the Queen Victoria Women's Centre, and tickets start from $30. For more information, visit www.comedyfestival.com.au.