Hardware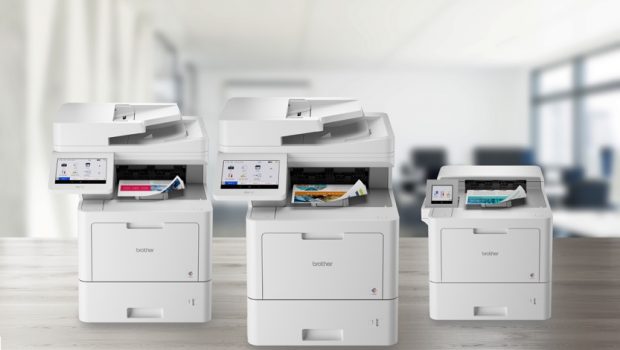 Published on November 1st, 2023 | by Adrian Gunning
Brother launches simple, effortless and intelligent professional A4 colour laser range
Empowering businesses as they transition back to the office, Brother International Australia has today launched its most advanced A4 colour laser printer range to date with three new innovative machines.
Amid massive changes in hybrid-working practices and growing calls for Australian workers to return to the office1, business leaders are under great pressure to provide tools that streamline processes and support productivity.
Designed for the modern office, Brother's new range provides the best print quality of any Brother laser printer and complete customisation thanks to multiple user profiles and flexible connectivity options. Convenient features include automatic 2-sided (duplex) printing speeds of up to 20 pages per minute (ppm)2, or 40 sides per minute, and fast seamless scanning helps users to work fast and meet those pressing deadlines.
The new range also introduces a game-changing function for A4 printing technology, Interrupt Copy. The new feature enables users to pause a printing job in progress at any time to quickly copy another job – a must-have feature for any busy office.3
To help keep your business moving without interruption, all three printers have been developed with a robust design and components built to last with double the service life of the machine, including the belt, engine and drum unit. To boost confidence even further, the flagship models5 have a generous three-year warranty, along free product support for the lifetime of all Brother products, so you'll know Brother is always at your side.
The range provides great value with high-yield toners included in-box for all three machines (see specs below). A scalable design means that each machine can also be transformed from a desktop device to a highly efficient, floor-standing model – allowing users to tailor their printer or Multi-Function Centre to meet individual business needs.
Stephen Nicholls, Managed Print Services (MPS) Specialist at Brother International Australia, commented on the new releases, "We are thrilled to bring our best-ever A4 colour lasers to market at a time when office workers across the globe are getting back to work. Our new A4 colour machines are exceptional and give businesses access to premium printing and scanning in-house.
"The new range has also been created to fit into our MPS line-up, meaning that our customers can benefit from everything the printer has to offer while enjoying all the added benefits of being a Brother MPS customer."
Brother MPS customers enjoy benefits ranging from hassle-free toner deliveries and the support businesses need. Helping with everything from streamlining workflows to improving security, Brother MPS is the perfect choice for businesses looking to save costs and improve efficiencies. For more information, click HERE.
Product overviews:
Brother MFC-L9670CDN Professional Colour Laser Multi-Function Centre
Launching: November 2023
Available from: Brother Authorised MPS Partners
Specifications:
2-sided (duplex) A4 print, up to 40 sides per minute2
17.6cm colour touchscreen LCD
Integrated NFC reader
Expanded external print storage device
520-sheet paper input tray
12,000 pages (BK), 9,000 pages (CMY) in-box toners4
100-sheet Automatic Document Feeder (ADF)
2-sided (duplex) scan up to 100 images per minute colour and mono3
Dedicated user shortcuts on home screen
Interrupt a print job in progress to print another copy function job
Product upgrades; Secure PrintPlus
Optional Extras:
Dual Band Wi-Fi (2.4Ghz & 5Ghz)
250 sheet / 520 sheet and 4 x 520 sheet tower tray
Brother MFC-L9630CDN Professional Colour Laser Multi-Function Centre
Launching: November 2023
Available from: Officeworks (Online) and Authorised Brother Resellers
Specifications:
2-sided (duplex) A4 print, up to 28 sides per minute2
17.6cm colour touchscreen LCD
Integrated NFC reader
520-sheet paper input tray
6,500 pages (BK) and 5,000 (CYM) in-box toners4
100-sheet Automatic Document Feeder (ADF)
2-sided scan up to 100 images per minute colour and mono3
Interrupt a print job in progress to print another copy function job
Optional Extras:
Dual Band Wi-Fi (2.4Ghz & 5Ghz)
250 sheet / 520 sheet and 4 x 520 sheet tower tray
Brother HL-L9470CDN Professional Colour Laser Printer
Launching: October2023
Available from: Brother Authorised MPS Partners
Specifications:
2-sided (duplex) A4 print, up to 40 sides per minute2
8.76cm colour touchscreen LCD
Integrated NFC reader
Expanded external print storage device
520-sheet paper input tray
12,000 pages (BK), 9,000 pages (CMY) in-box toners4
Product upgrades; Secure PrintPlus
Optional Extras:
Dual Band Wi-Fi (2.4Ghz & 5Ghz)
250 sheet / 520 sheet and 4 x 520 sheet tower tray
Availability, Warranty and Support
Vendor: Brother International (Aust) Pty Ltd
Website: www.brother.com.au