Hardware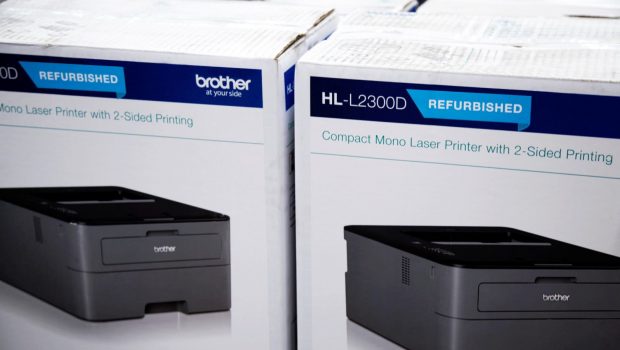 Published on April 21st, 2023 | by Adrian Gunning
Brother International Australia launches range of high-quality refurbished products, strengthening its commitment to sustainability
Brother International Australia (BIA) has taken a proactive approach to sustainability by launching a range of high-quality refurbished products that are available to purchase on Amazon.
The launch further strengthens BIA's commitment to environmental responsibility and reflects the goal of keeping Brother products and materials in use for longer.
Andy O'Donnell, Director at Brother International Australia, said: "We recognise and acknowledge that the electronics industry is a significant contributor to waste, and all of us can take a leadership perspective to help minimise – through both design and circularity. That is why we are rethinking how we can keep our products in use for longer, as well as how we can support our eco-conscious customers who are looking for great value Brother products.
"As we move forward, we are committed to seeking innovative solutions and best practices to keep materials in use for longer, reducing our carbon footprint and minimising waste, while also delivering high-quality products and solutions our valued customers have come to expect."
Through our partnership with Circonomy, BIA is taking a stand against wastefulness by helping to create an equitable and sustainable world.
Ryan Swenson, CEO of Circonomy, said: "We know that Australians want to make more sustainable choices, including how they shop. Purchasing refurbished printers, such as the ones launched by Brother, is another way people can access affordable tech that is good for the planet, without compromising quality. We're excited to be partnering with Brother on this pilot."
In addition to the repair and troubleshooting support BIA provides, the refurbishment program will ensure that select products that have been returned to Brother and restored by our local team to near-new condition, will then be packaged for sale and given a second life. This will enable BIA to reduce waste and use our resources more efficiently.
Daniel O'Sullivan, Head of Sales at Brother International Australia, said: "We've made it our mission to provide consumers with an eco-friendly and cost-effective solution when purchasing office products. By offering high-quality refurbished products, we are not only providing excellent value to our customers, but we are also taking steps to reduce waste and help the planet."
To promote sustainability, manufacturers play a key role in designing products that can be reused, known as a 'circular economy'. This sustainable approach encourages producers to consider innovative ways of making products like electrical devices easier and more cost-effective to repair.
Companies can reduce their environmental footprint by embracing a circular economy approach, enabling them to become less reliant on raw materials and make more sustainable decisions.
In the words of the Ellen MacArthur Foundation: "In our current economy, we take materials from the Earth, make products from them, and eventually throw them away as waste – the process is linear. In a circular economy, by contrast, we stop waste being produced in the first place."
To truly embrace the circular economy, BIA is rethinking its systems, which is why we're innovating to keep materials in use for longer so we can limit waste.
This refurbishment pilot program will allow us to explore extending the life of select Brother products and reduce e-waste going to landfill.
Committed to continuous improvement, BIA will have a dedicated team to evaluate and measure the pilot program's learnings so that by 2025, we can strengthen and expand the initiative.
BIA understands that creating a better tomorrow requires ongoing effort and support, and that's why we will continue to work together with our partners and customers to help address the environmental challenges we face.
For more information on BIA's partnership and sustainability initiatives, please visit: https://www.brother.com.au/en/support/contact