Interviews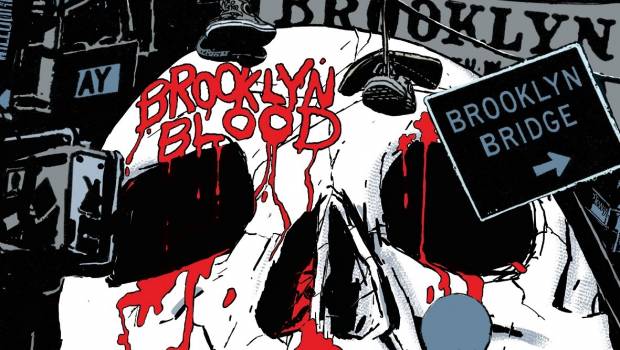 Published on July 15th, 2018 | by Dana Folkard
PAUL LEVITZ & TIM HAMILTON INTERVIEW – BROOKLYN BLOOD
This month Dark Horse Books will collects all sixteen chapters of Brooklyn Blood in a single volume for the first time. Originally published and serialized in Dark Horse Presents, Brooklyn Blood marks the first collaboration for Levitz and Hamilton. The trade paperback of Brooklyn Blood will feature the complete story, as well historical notes by Levitz and never before seen sketches and layouts by Hamilton.
Impulse Gamer recently chatted with Paul and Tim about the Brooklyn Blood, where we discussed their creative process, personal highlights and much more!
For those unfamiliar with what Brooklyn Blood is about, can you give us a little rundown of the plot and introduce the key players?
Paul: Brooklyn Blood is a graphic novel that's a police procedural with supernatural overtones, telling the story of Detective Billy O'Connor's quest to solve a series of serial killings in Brooklyn.  It mixes in bits of New York (and particularly) Brooklyn history, with O'Connor's PTSD from his service in Afghanistan, a touch of Lovecraft.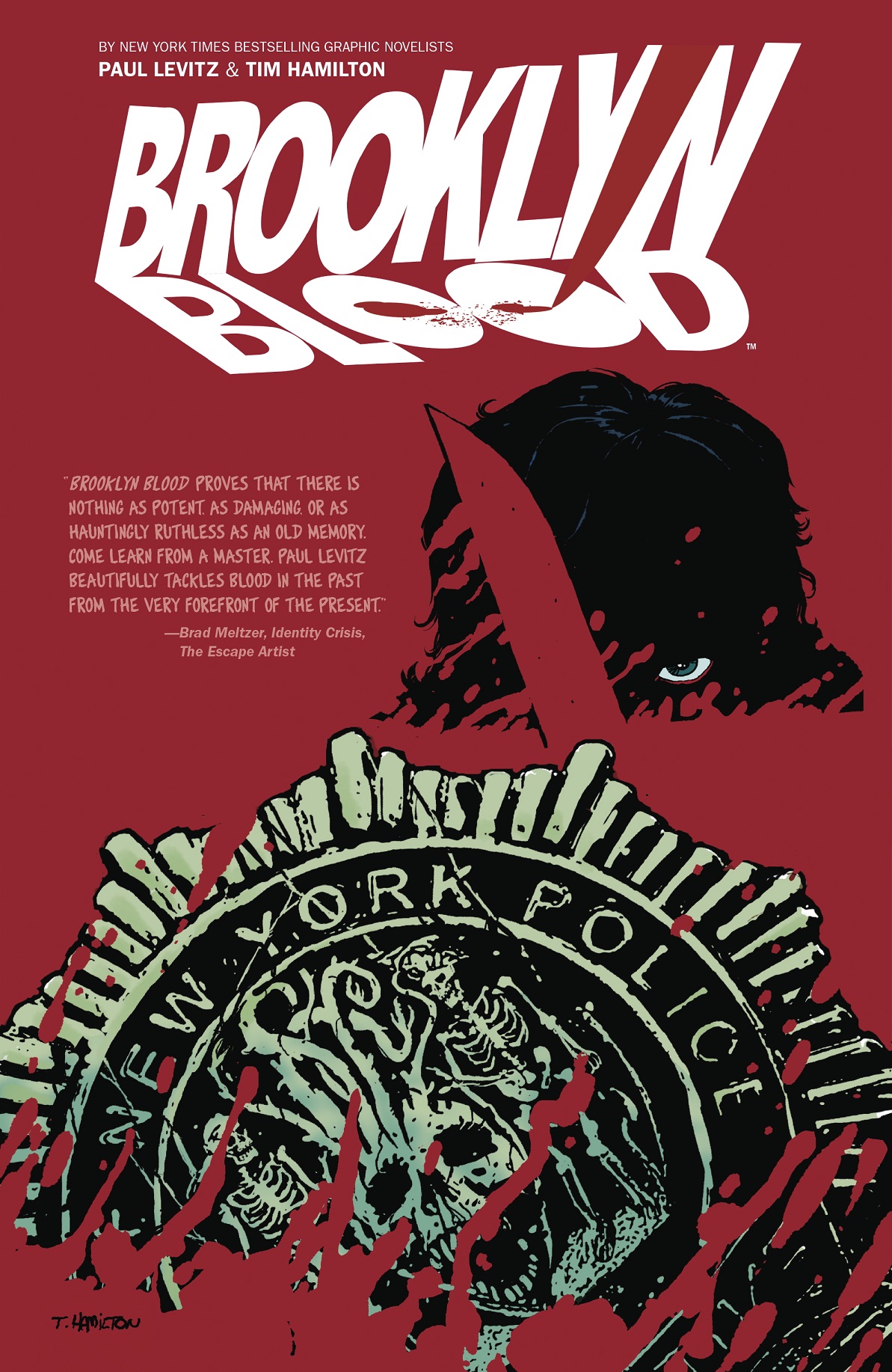 The Brooklyn Blood TPB collects all sixteen chapters of this tale that were originally published in Dark Horse Presents. What are your personal thoughts on reaching this point as a creative team?
Tim: If you mean getting it published in one big book, it's amazing! It's always amazing when something you create gets into print.  Creating a book of any kind is a lot of work and every time something I worked on becomes a book, I look at it and say, "I drew that? That looks difficult! How did I, or we, create that?"
Paul: Reading a mystery story as a serial is tough, even though many of the original Sherlock Holmes stories were published that way (among others, obviously).  I'm really happy to have the story together in a single volume, and I hope it'll attract a wider range of crossover readers than we could get in DHP.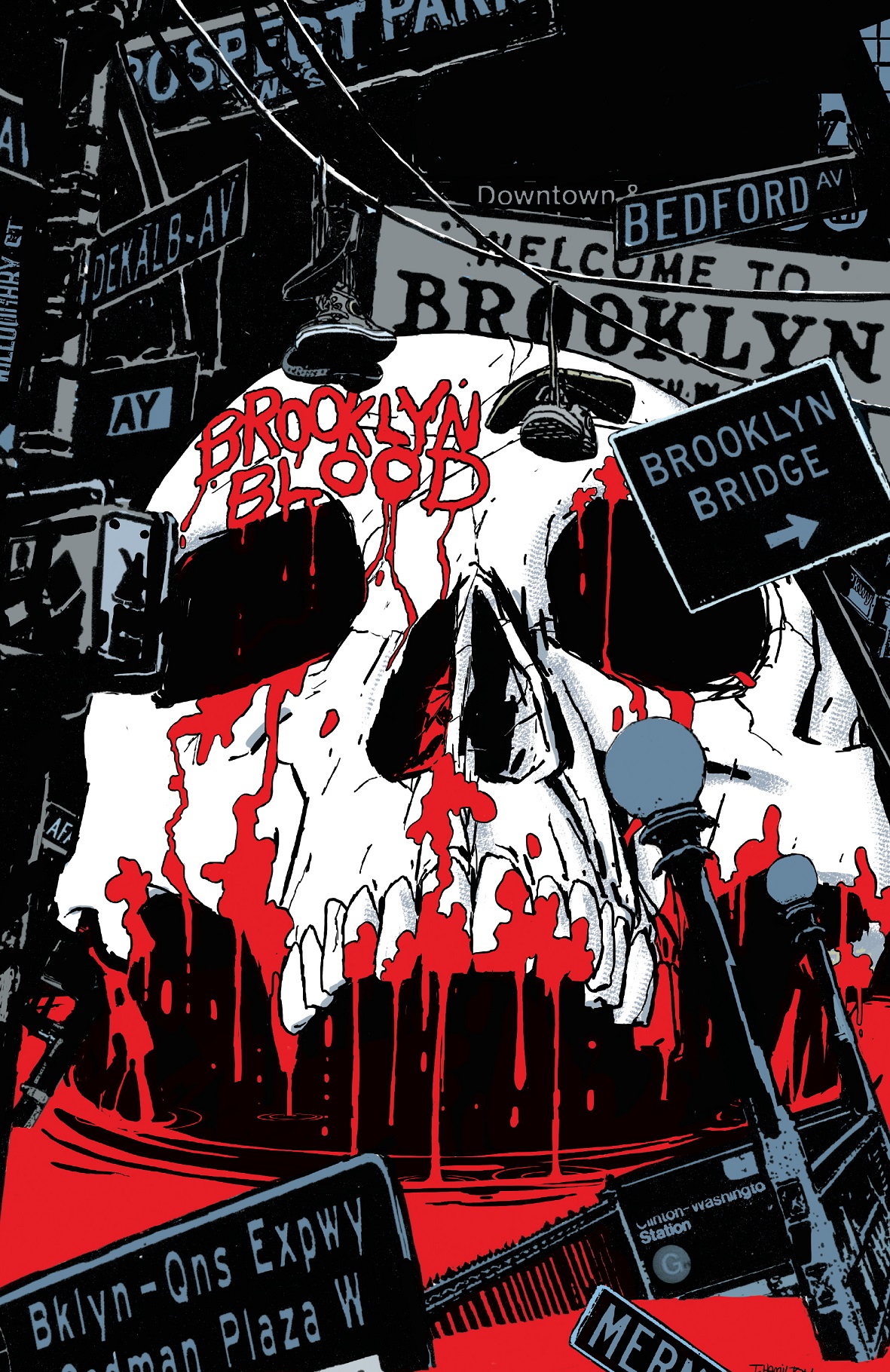 This is a complicated and layered story. How do you begin the whole process of crafting such a complex tale?
Paul: There's a million ways to plot.  This story began with thinking about doing a mystery set in my old hometown of Brooklyn, and realizing that some of the worst mass deaths in NY history all happened pretty close together.  That gave me a location and a framework, and I built out from there.  Before scripting the chapters, I had built a little matrix of the plot developments by character and chapter, and that was the skeleton we worked from, though things evolved, naturally.
What has been the most rewarding part of working on Brooklyn Blood for you both, and what part of this venture has given you the most satisfaction?
Paul: For me, it was the chance to do something wholly original, and in a genre I've loved reading since I was a child.  Most of my work has been with pre-existing characters and worlds, which is fun, but self-defining.  Here I had to pick all the elements (either with Tim or individually) and make a fresh world out of them, even though it's set in the 'real' world.
Tim: Every project is different. This project allowed me to do some noir-like art that really excites me. Also, I gravitate towards new projects which allow me to create rather than re-create an existing property. I illustrated and colored this book for better or for worse. I actually always struggle with colors but like to have control over how a book looks if I work on it. Dark Horse was very accommodating as far as that went.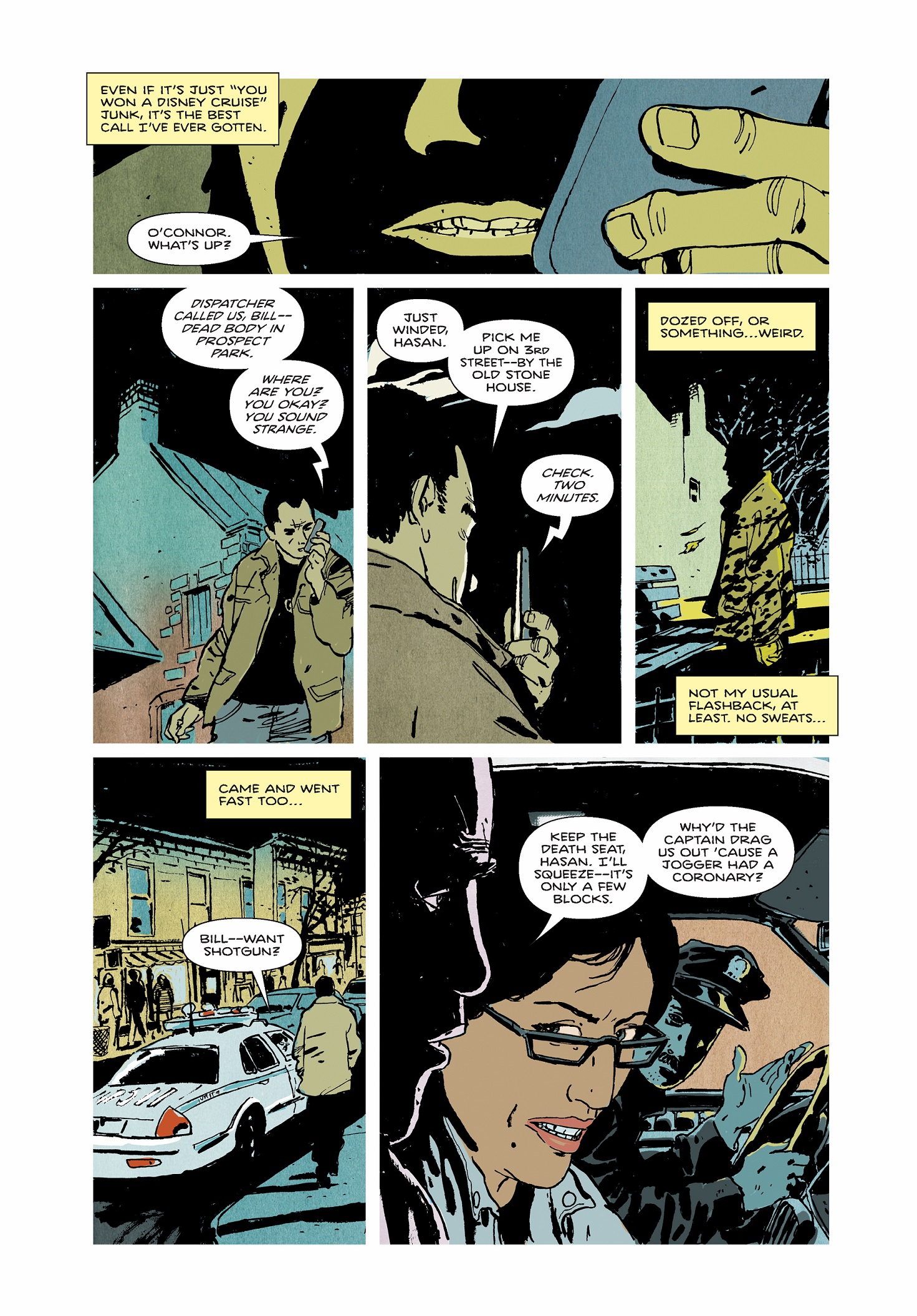 Tim, I was wondering whether you could tell us a little bit about your creative process when tackling a story like this?
Tim: It depends what I'm working on. I grab art books when I work on new projects! Books with German printmaking and people like Kathe Kollwitz influenced this book. Also comic artists like Jose Munoz influenced my work on this book. I was looking at work like that obviously because this story was dark and moody. My tiny thumbnails are full of black shapes I make with markers!
Beyond that, Paul would send a complete script with panels, but he let me, or he accepted that, I would, alter his layout if I felt it worked better the way I saw it in my head. He seemed okay with that! I hope! I also had some input with the story as it unfolded. It was a fairly organic process.
Paul: I'll just add that it's more than accepted–for me, part of the joy of comics is the collaborative process.  I could never have envision what Tim did with, say, the the subway ghost train scene.  It matches the narrative I had built, but in a wonderful and unique way.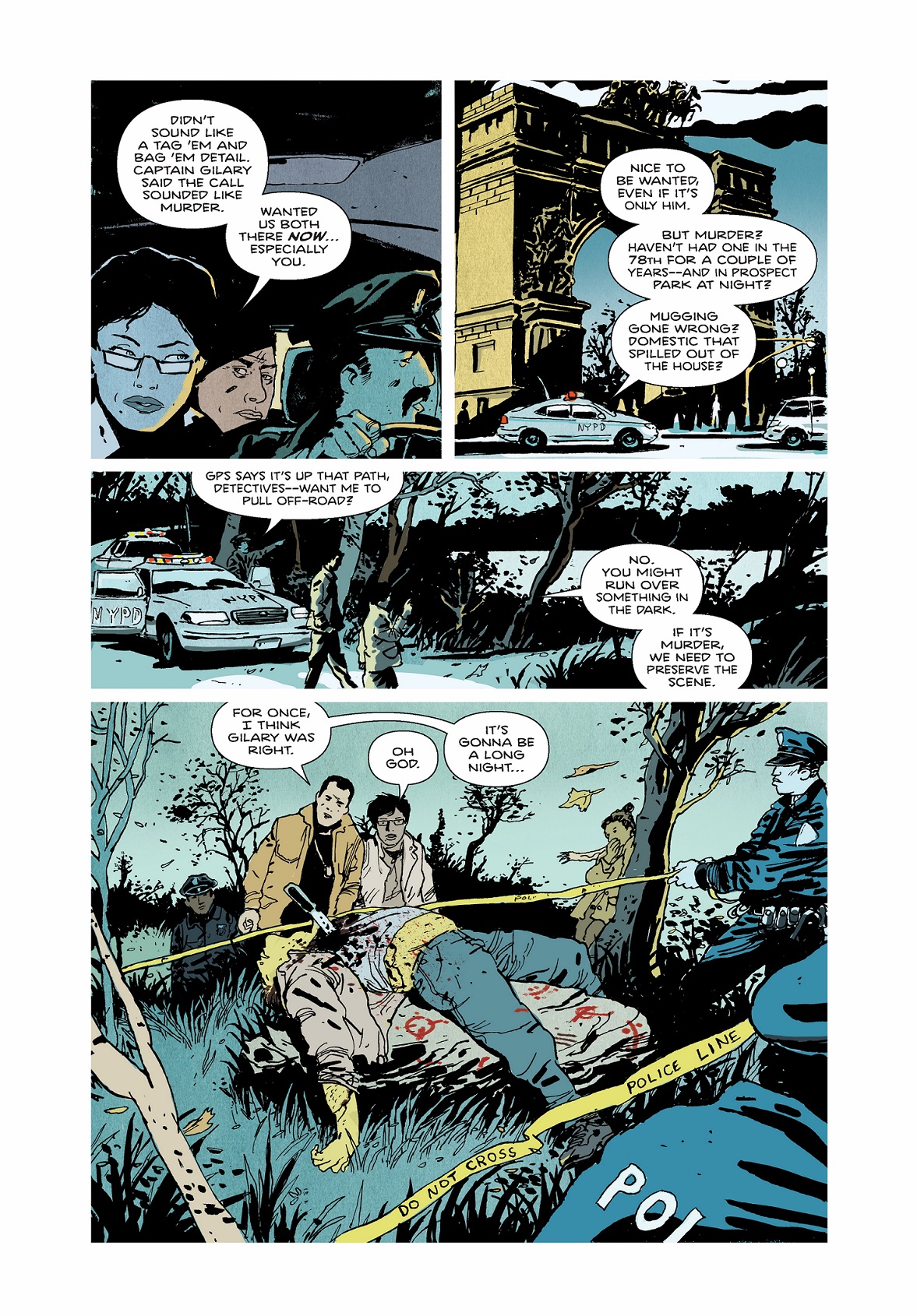 From an artist's perspective, can you describe your typical work routine – how often do you draw – how many hours per day?
Tim: Oh jeez! It's different all the time. As a freelancer, sometimes I will be working all day in a frenzy and then part of the night in a frenzy! And if you're not work in a frenzy, you worry because you have no work to be in a frenzy about! When I do cartoons for the New Yorker, I draw up (hopefully) 5-8 gags to submit every week or so. I have to sketch my ideas all week, and then sit and make them legible for the editors. That's a lot of time spent to maybe sell a cartoon. I have hundreds of rejected cartoons, and only 6 that I sold. But basically, I get up with my wife and dog at 6:30 or so like many people and start working after breakfast. If there is no frenzy, then I'm working on children's books I'm pitching while I wait to hear if the pitch I sent last month will find a home.
Did you find that you encountered any challenges when trying to visually balance the light and dark elements of this story?
Tim: No. No, that's the challenge of most comics drawn in ink. This one was no different!
The main protagonist, Billy, has recently come back from the war in Afghanistan and is suffering from PTSD. Were there any difficulties when trying to capture the trauma and emotion in a realistic and believable way?
Paul: Readers will have  to tell me if it's believable (and obviously some parts aren't intended to be realistic).  I hope I made it respectful of the massive burden we've placed on so many of our returning servicemen, who we really don't do enough to help.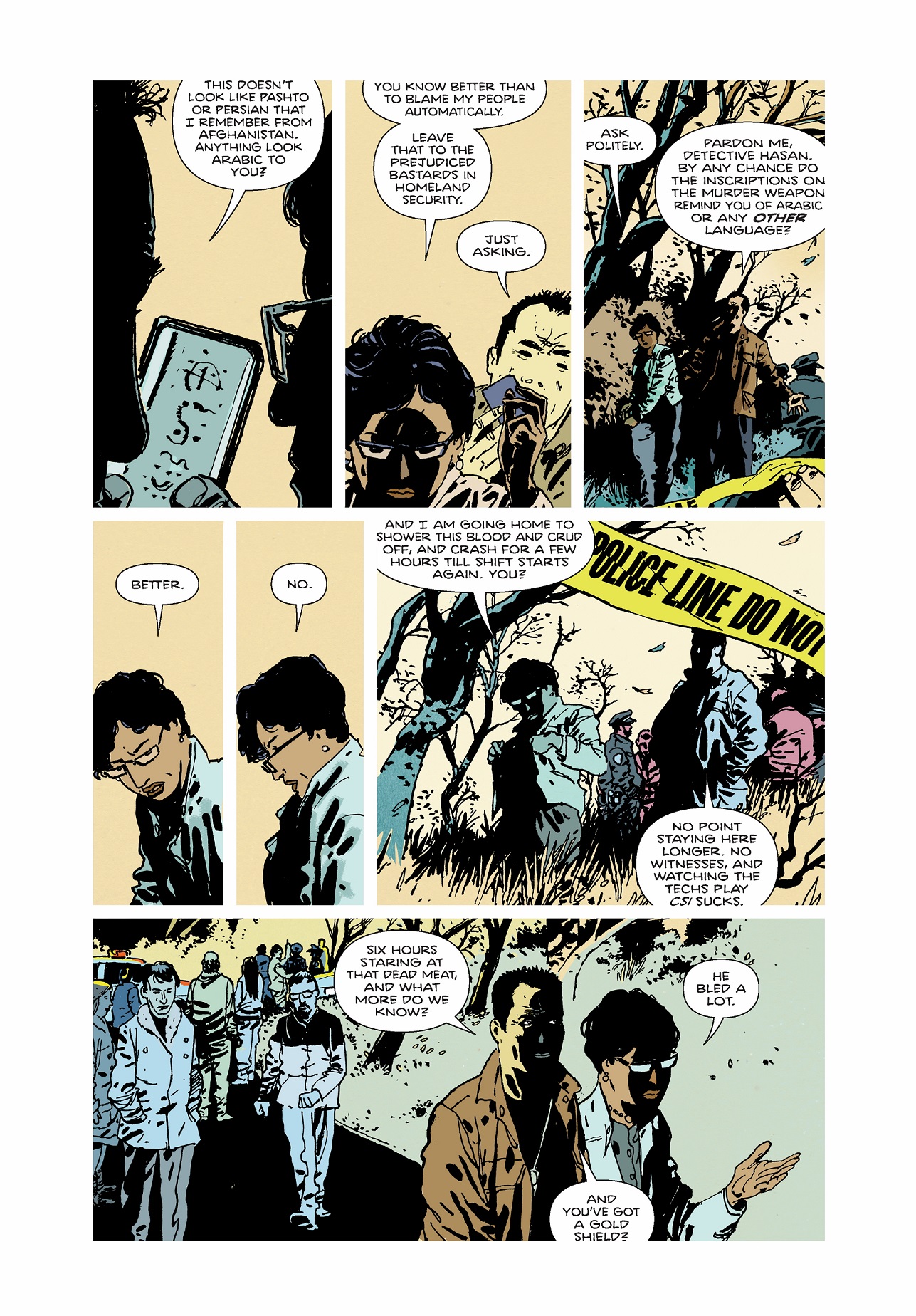 What can fans expect from you both next?
Paul: Haven't announced the next writing project for Dark Horse yet, but just saw the first book of art and I'm thrilled.  And DC hasn't announced the next project i'm doing for them, either, but there's one I've been working on for a while.  Plus loads of teaching, and thinking about my next major book project.  And enjoying a brand-new grandson!
Tim: New Yorker cartoons.
Children's books.
My own self published comic Rabbit Who Fights can be found here:
https://gumroad.com/timhamiltonrwf
BROOKLYN BLOOD TPB will be available for purchase from July 18, 2018.