Comics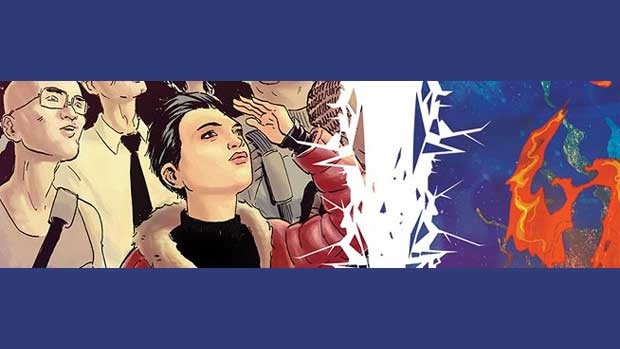 Published on August 6th, 2015 | by Adam Atkinson
Broken World #1 Review (Boom Studios)
Summary: This is a strong comic for any fans of Sci-Fi, end of the world style stories, and stories that evoke emotion.
Hey there comic fans, welcome to another review of a new series. My name is Adam and together we break down comics to dissect the real truth in the writing, the art, and the overall story idea. I give you the ammunition, and you choose whether or not to load the gun (buy the comic).
This week I let my wife choose what comic I would review, and she chose one I had my eye on for a little while which is Broken World brought to us by BOOM Studios. Written by the talented Frank J. Barbiere and Illustrated by the equally talented Christopher Peterson, together have more than 20 titles under their belts. They are among some of the elite in the comic industry, so we know that we should have a good story with good designs, so let's stop beating around the bush and find out.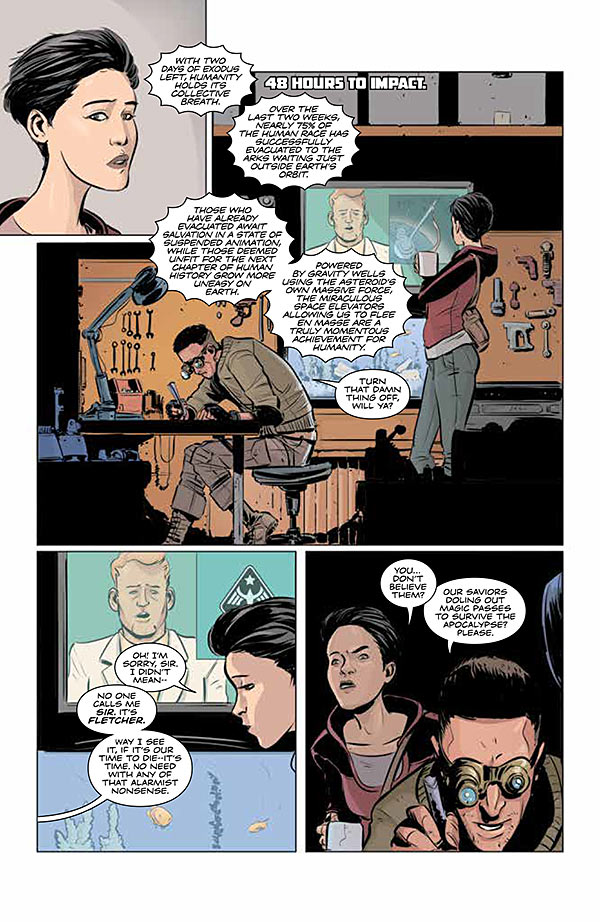 WRITING – 4
As I am sure most of you are catching onto quickly, I can enjoy a well written story. To me a comic needs to have a captivating story, otherwise it does not matter how good the art is, I won't continue to support it. Frank Barbiere does exactly what I want him to do. The story catches onto me immediately, and it builds so well. It has me thinking, it has me guessing possible outcomes, and what is the secrets that we do not yet know, but above that, the comic makes me feel real emotion (Intrigue, Anger, Sadness…) which shows a true writer. When you can feel for the characters even though you just met them 20 pages ago, than the writer did a good job developing them.
My only small critique is that while we were guessing a lot of what was going on, a lot of it was fairly predictable. It was a bit of a cliched story, with a new take on it.
ART – 3
One of the main things I look for in art is consistency, if that doesn't exist then it can turn me off of the story a bit. The artwork was clean, the line work was amazing, and the colouring was exactly what I wanted to see. The character just felt believable, as well as the tone of the whole world itself. It was well designed and well thought out. Most of the artwork was deliberate and detailed, except for one main detail.
My biggest qualm is the consistency. The artwork changes a lot throughout the story, but the same image looks almost completely different in two different images. Take the main character on page one, her neck looks like that of a giraffe (far too long and misshapen for her body) but then on page two it looks normal and as the story goes along I notice significant changes in her body, as well as the other characters. It really takes away from the immersion into the story for me.
OVERALL (Spoiler Part) – 3.5
While I am a bit disappointed that this one was not a bit cleaner art wise, I am extremely happy in the story. This is a strong comic for any fans of Sci-Fi, end of the world style stories, and stories that evoke emotion. You should include this in your watch list, as I feel it is going to have a good story to follow.
The story starts with our main character Mrs. Marlowe at a fairly shady looking apartment having a fake passport made. She is having a discussion with the man about the coming end of the world, and how the government was choosing who would be saved via lottery. Their discussion really sets the whole tone for the story, and the story continues jumping through the timeline leading up to the "evacuation". Tensions build among the people of Earth, those chosen to be survivors and those who are being forced to stay. Want to learn more than you'll need to support the creators and pick a copy up.
See you next time when I let my wife choose another comic for me to go over, as she seems to have good instinct!