Hardware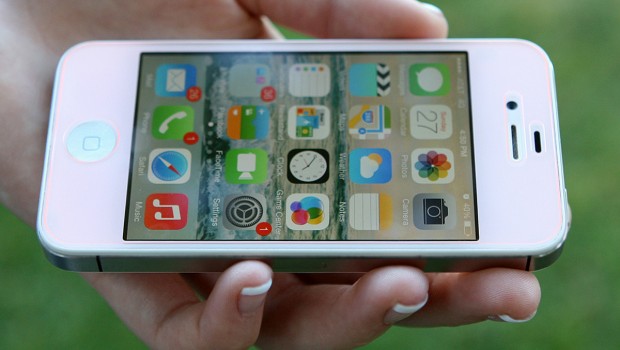 Published on July 29th, 2014 | by admin
BROKEN SCREENS A THING OF THE PAST THANKS TO WORLD'S 'TUFFEST' SCREEN PROTECTOR
Gold Coast-based businesses CMI Accessories and NomadNRG have teamed up to deliver Australians with a proven and guaranteed solution to a problem everyone with a smartphone can relate to – the scourge of the cracked, smashed or broken screen.
CMI Accessories is the exclusive distributor of NomadNRG's NEONTUFF screen protector – the 'tuffest' screen protector available in the world delivering not only peace of mind but also a high quality digital experience thanks to its crystal clear transparency, glass-like feel and 'glowing' coloured edges.
CMI Accessories Director Enzo Carrara said he regularly demonstrated the effectiveness of the product by smashing his own phone screen with a hammer in front of shocked onlookers, as do his stockists Australia-wide.
"When I tell people about the potential of this product, they often don't believe me. But when I take out my hammer and go to town on my own phone in front of them, they generally change their mind pretty quickly!" said Carrara.
"Once they have taken their screen cover home, they are soon putting it to the test and we are regularly seeing customers returning to the store to tell their supplier about their 'saved screen' moments.
"We are also seeing some great videos of people demonstrating the product and showing that this really isn't like anything else available on the market today."
Unlike similar products in the marketplace NEONTUFF is not pressed from PET plastic but instead 'poured and baked' in six layers including Acro PRO[tm] PMMA acrylic, two superhard ceramic NANO coatings and a layer of shatterproof film – resulting in the highest achievable level of hardness in plastics – 9H.
This hardness rating is equal to that of tempered/enhanced glass, but the manufacturing process allows NEONTUFF to be tougher and safer, as it removes the major risk area of those products – the lack of impact dissipation protection which sees tempered and enhanced glass products susceptible to shattering on impact into thousands of dangerous hard glass shards. Typically, NEONTUFF is priced 'on par' with these kinds of products, while outstripping them in performance.
This manufacturing process also sees NEONTUFF exceed its ' traditional plastic' competitors – typically created by pressing PET Plastic – by providing strength and shatter protection not offered by these competitors, while also avoiding the 'screen dullness' regularly experienced with typical PET screen films.
NomadNRG CEO Jack Wilde – the exclusive worldwide distributor of NEONTUFF – said the product allowed him to not only solve a real-world problem people experience every day but also make an environmental impact by 'saving the screens'.
"As the mobile phone business has boomed – recent research shows 1 billion smart phones will be bought, sold and shipped in the next 12 months – so too has the screen repair business. NomadNRG has even set up www.fixyourcrack.com.au in response to the boom, and today that service delivers not only quality repairs but also sees all repairs returned with a NEONTUFF in place to prevent future breakages," said Wilde.
"Pretty much everyone knows someone who has broken the screen of their smartphone or tablet device at least once and are either walking around with a damaged screen or have had it replaced – with varying degrees of success in regards to quality and cost.
"This product removes all of that, effectively saving screens every time they are dropped, thrown, hit, kicked, or even smashed with a hammer!
"Every time this product saves a screen, it not only provides a benefit to the customer in question, but also to the environment by preventing yet another broken screen making its way to technology landfill.
"The environmental potential of this product is something very important to me, which is why we are in the process of establishing what will be known as "MISSION: 1,000,000 'Save the Screens'" – endeavouring to see NEONTUFF save one million screens by 2015 with charitable donations of profits to be tied in to the success of key milestones in this journey."
NEONTUFF comes with a two year warranty and is designed for iPhone 5s, 5c, 5, 4s, 4; Galaxy S5, S4, S3, Note 2 and 3; and iPads 2, 3, 4 AIR and iPad Mini, with additional products for more popular models becoming available regularly.
Those interested in the NEONTUFF or any CMI Accessories products can call 1300 852028 for their closest stockist or go to www.cmiaccessories.com.au or www.NEONTUFF.com to purchase online.
'Unbreakable' screen protection – anti-scratch, anti-impact, shockproof
9H hardness – the highest level of hardness for plastics, equalled to the hardness of tempered/enhanced glass
Superior to plastics thanks to strength and shatter protection, as well as crystal clear transparency and glass-like feel
Superior to tempered/enhanced glass thanks to impact protection – tempered/enhanced glass is susceptible to shattering into thousands of hard glass shards on impact
Made from the latest breakthrough patented ceramic nano technology
Super thin – only 0.3mm in width
Glowing edges – screens are available with glowing edges of green orange, yellow or blue, as well as in clear
Superior crystal clear for high definition viewing (no more dull screens)
Easy to install – follow our web site installation video here
Protected by a two year warranty – click here for full details
Designed for iPhone 5s, 5c, 5, 4s, 4; Galaxy S5, S4, S3, Note 2 and 3; and iPads 2, 3, 4 AIR and iPad Mini, with additional products for more popular models becoming available regularly.