Comics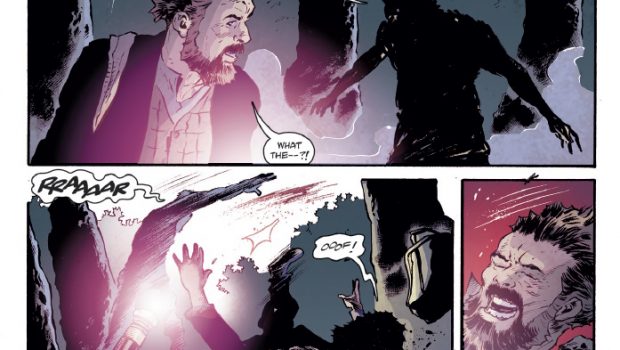 Published on April 26th, 2023 | by Tim Chuma
British Paranormal Society Time Out of Mind Review (2023)
Summary: A solid folk-horror type of story with characters from the Hellboy universe. Worth a look if you are a fan of the genre.
The British Paranormal Society featuring Simon Bruttenholm and Honora Grant arrive in Noxton. Honora hopes to find out more about the town's traditions while Simon is searching for his missing assistant. After getting variously stonewalled and the run-around in their separate investigations, things turn hot after an encounter at the standing stones. Can they stop the what is going down in time?
This book collects issues 1 to 5 of this series from characters spun off from the Hellboy universe. The setting might be pre-WWI England but it does seem familiar in the folk horror type stories and movies that have used a similar setting.
I am not going to say what the twist is in this one but I certainly did not see it coming. Also having Honora Grant being the one who is the fighter is different especially in this setting. I did like the two characters having a fight over one of them being too jaded from all the scams they have uncovered over the years.
The artwork is noticeably gloomy and suited to the Hellboy universe. As I remember from the documentary on Mike Mignola there have been other artists and creators assigned to continue the story with characters originally created by him but they are their own story.
Another book that feels like it would be perfect for reading in short sections if you don't want to go through it all at once. Worth a look if you enjoy these sorts of stories and the folk horror element.
Book details:
Created by Mike Mignola
Story by Chris Roberson
Art by Andrea Mutti
Colours by Lee Loughridge
Letters by Clem Robins
Cover and chapter break art by Sebastián Fiumara
Published: 25 April 2023
ISBN: 9781506732602
Imprint: Dark Horse Books
Format: Hardback
Pages: 112