Comics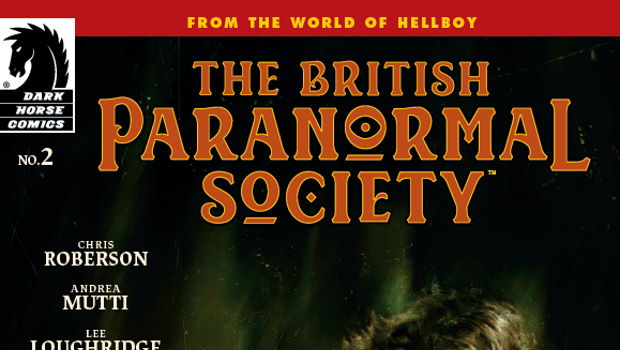 Published on June 10th, 2022 | by Chris O'Connor
British Paranormal Society: Time Out Of Mind #2 Review
Summary: Simon Bruttenholm and Honora Grant continue their investigations, teaming up to help each other get to the bottom of their respective inquiries.
After both having stumbling starts to their individual investigations, Simon Bruttenholm and Honora Grant compare notes and find their investigations may have more in common than they first realised. Figuring they could help each other, they devise a plan to glean some information from the secretive locals.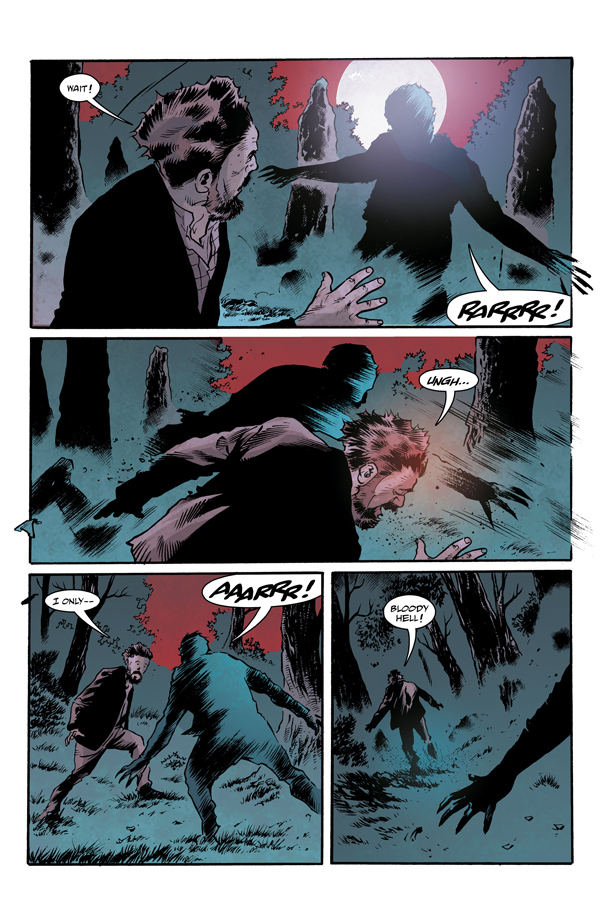 Writing
This issue jumps off the blocks to grab you… Bruttenholm is right in the midst of his search for his lost associate around the standing stones and is attacked. So your heart is quickly set to racing. This is followed by a sharing of events between Simon and Honora in which the reader feels like a third member of the team, listening to the evidence to hand and the plan to proceed. Like a great detective story we then continue the investigation with a bit of sleuthing and sneaking around. The two working together uncover some new leads and as Alice would say, things get "curiouser and curiouser".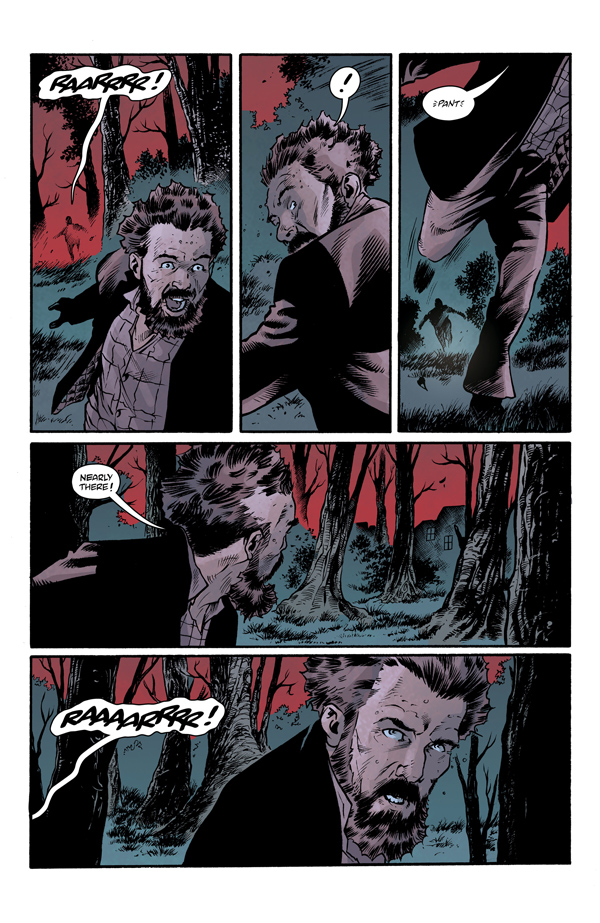 Artwork
It's hard not to have your curiousity aroused with Sebastián Fiumara's fantastic cover… the look of curiousity and surprise on Simon's face, the colours and tones putting us right in that dark clearing with him and the fantastic sense of the bright torch light. That sense of light is actually continued brilliantly throughout the pages. We have the brilliant glare of the full moon shining from behind the menacing figure in the first few pages, then we have the lovely warm inviting light radiating out of the windows in the town and equally comforting early morning light as Simon and Honora compare notes over breakfast. That breakfast scene also gives us a great peak into the thoughts of both characters as we can see in Simon's face that he is possibly still quite shaken from the night before whilst at the same time we can see that Honora thinks he is making too much of small clues.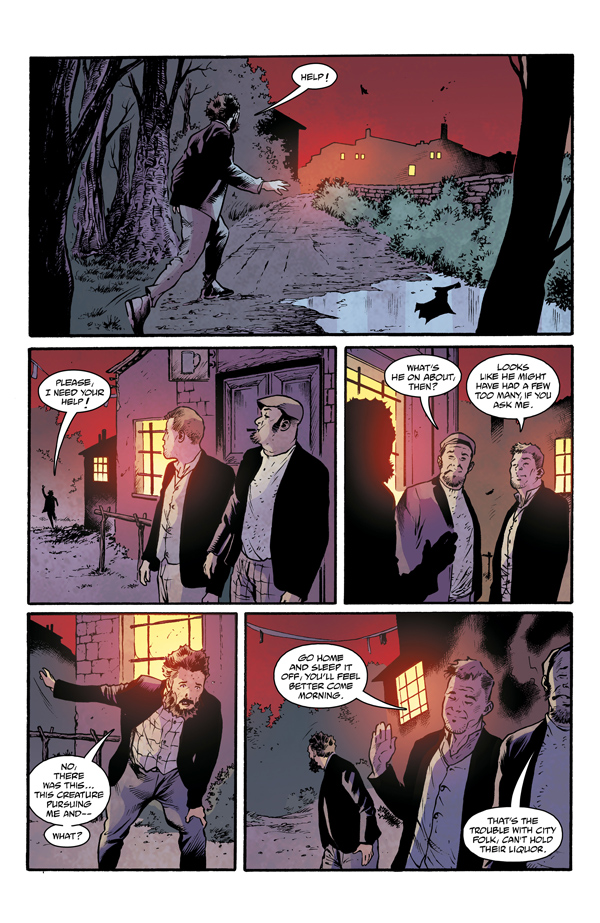 Final Thoughts
I think these stories make a great addition to the wider Hellboy mythology, in part because they flesh out Hellboy's lineage in a sense, but also because it's nice to have a somewhat different approach to all the paranormal events. The main Hellboy stories tend to focus as much on action as anything else whilst this feels more like it's a paranormal detective story, which is not to say there is no action… there certainly is… but it feels more like a spooky whodunit rather than a Men In Black meets Mad Max. I have a bit of a soft spot for the early spiritualist time period due to a fascination with the paranormal from childhood leading to reading many books about that era, so it has a pseudo nostalgic feel too.
If you enjoyed the first issue then this is a great continuation with some more depth into the investigation. If you haven't grabbed the first issue… you can start here and be caught up quite quickly and enjoy the spiritual sleuthing. Basically grab a copy :D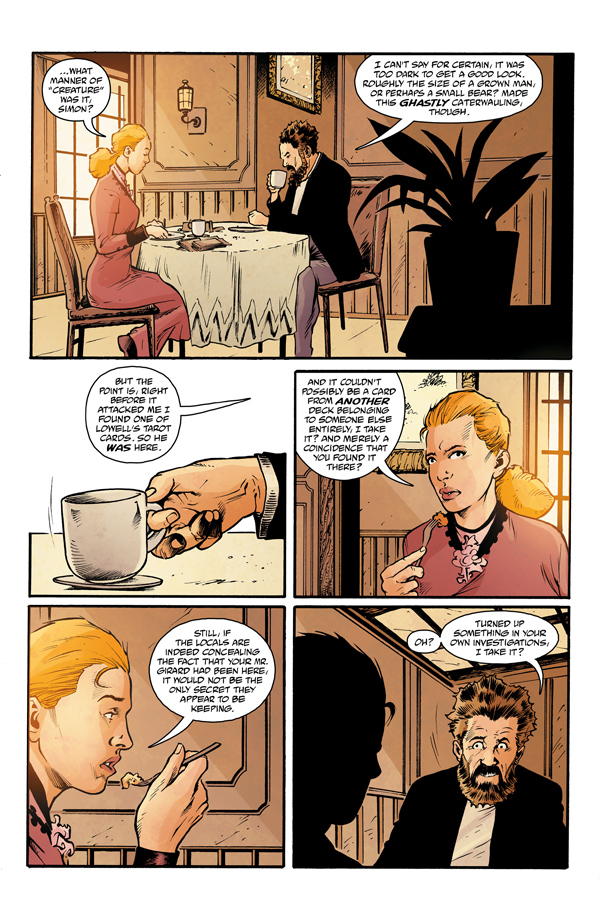 Publisher: Dark Horse
Writer: Mike Mignola, Chris Roberson
Artist: Andrea Mutti
Colourist: Lee Loughridge
Cover Artist: Sebastián Fiumara
Genre: Action/Adventure, Crime, Horror
Format: 32pgs, FC, Miniseries
Release Date: 25th May, 2022