Films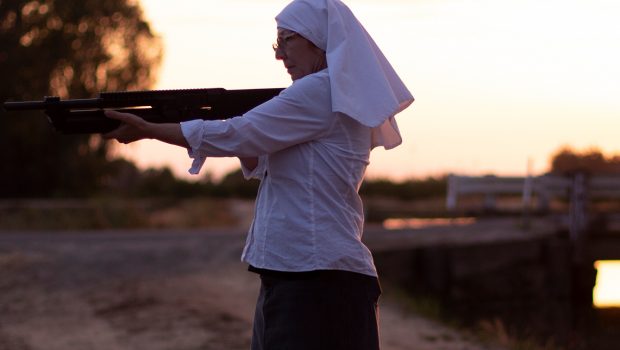 Published on April 15th, 2019 | by Damien Straker
Breaking Habits – Film Review
Reviewed by Damien Straker on the 9th of April 2019
Icon presents a film by Robert Ryan
Producers Nick Taussig and Paul Van Carter
Starring Christine Meeusen
Music by Jake Walker
Cinematography by Mikul Eriksson
Film Editing by Tom Meadmore and Alec Rossiter
Running Time: 90 minutes
Rating: M
Release Date: the 18th of April 2019
How Christine Meeusen or 'Sister Kate' became a US medicinal marijuana entrepreneur and established her gun-toting organisation, 'the Sisters of the Valley', is initially fascinating. The group creates herbal products, such as salves and oils, that contain a non-intoxicating compound called cannabidiol (CBD), which is taken from cannabis plants. The organisation allegedly made US$1.1m in sales in 2017.
While the group's signature clothes resemble the religious habits of a nun, Christine is adamant that the group is not traditionally religious. In Ariela Kozin's concise Playboy article, 'Sisters of the Valley: The Nuns Whose Religion Is Cannabis', Christine states, 'our only religion is cannabis, and we fashion ourselves after our Beguine mothers'. Apparently, the Beguine mothers were a female group in the Middle Ages separate from men and the church itself. Despite the intriguing and potentially hilarious premise, the documentary Breaking Habits is undone by poor production values and a lack of objectivity.
A noticeable misstep by first‑time filmmaker Robert Ryan is the terrible sound mixing. At a small early screening, the volume of the film reached ear‑splitting levels at times. Four out of five people left prematurely, but I persisted. The sound issue is compounded when using distracting classical music, including Shostakovich's Waltz No. 2, which is needlessly pasted over the interviews. The music was used memorably in Stanley Kubrick's erotic drama Eyes Wide Shut (1999).
Additionally, the pacing limps over the ninety-minute running time and the selection of archival footage is poor. For example, the archival footage only dates back to the 1990s, but the image quality is poor. The juxtaposition of images and interview footage is inconsistent too. In one scene, Christine's son reflects on his drug addiction as footage of him playing as a child is shown. The moment strains for a hard-hitting, emotional response. Meanwhile, when Christine discusses being homeless, she is shown walking down the street in her habit, which briefly muddles the timeline.
By lacking a memorable cinematic scope, it is questionable why Breaking Habits needed a cinema release instead of a television screening. Similarly, most of the same information about Christine and the Sisters is available in Kozin's article. Kozin describes Christine as 'eccentric, hyper-intelligent, tenacious, funny and beautifully nurturing'. She outlines the drama of Christine's early life too, including happily living with her husband and their children in Merced, California, only to discover he stole the money she made from her telecommunications company.
Christine took her children and moved in with her brother, Joe. Together, they operated the 'Caregrowers' business. In 2009, California was one of the only states to allow for medicinal cannabis. As such, Christine and Joe delivered medicinal marijuana to sick clients until another fallout. Though strangely, it is the film not the article that outlines how Joe's betrayal with a black-market deal forced Christine to leave him too. Christine's independence from men and her interest in politics peaked with her involvement in the 2011 Occupy Wall Street movement.
As a joke, she decided to dress as a nun but soon adopted the habit by establishing the 'Sisters of the Valley'. As mentioned, they are not conventionally religious. They believe in 'Mother Earth' and healing. Christine told Playboy, 'we're spiritual healers: a combination between Wiccan beliefs and Native American beliefs'. Though the film's comparison between the group and Native Americans is brief and superficial before cutting to a different thread. Christine's story is also shared with interviews with the sheriff of Merced County, a drug enforcement officer, and Bishop Ron D. Allen.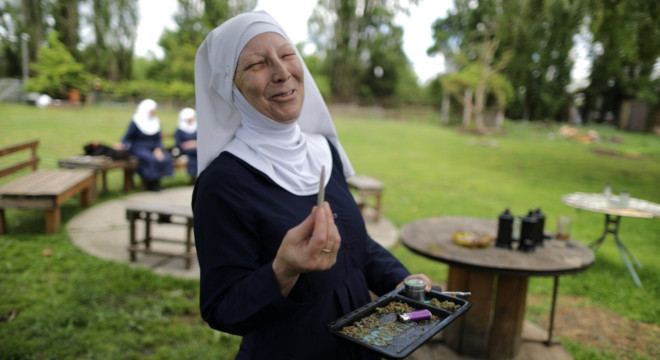 These three men believe marijuana should be illegal. In their eyes it is an illicit substance and addictive. The footage of the police capturing and destroying cannabis plants is meant to raise the stakes for Christine's business. However, it appears that these interviews were only included to protract the film's length. Outside of how Christine established the business and warding off gangs, there is no arching narrative or direct confrontation with these men. Consequently, the climax involves a meeting to receive a permit but since it is held behind closed doors, away from the cameras, it is an unexciting finish.
Perhaps the documentary would have benefited from an objective narrator or an interviewer to balance Christine's input. Someone could have asked her questions about the business. After watching Breaking it is still unclear about the number of jobs the Sisters of the Valley has created. On Wikipedia, it says it is a 'small business' and in the Playboy article it says that the central hub in California only consists of five to six women at a time. Yet in the film Christine mentions the potential to create twenty thousand jobs in California. It is a pity it is not a stronger documentary because there are interesting scientific elements, such as using CBD in the cannabis products because it is a non-psychoactive part of the drug and can be legally transferred across state lines.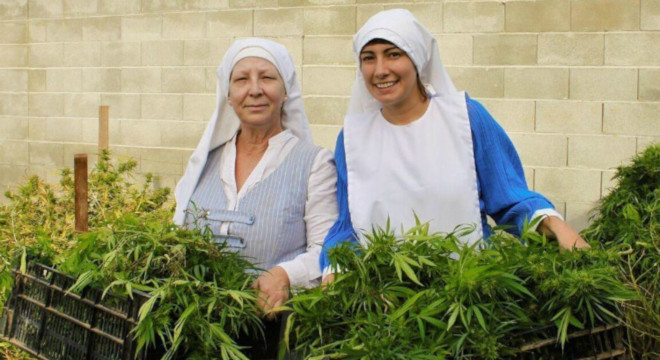 The Sisters of the Valley are a necessary footnote in the ongoing and topical debate about medicinal marijuana, which indisputably eases pain and illness. However, this documentary is scratchy and does not possess the same volume of story as the best documentaries in recent years. Outside of her relationships with her ex-husband and brother, Christine's story works better as a feature article rather than a documentary requiring a narrative. Robert Ryan's composition stumbles due to some wobbly technical elements and a lack of objectivity. It might spark curiosity on television, but a cinema viewing is unnecessary. The Playboy article's summary is clearer and offers most of the same information. It is free and readily available without the unnecessary stylistic trimmings.
Summary: Despite the intriguing and potentially hilarious premise, the documentary Breaking Habits is undone by poor technical elements and a lack of objectivity.