Hardware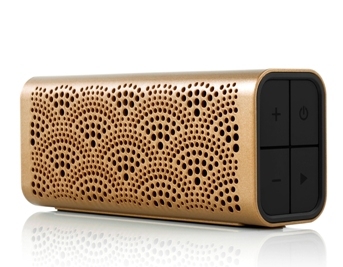 Published on April 14th, 2015 | by admin
BRAVEN Unveils LUX, the Stylish New Accessory for Your Lifestyle
SYDNEY, Australia– 14 April, 2015 – BRAVEN unveils the limited edition LUX, an elegant speaker that makes a fashion statement. The latest addition to the BRAVEN Design Series, the LUX redefines the look of a Bluetooth speaker with an intricately detailed grill.
Designed for the fashionable user on the go, the BRAVEN LUX showcases a unique pattern and is available in a limited edition metallic gold finish that effortlessly complements your décor and personal style. Compact, lightweight and striking, the LUX bridges the gap between fashion accessories and electronics, as the ideal speaker for anywhere travel, or at-home listening on a bathroom counter, bedroom nightstand, or poolside lounging to enjoy your favourite tunes.
"The LUX breaks the typical Bluetooth speaker design mould by combining luxury with a feminine style," says Lauren Bos, Brand Manager. "Fashion-conscious music lovers now have a portable speaker that's as stylish as it is pure in sound."
The LUX easily connects with any Bluetooth-enabled device, can pair with another LUX or BRAVEN 7-Series speaker to deliver left and right audio, and features a built-in noise-cancelling speakerphone and mic to take calls anytime. The LUX is also water resistant, making it "party-proof" and doubles as a battery bank to charge mobile devices.
For more information about the LUX or the entire line of BRAVEN Bluetooth speakers, visit www.braven.com.
Pricing and Availability
Product: Braven LUX Gold
Australian Distributor: MacGear
RRP: $179.99
Availability: Exclusive to selected Myer Australia stores and online at www.myer.com.au