Hardware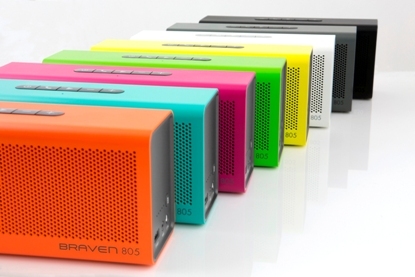 Published on May 11th, 2015 | by Admin
BRAVEN Turns up the Volume with 805, the Ideal Home Speaker
SYDNEY, Australia– May 11, 2015 – BRAVEN unveils the 805 in Australia, its newest Bluetooth speaker designed to add a touch of colour and a dash of rhythm to any lifestyle. The ideal home companion, BRAVEN 805 packs the power to rock any room and is offered in a variety of colours to complement interior design and décor.
Offered in nine striking colours, the BRAVEN 805 can vibrantly accent a kitchen counter and living room table with vivid magenta, orange, and red colour ways; or can blend into a bookshelf with neutral white, grey and black hues. Bright or subtle, the 805 has the elegance to satisfy even the most demanding taste, and the bold colours and amazing HD sound to set, enhance or create any mood.
"The 805 is more than a speaker; it's an extension of your home." said Valentine Lopez, Executive Vice President at Braven, "It is the only part of your home décor that allows you to enjoy your favourite music whether you like lounging in the living room, dining and cooking in the kitchen or relaxing in the backyard."
BRAVEN's 805 features a unique combination of sound quality and added features, including speakerphone capability with an integrated noise-cancelling microphone and the ability to charge USB devices, with a powerful 4400 mAh portable battery bank. The 805 is also equipped with TrueWireless™ Technology to pair with a second BRAVEN 805, 850, 855s, 1100, and BRV-HD speaker for left and right channel stereo sound.
The BRAVEN 805 will be available for the first time in Australia in white, teal, yellow, orange, magenta, green, red, grey, and black. MYER is ranging the full colour range in 5 CBD stores as well as the black, magenta and white models in all other stores.
"The Braven 805 is a great speaker for the home; it is easy to connect to mobile devices, delivers fantastic quality sound and is a stylish complement to any home decor." said John Milonas, Category Buyer at MYER, "The colourful and stylish designs make it a perfect addition to our range and we expect it to be very popular with customers."
Braven also announces the Australian availability of five more colours to the sleek multi-purpose, palm-sized BRAVEN 705 range. Match your personal style and décor with yellow, grey, purple, teal, and white as well as magenta, cyan and black colour options. New colours are now available at Beezer.com.au, MacintoshAddict.com.au, and Tech2Go (Capital City Airports) for $179.99AU.
Pricing and Availability
Product: Braven 805
Australian Distributor: MacGear
RRP: AUD $329.99
Colour options: White, Teal, Yellow, Orange, Magenta, Green, Red, Grey, and Black
Availability: MYER Australia www.myer.com.au, beezer.com.au and MacintoshAddict.com.au