Hardware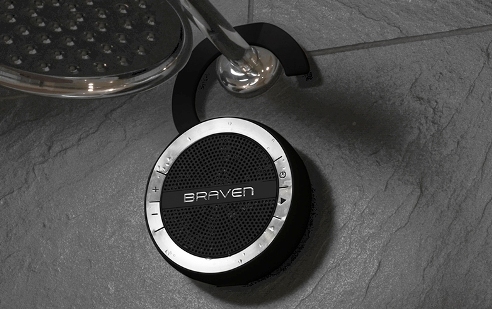 Published on November 5th, 2014 | by admin
BRAVEN Mira, the Uniquely Versatile Wireless Speaker Now Available in Australia and New Zealand
SYDNEY, Australia– November 5, 2014 – BRAVEN announces availability of the Mira™ in Australia and New Zealand, a multi-purpose water-resistant Bluetooth® speaker that offers convenient portability, sophisticated style and outstanding sound quality. Designed with the entire household in mind, the BRAVEN Mira™ is equipped with an integrated kickstand that doubles as a hook, giving users the flexibility of using it anywhere, including hanging in the garage, by the grill, on the deck, or even in the shower.
The ideal audio solution for any location, the BRAVEN Mira™ showcases a contemporary design highlighted by clean lines and sleek curves, and is capable of playing over 10 hours of crisp audio. It is also IPX5 water-resistant rated, making it the perfect kitchen, boat, shower, pool or jacuzzi speaker.
"Mira has the power to fill a room with outstanding sound, a design that makes it multifunctional, and an understated look that complements your decor," stated Andy Fathollahi, Chief Executive. "In simple terms, Mira embodies versatility and functionality."
The BRAVEN Mira™ has a rechargeable battery for up to 10 hours of continuous playtime, comes with a built-in noise cancelling microphone for hands-free use and is equipped with a 3.5 mm line in AUX port for non-Bluetooth devices. Mira™ is available in a variety of lively colours, including Black/Silver in Australia and New Zealand, as well as Grey/Silver, Blue/Silver and Pink/Silver which are exclusive to Australia.
For more information about Mira™ or the entire line of BRAVEN Bluetooth speakers, visit www.braven.com.
Pricing and Availability
Product Name: BRAVEN Mira™
Manufacturer: Braven
Australian & New Zealand Distributor: MacGear
Australian Retailers: Beezer.com.au, MacintoshAddict.com.au, Tech2Go (Capital City Airports)
New Zealand Retailers: MightyApe.co.nz, iStore, Ballanytnes
| | | | |
| --- | --- | --- | --- |
| Model   | Colour Option   | RRP | Availability |
| BMRABBB | Black/Silver | AUD $129.99 NZD $129.99 | AU/NZ (NOW) |
| BMRAGSW | Grey/Silver | AUD $129.99 | AU only (NOW) |
| BMRAKSW | Pink/Silver | AUD $129.99 | AU only (NOW) |
| BMRAUSW | Blue/Silver | AUD $129.99 | AU only (NOW) |