Hardware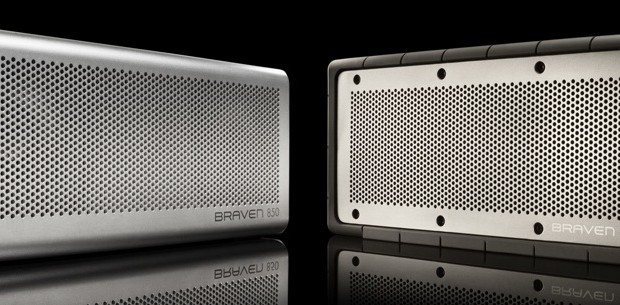 Published on December 10th, 2013 | by admin
BRAVEN 850 & BRAVEN 855s, the Epitome of Portable Bluetooth Speakers, Now Available
Sydney, Australia – December 10, 2013 – BRAVEN announces the Australian and New Zealand availability of the highly-anticipated BRAVEN 850 and BRAVEN 855s, the biggest and most powerful BRAVEN speakers yet.
BRAVEN 850 & 855s pump out hair-raising high-fidelity audio, charge mobile devices including tablets and wirelessly pair with a second 8 Series speaker for a true left and right wireless stereo experience.
At less than 25cm long and 11cm tall, the BRAVEN 850 & 855s deliver unprecedented portable sound – enough power to fill larger rooms and outdoor parties with stunning audio.  BRAVEN 850 & 855s utilise class-leading extended-range aluminum cone drivers and dual passive radiators for a powerful and rich sound, capable of pleasing even the most discerning audiophile.
The BRAVEN 8 Series speakers retain the classic BRAVEN design, accentuated by a stunning unibody aircraft-grade aluminum construction.  In addition to the mind-blowing sound and elegant design, they boast several advanced multi-functional features: on-the-go charging of mobile devices including smartphones, cameras, iPads, tablets, etc., True Wireless pairing between two 8 Series speakers for a left and right channel stereo experience, an integrated speakerphone for hands-free calls, and a unique digitally enhanced audio based on DTS Audio's SRS WOW technology that expands the already massive sound and can be turned on and off by the user.
The 855s is distinguished from its sister 850 by its rugged water resistant shell and IXP3 water-resistant rating.
"The 850 & 855s take BRAVEN's family of award-winning portable speakers to new decibels and encourage users to enjoy life to the fullest and loudest – in stunning high fidelity audio," stated Valentine Lopez, Executive Vice President. "Despite their portability, the 8 series speakers have the features and capabilities to satisfy even the most demanding music connoisseur.  They are simply a step above the rest."
The BRAVEN 850 & 855s have an impressive playtime of up to 20 hours – longer than any speaker in its class.
Pricing and availability
Manufacturer: Braven
| | | | |
| --- | --- | --- | --- |
| Product Name | Colour Option | AU RRP | NZ RRP |
| Braven 850 | Silver | $ 399.99 | $ 449.99 |
| Braven 855s | Black / Grey | $ 399.99 | $ 469.99 |
Australian & New Zealand Distributor:  MacGear
Australian & New Zealand Retailers: http://www.braven.com/where-to-buy
Website:
–    Braven 850:  http://www.braven.com/braven-850-wireless-bluetooth-speaker.html
–    Braven 855s:  http://www.braven.com/braven-855s-rugged-outdoor-bluetooth-speaker.html
Video:
–    Braven 850:  http://www.youtube.com/watch?v=y0SMxHz7JtU
–    Braven 855s:  http://www.youtube.com/watch?v=DqB4LfBF7KE