Movies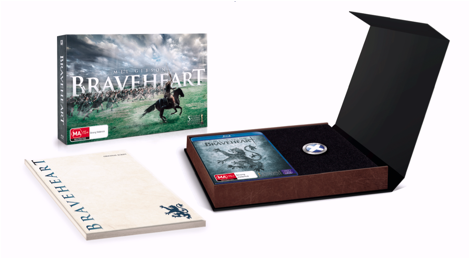 Published on April 28th, 2014 | by Admin
Braveheart 20th Anniversary
[Sydney, Australia]– Mel Gibson's Academy Award®-winning epic Braveheart will be available in an all-new Limited Edition Blu-ray Gift Set on June 26th from Twentieth Century Fox Home Entertainment.  This release celebrates the 700th Anniversary of the Battle of Bannockburn (June 23-24, 1314), the battle intensely portrayed in the film's final scene, and the 20th Anniversary of the production start in Scotland (June 1994).  Braveheart will also be available for the first time on Digital HD on June 26th.
Offered with this release is a new, exclusive 30-minute documentary "The Journey Home" that pays tribute to the epic and historical nature of Braveheart and its relevance today.  Mel Gibson, along with screenwriter Randall Wallace and others reflect back on what drew them to Braveheart and the legacy this film has had on the Scottish historical heritage.  The piece may be redeemed digitally on FoxExtras.com via a unique code found inside the Blu-ray.
In addition to the 2-disc Blu-ray and access to "The Journey Home" the Braveheart Limited Edition Gift Set includes a leather-bound reprint of the original script and a Battle of Bannockburn 700th Anniversary commemorative pin, available exclusively at JB Hi-Fi.
Commented Gibson, "My primary reason for making Braveheart was to tell a good story and be cinematically compelling — yet the film, I am told, has been influential on politics of present day Scotland. It's really amazing how a film can affect history."
"For nearly 20 years Mel Gibson's Braveheart, a landmark of modern cinema, has touched viewers around the world.  A remarkable film emphasising freedom and independence, it is only fitting that we continue to recognise its merits with this release during such an historic and celebratory year for Scotland," commented Mary Daily, President of Worldwide Marketing and Chief Marketing Officer, Twentieth Century Fox Home Entertainment.
This heroic classic can also be experienced anytime, anywhere on Digital HD and will be available at digital stores including iTunes, Google Play, Xbox Video, PlayStation.
Gibson directed, produced and starred in the full-scale spectacle which chronicles the life of Scottish hero William Wallace in a timeless struggle for freedom.  Unparalleled battle scenes, stunning cinematography and a breathtaking cast of thousands led to the film being honored with Oscars for Best Picture, Director, Cinematography, Makeup and Effects/Sound Effects Editing.
Synopsis:
This exhilarating epic brought audiences to their feet across the globe and won five Academy Awards®* including Best Picture and Director for Mel Gibson. Gibson gives an unforgettable performance as Scottish freedom fighter William Wallace. After the English seize the Scottish crown, Wallace assembles a ramshackle army to lead the Scots into one of history's most remarkable battles.