Events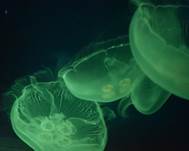 Published on September 10th, 2019 | by Admin
Brand new jellyfish exhibit coming to SEA LIFE Melbourne Aquarium!
SEA LIFE Melbourne Aquarium has today announced that an immersive new $1.5 million jellyfish exhibit will open to the public in December 2019.
Guests can descend into the mysteriously fascinating world of jellyfish at SEA LIFE Melbourne with the opening of Ocean Invaders, which will feature three interactive zones pulsing with multiple species of stunning jellyfish.
"We are excited to announce that Ocean Invaders will launch at SEA LIFE Melbourne in December, introducing a number of new jellyfish species to our much-loved aquarium. The sensory experience is spread over more than 300sqm and will captivate guests with enormous displays of jellyfish, interactive activities, incredible lighting installations and educational facts about the gelatinous sea creatures," said Sarah-Jane Tilbury, General Manager at SEA LIFE Melbourne.
Guests will be immersed in the beauty of a jellyfish invasion as they are surrounded by thousands of mesmerising creatures and spectacular lighting projections across multiple displays including an incredible transparent sphere filled with swarming jellyfish.
The journey continues to The Jelly Lab where guests can discover strange facts about the jellyfish lifecycle and take a peek behind the scenes as SEA LIFE Melbourne staff tend to the blooms of these graceful (and sometimes dangerous) sea creatures.
In the third zone, children and adults alike can escape the invasion by crawling through a cylindrical tank filled with oscillating jellyfish. In SEA LIFE Melbourne's Art Aquarium children can create a digital jellyfish, which will come alive and dance across the Interactive Wonder Wall!
According to SEA LIFE Melbourne's Head of Curatorial, Paul Hale, Ocean Invaders is populated with a host  of species in unique exhibits at SEA LIFE Melbourne;
"We are pleased to introduce a number of amazing species to our guests, including upside down jellyfish (cassiopea andromeda), blue blubber jellyfish (catostylus mosaicus), lion's mane jellyfish (cyanea capillata) and sea nettles (chrysaora melanaster). We hope to introduce additional species over the coming months and are thrilled to see the Ocean Invaders project coming to fruition after months of planning," said Paul.
Ocean Invaders will also educate guests about the causes behind the increasing population – or invasion – of certain species of jellyfish in our oceans and the actions people can take to limit these exponential and sometimes problematic population increases.
Ocean Invaders will take guests on an entertaining journey of discovery and exploration into one of the ocean's most intriguing ancient creatures. In addition to this exciting new exhibit, guests to SEA LIFE Melbourne can meet Mitchell the Grey Nurse Shark, Pinjarra the Saltwater Crocodile, the colony of King and Gentoo Penguins and thousands of other magnificent sea creatures.
Ocean Invaders opens at SEA LIFE Melbourne in December 2019. It is a permanent exhibit that is included in the admission price. To pre-book tickets head to https://www.melbourneaquarium.com.au/ocean-invaders/