Events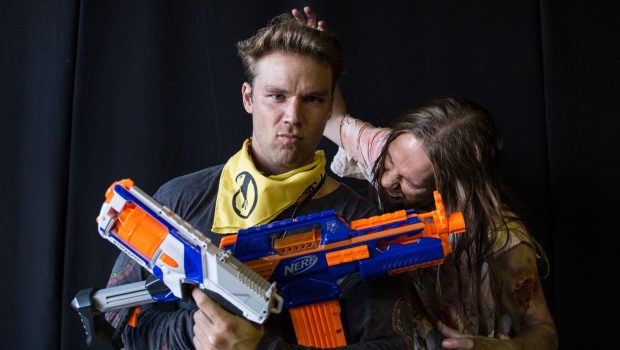 Published on May 30th, 2017 | by admin
Braaaains… ZEDTOWN: State of Emergency is coming!
Sydney had a test run for the upcoming ZEDTOWN: State of Emergency that went off without a hitch unlike an episode of The Walking Dead which was held at UNSW with 350 punters enjoying the game…. Check out the fun below, read the official blurb and make sure you get yourself down to the event!
ZEDTOWN is a giant game of real world zombie-themed tag. Players take up NERF toy dart blasters and fight for their life against hordes of vicious zombies. Over the course of an afternoon, as survivors are hunted down and tagged by zombies they become zombies themselves, spreading the virus and dooming humanity. It's up to the remaining survivors to hold out for as long as they can, and maybe escape ZEDTOWN.
More than just a game of running and blasting, ZEDTOWN is a truly interactive event that empowers players to create their own action and tell their own stories. A call-in radio station provides up-to-the-minute immersive colour and useful survival tips while our dedicated app helps survivors communicate and play the game. Social media streams offer real-time clues, commentary and a hub for fantastic player-driven storytelling. These elements combine to create a truly immersive zombie experience just waiting for the players to suit up and leave their mark.
ZEDTOWN: State of Emergency

Melbourne Quarantine Zone 5
Melbourne Showgrounds             Saturday 24 June             Access to Quarantine Zones from 11am – 12pm to 4pm
Access to Quarantine Zones from 6pm – 7pm to 11pm
Sydney Quarantine Zone 6         
Sydney Showground       Saturday 8 July                                  Access to Quarantine Zones from 11am  – 12pm to 4pm
Access to Quarantine Zones from 6pm – 7pm to 11pm