Comics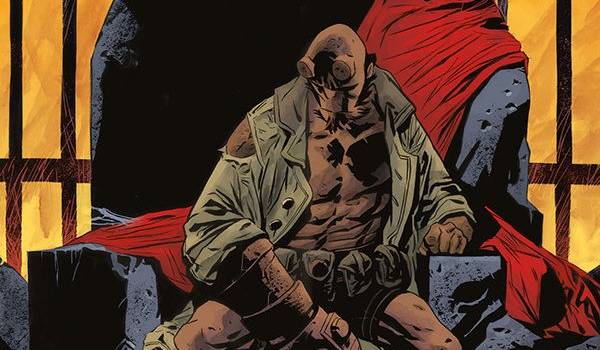 Published on September 14th, 2018 | by Chris O'Connor
B.P.R.D. The Devil You Know #10 Comic Review
Summary: The horrors facing the B.P.R.D. seem to escalate and escalate again... the extent of just what they are up against is revealed!
In long form stories it can be tricky to get the pacing right, how do you keep tension and the sense of danger through each issue. I personally don't know how you'd do it… but The Devil You Know has indeed kept pulses racing release after release after release. Issue 10 won't just get your pulse racing… it will make you break out in a nervous sweat! The enemy may just be bigger than we expected.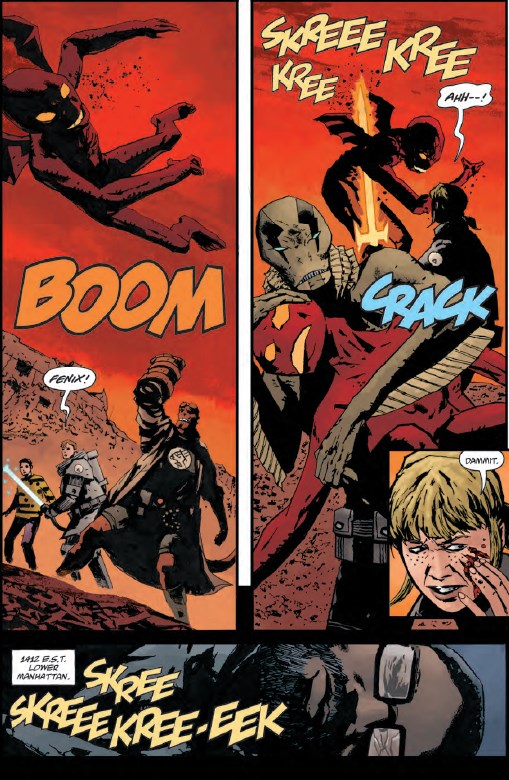 Writing
As mentioned… keeping the thrills and frights at a heightened level can be tricky when the story arc is so long, but somehow the writing team have managed to keep things at a fever pitch with a breathless pacing. I think to some extent, up to this point there has been a sense of dread, a notion that these odds seem overwhelming… but maybe the B.P.R.D. can pull through. By the end of this issue, that dread seems to have a sense of futility… the notion that maybe this time the B.P.R.D. won't be able to save the earth… perhaps there are things in motion far more powerful than even Hellboy can handle.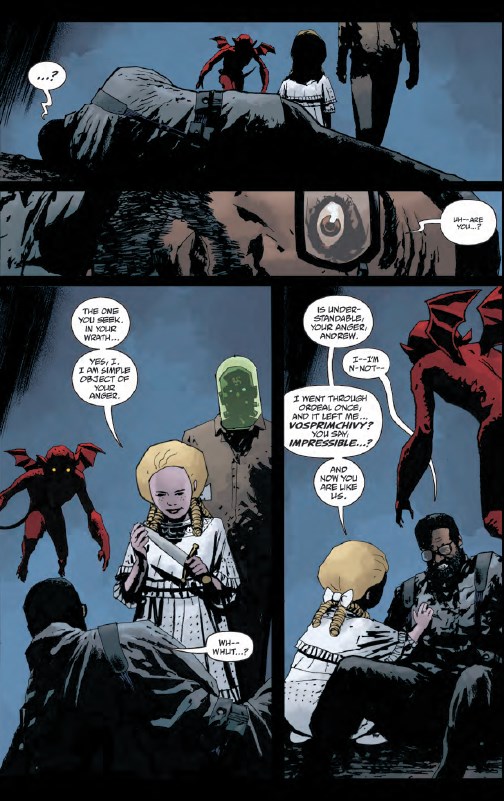 Artwork
If the words keep your heart racing, the visuals are going to make you wonder if you are having a heart attack. There's an energy, a frantic chaos of evil that feels like it is closing in, stifling the air. The colours chosen and the shading all lend to that horror feel… the overpowering crimson tones conjuring images of the flames of hell lapping at the broken city landscape. But for me the standout is the last page… the main image! I can't spoil it, but I guarantee when you see it, you will know what I mean… Awww Crap!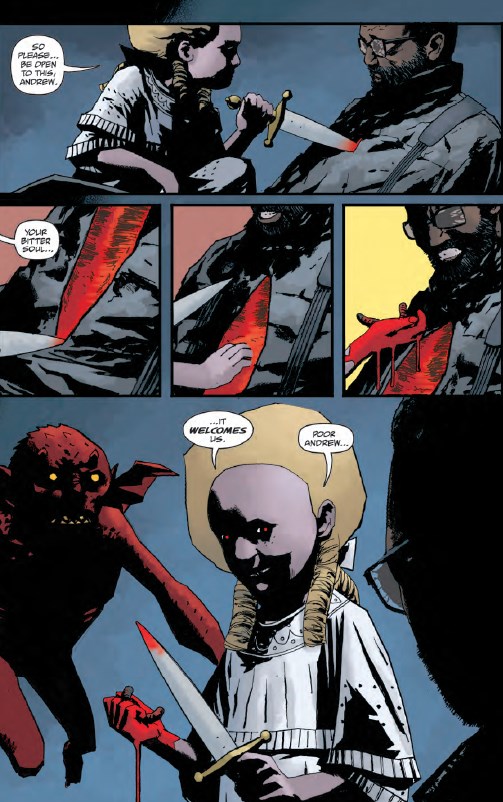 Final Thoughts
I've told myself time and time again that I don't like stories broken up into parts… reading a portion then having to wait ages to read another little segment… somehow it never occurred to me that that is exactly what I do with these stories… yet somehow, I don't mind. I don't know whether it's because I'm so familiar now with the greater Mignolaverse that each story holds extra meaning, or I am able to flesh out elements to make it feel more complete. Perhaps it's just the story writing is so good that it simply feels satisfying in bite size portions. I don't so much find myself frustrated at where the story ended as excited and keen to get the next issue as soon as possible to see what happens next. This issue… dang! I was informed not to spoil it (which I generally try not to with any review)… but I didn't see the end coming and it absolutely sets you salivating for the next installment. If you've got the patience by all means wait for the collected story but if you are like me and you find yourself addicted to this story then you absolutely need to grab this issue… try and be patient but otherwise be cheeky and flick to that back page (though really… try not to… it will be worth it). When you see that last page you will know… you will know that you need the next issue!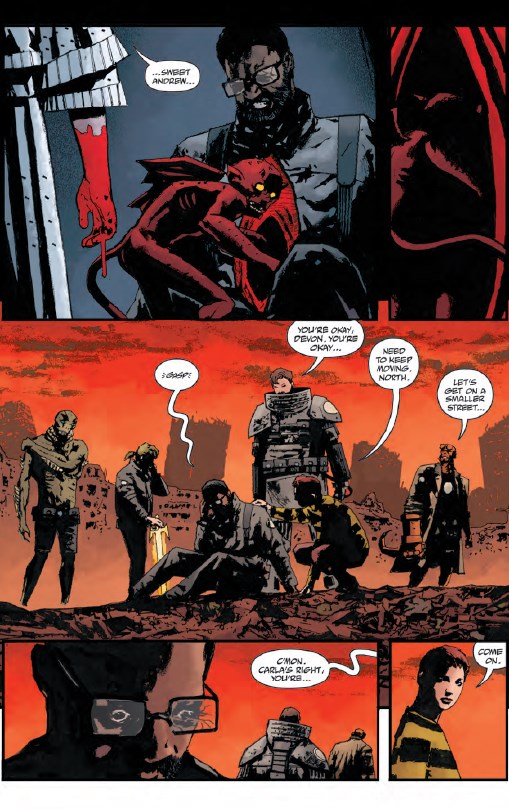 Publisher: Dark Horse
Writer: Mike Mignola, Scott Allie
Artist: Laurence Campbell
Colourist: Dave Stewart
Cover Artist: Mike Mignola, Max Fiumara
Genre: Horror
Format: 32pgs, FC, Ongoing
Release Date: 12th September, 2018