Switch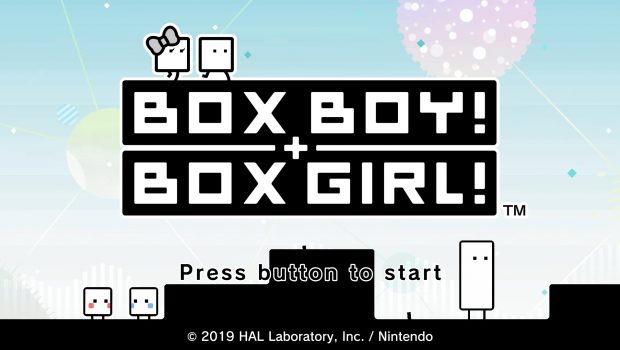 Published on April 30th, 2019 | by Tory Favro
BoxBoy + BoxGirl Nintendo Switch Review
Summary: A great puzzling platform game that works perfectly either handheld or on the big screen with a bevy of levels that represent great value
What a great game! I was always keen when I saw this was up for review so up shot the hand for the chance to check it out. I love puzzling platform games no matter the format and this title certainly delivers. This is the fourth game in the series, and no you do not have to have played any of them. Basically it is about boxes that are sentient and can emit other boxes from their bodies in order to get from point A to point B. It sounds simple but that is the beauty of the game. It is one tricky little son of a gun once you get through the tutorial and start being challenged.
The principle is simple enough but the reality is certainly something else. This title grows as you do with the way that challenges and puzzles are presented. Don't be lulled into a fake sense of security by the simplicity of the beginning levels. Your characters, a boy box named Qbby, or a girl box named Qucy need to move through the game and make sure that they are using the minimum amount of boxes in order to achieve the goals set out for that particular level. The boxes can emit from all sides of your character and are used to progress through obstacles.

The game has a single player mode with one box, then another where you control both and finally one where you can play with a friend and work together to finish the game together. This is really well done and no issues with making everything work just right. The control system takes a little getting used to at first and I did make several mistakes earlier on by mashing buttons the wrong way. Once the controls are established it is a matter of working out how to move on the fly, and what is the lowest amount of boxes to help you get through everything.
It is quite incredible the amount of things you will need to solve in addition to platforms and switches. The environment itself will at times shape how you do things including moving and swinging platforms that at first glance look impossible, but with a bit of thought are more than achievable. It is just a matter of both timing and brain power in working out just what options you have in making the boxes behave the way that you want them to.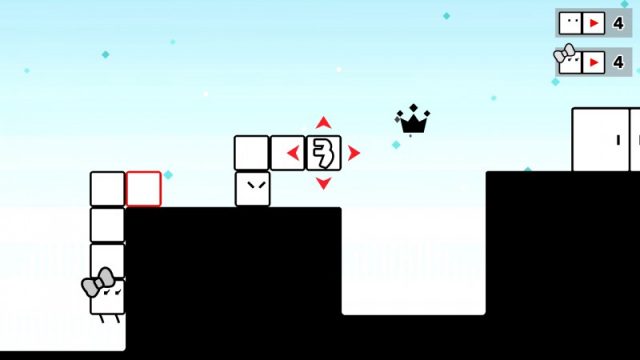 Speaking of boxes you will be able to customise how your character looks. There are goofy options that you can pick from randomised assortments. This will be a god bit of fun, especially if you are a little disenchanted with how the game looks. Graphically it is a plain looking game, which is the whole point, but it can feel a little samey sometimes. This game in my opinion plays a lot better as a handheld, but you might want to go to a bigger screen for two player fun.
Deeper into the title it will not be  a matter of simply getting over levels you cannot jump over. Obstacles will need to be dug out and switches hit, all still using those boxes you will be all too used to. I like the fact that you really have to think your way through all this using only the one thing to make it all happen. It is more than worth getting through the solo campaign in order to play the game A Tall Tale which introduces another box controlled by two players called Qudy.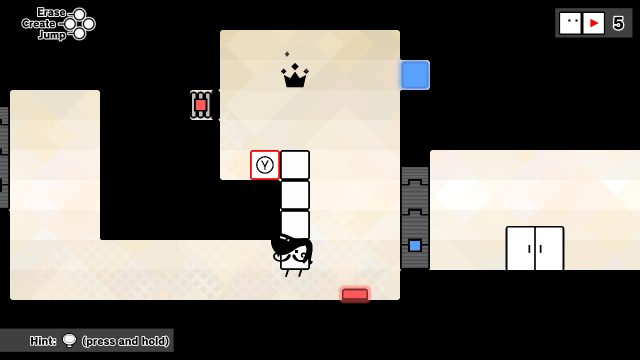 Qudy can bend for starters which then adds more complexity to the game. He also creates rectangular boxes that can be stacked horizontally making steps and the like. The puzzles are good enough to keep you interested even after the bevy you have just solved and the two player option adds an interesting twist to how you manipulate things. It adds even more value to a game that is already jammed packed with enough gaming goodness to keep you going for quite a while. The satisfaction of getting through a tricky conundrum is sufficient payoff to make gamers keep having a crack until they get it done.
This is a very cool game. I would recommend it to all players. You can play every now and then and not miss a thing, or be a puzzle master and go crazy with all the levels. It's a good time.
Tory Favro