Films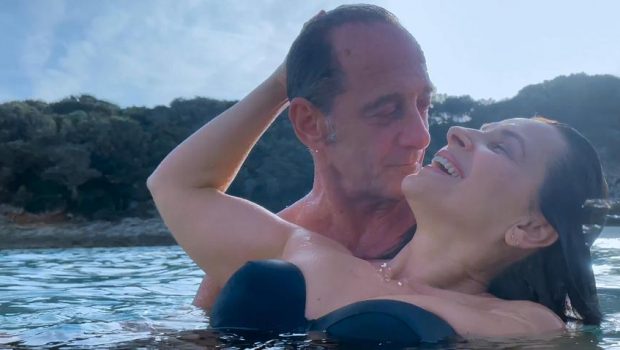 Published on August 27th, 2022 | by Damien Straker
Both Sides of the Blade (Avec amour et acharnement) – Film Review
Reviewed by Damien Straker on the 27th of August 2022
Palace Films presents a film by Claire Denis
Screenplay by Christine Angot and Claire Denis based on 'Un tournant de la vie' by Christine Angot
Produced by Olivier Delbosc
Starring Juliette Binoche, Vincent Lindon, Grégoire Colin, Bulle Ogier, Issa Perica, Alice Houri, Mati Diop, Bruno Podalydès, Lola Créton, and Richard Courcet
Cinematography Eric Gautier
Edited by Sandie Bompar, Guy Lecorne, and Emmanuelle Pencalet
Music by Tindersticks
Rating: MA15+
Running Time: 116 minutes
Release Date: the 1st of September 2022
Claire Denis' Both Sides of the Blade is a thoroughly disappointing melodrama. The premise of this COVID‑19‑set story is slight enough to fit on a postage stamp. It asks what a person should do if they are in a relationship but share feelings for someone from their past. The dramatic power of this dilemma stems from an attraction to unfinished business and a desire to relive and rebuild what once stalled. Revisiting past glories are also an unintended staple of this dated feature. Without memorable scenes or visual and thematic inspiration, Blade is a dusty relic from yesteryear that has inexplicably resurfaced like a ghost from the past.
Comparisons to The Worst Person in the World (2021) prove unfavourable. The Norwegian film successfully examined a young woman's choice between two men of different ages. It was told with visual flair and made us care about its male and female characters. Blade is the weaker film but not because of its slight premise. A tightly focused story is preferable to an over-plotted one. Instead, it falters because of its old-fashioned approach, its clunky dialogue, and its failure to artfully explore both halves of its moral dilemma. It is a pity because the lead actors should have sold this as a deeply an emotional experience. For seventy-six-year-old filmmaker Denis it is a missed opportunity to skilfully ignite a passion-driven, character study of old and new love.
The main character in Blade is a radio journalist named Sara (Juliette Binoche). She lives with a fellow named Jean (Vincent Lindon) who was a sportsman before suffering an injury and spending time in gaol. While he is unsuccessful in finding work, he is soon aided by none other than Sara's ex-partner, Francois (Grégoire Colin). He and Francois commence work on a sports programme together. However, their partnership rekindles feelings inside Sara who never dispelled her love for Francois. After all, he was the one who left her at a party. Jean understandably grows jealous of their longing and tension between the couple builds. Meanwhile, Jean is distraught that his black son, Marcus (Issa Perica), from his previous relationship, is often unreachable except when staying with his grandmother. The question is whether Jean will set his son straight and which fellow will enrich Sara's life. Both plots are about how the choices these characters make will determine their lifepaths.
After a promising start, Blade lacks the visual finesse needed to reinvigorate an old-fashioned love story. The opening is framed from a wide angle where Sara and Jean are photographed in the ocean. He cradles her in the water, keeping her afloat on her back so he can kiss her. The actors' intimacy and the colour of the deep blue water is appealing. Yet the visual promise is unfulfilled. The rest of Blade forgoes tension and is shot without colour or flair. Barely a single image resonates as strongly as the opening. Perhaps the pale tones of Sara and Jean's apartment reflect the staleness of their relationship, but the palette is also drab on screen. A reunion between Sara and Francois is filmed in airtight close-ups to underline in thick black pen the longing between these two characters. Otherwise, the images are bland and the editing clumsy, particularly when arguments between the leads are unnecessarily protracted. Bizarrely, a crucial reunion plays out silently over the end credits while the images are inexplicably desaturated. These visual choices are not a strong showcase for Denis' talents and reducing someone's racial identity to a colour palette choice at the end is simplistic and tactless.
Blade's writing veers from obvious and clunky to downright bizarre. The screenplay by Denise and Christine Angot, adapting the latter's 2018 novel, is overloaded with unsubtle dialogue where the characters loudly expel their feelings. 'When you love someone it never really goes away!', Sara concedes to Jean, signposting her feelings for Francois with a red flag. In another scene, she says to herself, 'here we go again. Love, fear, and sleepless nights', as though her dilemma somehow lacked emotional transparency. The 'show don't tell' rule is also discarded when the couple argue about unseen grievances, such as Jean's overcontrolling nature. The bickering is more effective when we lie witness to heated moments, such as Francois almost kissing Sara. Other scenes verge on being out of touch. During a confrontation with his son, Jean presses Marcus to choose a good life and adds, 'think independently of your skin colour'. He tries deterring him from racial stereotypes by arguing he could end up cleaning toilets if he leans into them. Yet it is awkward knowing an older white woman wrote this sermon while never exploring what is really troubling this teen or what a positive life resembles in fine detail. These issues are compounded by a forced resolution where Marcus and another character, rarely seen together, magically unite to resolve the subplot. A stronger focus on the main relationship instead of this tangent would have been preferable.
While the leads remain expressive of their feelings, this melodrama soon dissolves into a total calamity. Tension is foreshadowed prematurely when we suspect Francois is a nefarious, crafty fellow who will lure Jean back towards a life of crime and seduce Sara. The foundations for a powerful thriller are set. Denis deliberately photographs Francois throughout various night scenes as a shadowy figure seen from balconies and exiting cars. The payoff is unintentionally hilarious. Rather than retaining his air of mystery, Francois is a terribly realised character. No more is this apparent than in Blade's worst and funniest scene. While in bed together, Francoise leans over to Sara and says to her, 'turn around so I can stroke your butt!' When she refuses to have anal sex with him, he squeals, 'you're mean!'  and starts reading on the toilet in protest. It is one of the strangest scenes in living memory and surely the victim of poorly translated dialogue. During this moment, people at the film's early screening began laughing uncontrollably. By painting this once sinister figure as a whiny, entitled buffoon it erases the seriousness of Sara's dilemma, particularly her inability to resolve the passion and feelings she shares for both men. The film's greatest struggle is Denis' inability to end the story with an appropriate climax. A shockingly contrived incident involving a bathtub is completely unsatisfying, especially with the judgemental lens Sara is viewed through for being indecisive. Largely, it is the weak characterisation of Francois that reduces our investment and how seriously we take the dilemma in the languid third act.
The film is disappointing because the potential for a powerful romantic drama is clear. Juliette Binoche and Vincent Lindon are fine actors and there are moments where we see how strong they are in the face of poor material. Once free of the dialogue, we understand how expressive Bionche is. When Sara sees Francois, she can barely contain the ecstasy of the past glowing inside herself. The moment stresses how physical Bionche is when the camera is placed upon her, and she is offered room to express herself. Similarly, Lindon has a wonderfully worn face that paints him as defeated as he tries to keep his relationship with Sara and his son afloat. Sadly, the film lacks the revitalised artistry needed to elevate a tired story above self-parody. If the male roles were more evenly written it would have enriched the complexity of Sara's dilemma. Instead, a potentially gripping romantic thriller suffers from poor execution and results in a curious French misfire.
Summary: A potentially gripping romantic thriller suffers from poor execution and results in a curious French misfire.