Hardware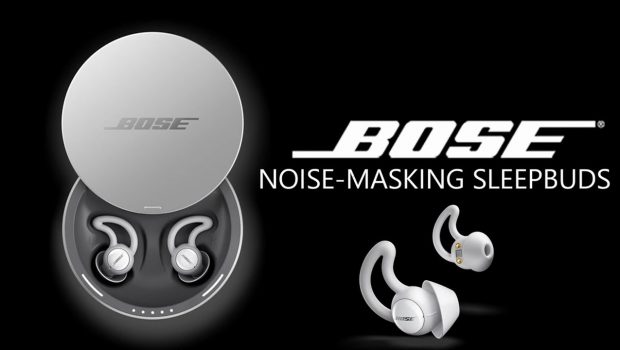 Published on June 30th, 2019 | by James Wright
Bose sleepbuds Review
Summary: The Bose sleepbuds are the perfect solution to help with you with a great night's sleep!
In order for us to function at our optimal levels during the day and as proven by a myriad of scientific studies across from the globe, a good night sleep is vital for us as it restores our physical and mental health, including preventing potential medical issues. However sometimes we need a bit of help when good sleep hygiene or other natural remedies fail. Sure, there's the medicate route, however in this world of technology, Bose have come to the rescue with their noise-masking sleepbuds that have been designed to remove unwanted noise in order to make our sleep as peaceful as possible.
At its core, the Bose sleepbuds help mask background noise by using specific sound frequencies and when combined with its unique inner ear design, pre-set soothing audio, it helps your brain from detecting the unwanted noise such as snoring or a noisy hotel.  The pre-set audio or as Bose call then, "soundscapes" are quite natural audio themes such as the sounds of the ocean or a crackling fire which are quite soothing and more importantly, the Bose sleepbuds are quite comfortable to wear with an impressive battery life of up to 16-hours.
Key Features
Noise-masking earbuds combine passive sound blocking with active sound frequencies developed to mask noises that are not filtered out by the StayHear+ tips.
Choose from ten different ambient tracks that are specially designed to mask unwanted noise.
Engineered to stay securely and comfortably in your ears, whichever way you sleep.
Truly wireless, with no cables to get entangled.
Rechargeable batteries that give you up to 16 hours of use.
Magnetic charging case that holds one full battery charge when unplugged from the wall.
Wake up alarm plays through the earbuds, so you don't wake anyone else.
Volume and playback time programmable via the Bose® app.
Three earbud tip sizes included.
Well-packed and presented from Bose, this company ensures that the user has everything they need to start their positive sleep experience. This includes the product itself, a charging/storage case that allows you to fully charge the sleepbuds, three sizes of sleep tips (StayHear+), a charger and cable plus a drawstring travel pouch. However before you begin, you first need to install the app on your smartphone and then pair the sleepbuds via Bluetooth which is a very simple process.
Unboxing photos
Like all Bose products, the sleepbuds are a well-designed premium product that are small, lightweight and very comfortable. They also come with a brushed-aluminium case which charge the sleepdbuds if you don't have access to another USB powered device or the wall charger. In terms of charging, they take around 3-hours to charge and if Bose were to revisit this product in the future, hopefully they can implement a USB-C connection for quicker charging.
The app that is linked to the Bose sleepbuds is quite easy to use and the 10 audio soundscapes include Altitude, Campfire, Cascade, Circulate, Downstream, Rustle, Shower, Swell, Tranquility and Warm Static. All these soundscapes sound great and my favourites are altitude (the hum of an airplane), cascade (a waterfall) and ocean. Needless to say, the soundscapes are quite soothing and really allow you to become immersed as you fall asleep.
Setup Images
Additional soundscapes are also be available via the Bose app and there is also an alarm feature as well, including a tutorial plus a battery display. Interestingly as this is a Bluetooth device, Bose only allow you to stream the soundscapes and you cannot use the sleepbuds to stream music. I'm guessing that by using the soundscapes audio snippets, these would not use as much power as streaming your own music. With that said, the soundscapes can play until you wake or you can set a timer in the app. Lastly, the app allows you to tweak audio levels, however Bose do have a standard setting.
When I first heard about the Bose sleepbuds, I initially thought it would be quite uncomfortable, especially if you sleep on your slide, however I was pleasantly surprised that this was not the case as they fit quite comfortably in your ear and due to the three different sizes (S, M, L) of StarHear+ tips, there is a size for you that helps them stay inside your ear while you move around in your sleep. All in all, it was a pleasant experience.
Technical specifications
Sleepbuds dimensions: 2.38 x 2.69 x 1.42 cm (HxWxD), 2.3g each.
Case dimensions: 2.70 x 7.70 x 7.70 cm (HxWxD), 111.4g.
Rechargeable silver-zinc batteries.
Charging time for sleepbuds: Up to 8 hours.
Charging time for case: Up to 3 hours.
Battery life: Up to 16 hours per charge.
Final Thoughts?
If you're looking for a great device to help you with your sleep if you are prone to background nosie, then look no further as the Bose sleepbuds are not only quite comfortable but the preset soundscapes truly help in taking you to the land of dreams with their perfect subtleness that really masks environmental sound.
They are also easy to set-up, including simple charging, however they do come at a premium cost at $379.95AUD. With that said, they work great and if you need something to reduce background sounds like a partner snoring, traffic or you want some additional peace on an aeroplane. In end, the Bose sleepbuds definitely tick the right boxes.