Hardware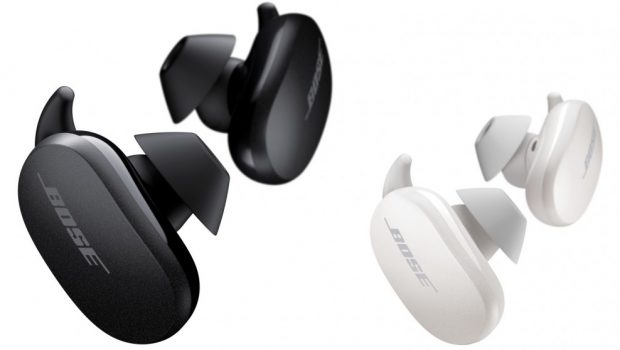 Published on September 27th, 2021 | by Adrian Gunning
BOSE RELEASES SOFTWARE UPDATE FOR QUIETCOMFORT EARBUDS
Today, Bose announces a software update that enhances the performance and features of the amazing QuietComfort® Earbuds. It debuts the power of Bose AWARE Mode with new ActiveSense™ technology, allowing the world to be heard clearly and naturally — reducing loud distractions as they happen, returning to full transparency when they pass. It also introduces new modes for specific activities, instant gratification with Spotify Tap, adjustments for audio preferences, and easier connections for multiple devices — while maintaining the remarkable noise cancellation and sound quality that made QC Earbuds famous. The 2.0.7 software update is available today in the Bose Music app, iOS and Android compatible, and free for existing and new customers.
New ActiveSense, New Modes Keep You More in the Moment

The QC Earbuds now keep you more in the moment. There are still noise cancelling levels ranging from 0-10, but with the software update, the highest and lowest are automatic defaults, both renamed for clarity: 10 is QUIET for maximum noise cancellation; 0 is AWARE to hear yourself, others, and everything else like there's nothing in your ears. That benefit gets even better when paired with new Bose ActiveSense technology, which uses digital signal processing and the QC microphones to let surroundings pass through the earbuds, only quieting the world when harsh sounds occur, and only for as long as they last. There are no manual adjustments to hear your music or podcast over a city bus or passing train — or hear your surroundings again when they're gone. It all happens dynamically, wherever you are, wherever you go.
For "always on" noise cancellation, the Bose Music app now lets you match noise cancelling levels to new modes for specific  activities or places: Commute, Focus, Home, Music, Outdoor, Relax, Run, Walk, Work, and Workout. Two can be added as shortcuts, so QUIET, AWARE, and your own personal choices are all accessible with double-taps on the left earbud, supported by voice prompts that confirm the mode you're in as you toggle and switch.
Spotify Tap, New Audio Controls for Music Lovers For music lovers, Spotify Tap has been integrated, giving Spotify users instant access to their last session or personalised playlists with a simple tap and hold — also on the left earbud. To adjust bass, mid-, and treble frequencies, selectable EQ is now an option — also new in the app.
Multiple Devices, Fewer Steps
The 2.0.7 software update improves how QC Earbuds work with multiple devices. They remember the last seven connections and seamlessly change from one to the other without the need to manually disconnect first.