Hardware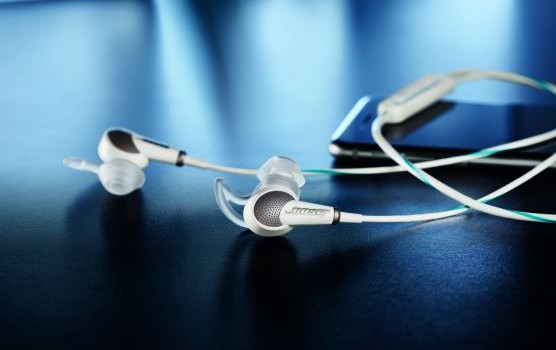 Published on June 9th, 2015 | by admin
Bose QuietComfort Acoustic Noise Cancelling Headphones Now Available in New Colours
June 5, 2015 — Introduced in 2013, the remarkable Bose QuietComfort® 20 Acoustic Noise Cancelling® headphones redefined performance for an in-ear headphone — combining unprecedented noise reduction, audio performance, and comfort with an in-ear design that weighs under 43 grams and fits in your pocket. The QC®20 headphones now come in two colours — Black or White — and two versions: one for select iPod, iPad and iPhone models, and a version for most Samsung Galaxy smartphones/tablets and Android™ devices. Both options feature an inline mic and remote that makes it easier to take calls and control your music.
"Bose QC20 is revolutionary," said Sean Garrett, vice president of the Bose Noise Reduction Technology Group. "No other headphone available delivers this kind of performance and versatility, and owners love it because they can have all the noise cancellation Bose is famous for, in a super-small headphone that sounds amazing, and can be worn comfortably for hours."
Over 35 years of ongoing research in noise reduction technology is integrated in the QC20 headphones. Two tiny microphones are placed in each earbud; one senses the sound approaching, the other measures the sound inside. The measurements are then sent to an exclusive digital electronic chip located in the control module on the headphone cord. The chip calculates an equal and opposite noise cancellation signal within a fraction of a millisecond. And the resulting noise reduction is dramatic; distractions are virtually unheard.
For music, Bose TriPort® technology uses ports to increase the effective acoustic space of the earbud to reproduce deep lows, and remarkable clarity in vocals and instruments. Bose Active EQ tunes the frequency response for natural sound. So no matter what music you're listening to — any genre — it's powerful and clear, without artificial boosts or distortion.
The QuietComfort® 20 headphones can be used in two ways, giving you control over what you hear and when. Block out the noisy world and enjoy your music, or, with the push of a button on the cord's Y-joint, the QC®20 headphones switch to proprietary Aware mode, which keeps the music playing, but allows surroundings to be heard clearly — like a gate announcement or horn beeping, all without removing your headphones.
Exclusive Bose StayHear®+ tips provide a soft, secure fit and are barely felt — with no need to force them into your ears. They sit at the entrance of the ear canal and feature a conical design that ensures a seal to passively block noise, and a custom acoustic enclosure to contribute to the active noise reduction.
The QC20 headphones include a rechargeable lithium-ion battery for up to 16 hours of use. If the battery dies, the music still plays on. And a USB charging cable is included.
"The QC20 can be used in more ways, more places, and more often than any other headphone out there," said Garrett. "It's one of those products that makes every day better."